Featured
UVA Wise Project-Based Internships Put Minds to Work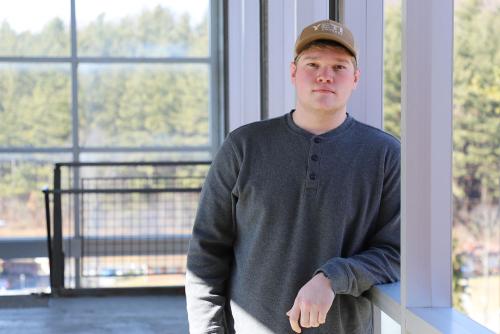 Photo by Nathan Rasnake
A project-based internship last semester challenged students to achieve new heights. Interns gained much-needed job experience and skills while contributing to innovative and entrepreneurial endeavors.
Wise Minds at Work, the University of Virginia College at Wise's newest internship program, was funded by a $40,000 grant from Commonwealth Cyber Initiative (CCI).
Established in 2018 by the Virginia General Assembly, CCI partners statewide industry, higher education and economic development leaders.
Experiential learning opportunities—including internships—are key to the College's new strategic plan, "Your College for a Lifetime."
"My focus is to try and get more experiences in the field for students. I found that students were bypassing good experiences that would be related to what they eventually wanted to do. But, because they were unpaid internships, students were turning them down," said Neva Bryan, the College's director of career discovery and planning, who secured the grant last spring.
Last semester, four students—two seniors, a junior and a freshman—participated in virtual internships at two tech-based companies from May to December 2021. The CCI grant paid for those students to earn $15 an hour during the internship.
"It was important that it was a paid internship because of my major requirements," said senior Gwen Lord of her first internship.
Wise Minds at Work is an attempt at a "different model and approach," Bryan said.
"It's really important for our students because we have surveys from employers who say students and new graduates don't have enough on-the-job experience," Bryan said.
With a growing technology sector in Southwest Virginia, Bryan thought focusing first on that emerging industry and working with some already existing company partners could be a good next step.
"In the tech sector, it's really vital to get some hands-on experience," Bryan said. "We started with technology because it's our low-hanging fruit. It's easier to place lots of people and do the internships virtually."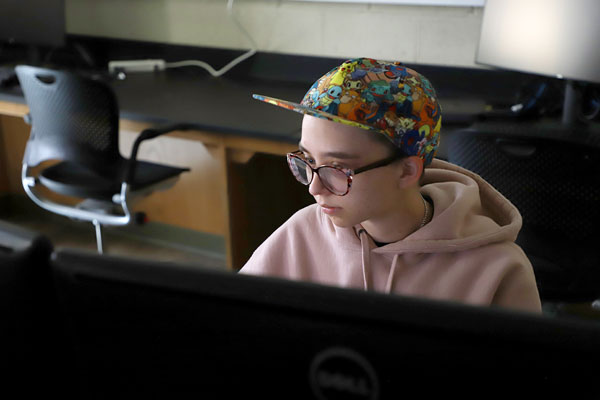 Photo by Nathan Rasnake
Opportunity engines
The two companies included Peregrine Computer Consultants Company (PCCC), a well-established cyber security firm and Medentum Innovations, an early-stage medical tech start-up, one of the first of few in the region.
"The UVA Wise students hold their own against any students we've worked with," PCCC CEO Christopher Surprise said. "Wise Minds at Work is an opportunity engine for a business to employ interns and an opportunity for students to get experience on the job."
As part of the project-based internship, PCCC gave students freedom to experiment, make mistakes and learn as part of a team.
"When I started the internship, I was not confident. I didn't know anything. I was concerned and didn't want to mess up but on our first project we didn't have a whole lot of guidance," senior Hunter Leary said.
"That wasn't by chance," said PCCC CEO Emeritus Kevin McGrail, who designed the internship of two 16-week projects, which took place from June to December 2021.
"We wanted to give the students hard projects—stretching their capacities and, at the same time, having results in only a few months with some experience they could show off publicly and use on their resumes," McGrail said. "They have great theoretical skills but need practical, hirable experience to get jobs. We are trying to get them the skills to put them on a career path they will enjoy."
C. Michael Fields, a UVA Wise alum whose college internship led to his current job as PCCC technical lead, oversaw the students making sure they knew they had an open invitation for any help or advice.
"When I was an intern just starting out, I always felt like I would be bothering others with questions, however, Kevin, Chris, and everyone else at PCCC was always there should I reach out and need assistance," said Fields, also PCCC Oxbow office manager. "I hope the interns learned that asking for help is never something to shy away from because, in the professional world, there will always be things you can't figure out on your own or you might need a fresh perspective to give you a breakthrough into a different possibility."
"Now I feel more confident in my work experience. I feel like when I get my next job, I'll be more proactive," Leary said. The internship experience also helped him in the fall semester.
"It was nice to make the connection in class from the theory to the practical experience. It helped solidify concepts I was having trouble with," Leary said.
Learning while developing
Started in 1993, PCCC is a high-tech cyber security firm, focused on making people safer on the Internet by working to secure servers and providing anti-phishing and anti-spam services.
The first internship project was to design a system that would mine PCCC servers to display interesting data on a live billboard, both for marketing and company operations in a security operations center (SOC). The second project was to integrate more pipelines including an open-source monitoring tool to supplement the SOC billboard.
Through these projects, students learned how to use open-source software, diagnostic tools and other services like CentOS, Amazon Web Services Elastic Compute Cloud (EC2), Google Workspace, Apache ECharts, WordPress, VMWare, cPanel, Zabbix and Java Script.
The remote nature of this internship allowed Leary the flexibility to go home last summer and Thanksgiving in Waynesboro.
"My parents were jealous I was getting paid to work from home. It was excellent pay. What I needed was the experience but it was really nice to have both," Leary said.
The internship wasn't just a good learning lab for the students, it helped PCCC to set up the new SOC billboard and further develop in-house intern training.
A former UVA Wise PCCC intern, Fields said the experience also helped him better mentor new interns.
"The Wise Minds experience was even more valuable as a learning experience for the kind of support structure that a fresh college student would need when they start out in a professional environment," Fields said.
Leary said he was originally interested in the internship because of the UVA Wise alums who had done similar ones and landed successful jobs at PCCC and elsewhere.
"All the people at PCCC were amazing and trying to help you be better professionally," said Leary, who graduates in May and plans to apply to graduate school to further study computer science and software engineering. "It was a really good experience. I would definitely recommend this."
The internship also helped Lord figure out she didn't want to do cyber security, but helped "decide what kind of work I want to do when I graduate in May." She plans to work in software development and engineering.
"Helping Gwen get real-world experience and understand that she didn't want to work in this field for her entire career is an important part of the college experience. PCCC is proud to help with that," Surprise said.
Empowering innovations
At Medentum Innovations, two additional UVA Wise students got the chance to work on an innovative project at an 18-month-old medical technology start-up based in Clintwood.
Medentum Innovations is developing a diagnostic medical tool kit for the public. They are building a platform for an at-home, hand-held device coupled with a smart phone app. The device allows anyone, anywhere, to take their own vitals to send to telemedical professionals for remote patient monitoring, including diagnosis and treatment.
"We believe there is a huge issue with health access in rural areas, massive health disparities and chronic disease. Our mission is empowering patients to have more control of their own care," said Vivek Shinde Patil, Mendentum Innovations' co-founder, a biomedical and chemical engineer turned bio-tech entrepreneur.
The internship offered a deep-dive into a creative and experiential learning environment, Patil said.
"With a start-up, unlike other companies, everyone does multi-faceted things in a short period of time. One day you are working on a medical sensor. The next day you are designing app workflow or research. It's a dynamic process, not just for the interns, but for all of us," Patil said.
For instance, the team needed to create a digital stethoscope—which can cost up to $200,000—for about $15,000.
"None of us know acoustics or audio. We were looking at electronic stethoscopes and trying to find the vendors and design our own at a low cost," Patil said. "I am very grateful for the UVA Wise interns and that they are part of our story and family. I think we learned a lot from them and they did from us."
A prototype of the device has been built and is going through engineering and other clearances with the hope of a pilot in Southwest Virginia this year. Once they get U.S. Food and Drug Administration (FDA) approval, they hope the device will be commercially ready in 2023.
UVA Wise interns researched FDA cybersecurity regulations and the feasibility of hiring the workforce needed for manufacturing a medical device in Southwest Virginia.
One of the students helped contribute to the design of the app and patient interface which will "live on in the product," Patil said.
While many medical start-ups building new devices seek to raise $100 million, Medentum is trying to do the project for much less—less than $500,000 in investment part of which they have now raised—so having already funded internships really helped.
"I am grateful for the resource of UVA Wise. Our company is about to bring this idea into fruition. The interns came in on the ground floor and really contributed to our product," Patil said.