Featured
UVA Wise Celebrates New U.S. Army Officers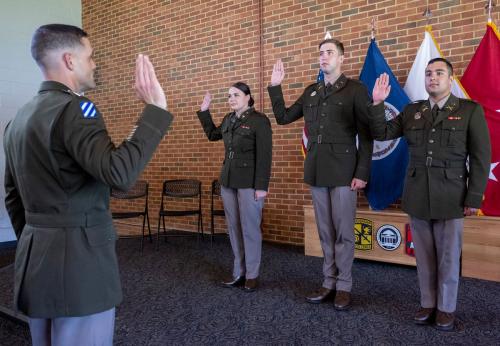 UVA Wise is proud to announce three 2022 graduates recently commissioned as newly minted officers in the United States Army.
After successfully completing four years in the Army ROTC program, cadets Lacey Austin, Jacob Johnson and Gabriel Tolley took the oath administered by Captain Kyle Brenay U.S. Army (Ret.) officially commissioning them as second lieutenants during a May 13 ceremony.
"These three cadets have been a true joy to work with," said Capt. Brenay who also is a UVA Wise assistant professor of military science.
UVA Wise's ROTC program has grown exponentially in the past two and a half years from 16 to more than 40 cadets starting next fall, said Brenay.
Austin, the daughter of Kristy and Talmadge Childress of Coeburn, earned a bachelor of science in nursing degree and is receiving her U.S. Army commission as a second lieutenant in the Nursing Corps. She served as the executive officer and held rank of cadet first lieutenant in the Cavalier Company.
"Austin has been a true professional juggling ROTC and her nursing curriculum these past four years which is never easy and typically is more than most Cadets like to take on," Brenay said.
Austin hopes to get assigned to Fort Bragg, NC. She plans to obtain a masters in nursing and eventually wants to serve as a psychiatric or critical case nurse in the U.S. Army.
Company Commander for Spring 2022, Johnson is the son of Jason Harrington and Jennifer Riddle. He earned his bachelor's degree in history and is receiving his commission as Second Lieutenant in the Infantry.
"Johnson has been one of the very best Cadets we've had at this program when it comes to leading, communicating, and having a command presence," Brenay said.
After completing his infantry basic officer leadership course, Johnson will continue training at the Airborne School and Ranger School. He hopes to join the 82d Airborne Division at Ft. Bragg. He also plans on becoming a platoon leader, and company commander and possibly joining the Special Warfare Community.
Tolley spent four years in the Army Reserves as an ammunition handler before serving as the Cavalier "Fighting Cavs" Company Commander during last fall and first sergeant this spring.
"Tolley has helped the program immensely with his prior service knowledge," Brenay said.
The son of Travis and Sharon Tolley of Staunton, Va., Gabriel has earned his bachelor's degree in business administration and is receiving his Commission into the U.S. Army as a Second Lieutenant in the Field Artillery Branch. He aims to serve for 20 years in the Army and has special interests in law enforcement and civilian contracting.