Featured
UVA Wise Mascot Suits Up for New Role: Student Commencement Speaker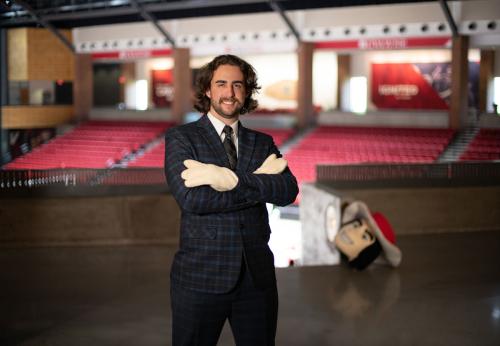 Photo by Mark Robertson-Baker II
You might not personally know Noah Anderson, the student speaker for  Commencement 2022, but, if you've spent any time at the College recently, his school spirit likely crossed your path.
Anderson, a first-generation college student, hails from Hillsville in Southwest Virginia near the North Carolina line. As the 2022 Outstanding Student Leader of the Year, he is the embodiment of school service, spirit and academic excellence. His participation and involvement made a considerable impact across campus since the transfer student became a Highland Cavalier in 2019.
Last year, UVA Wise recognized him as a 2021 Unsung Student Leader for his service as vice president of Phi Mu Alpha, Thompson Hall resident assistant, UVA Wise Honor Court class representative and member of the student activities board.
"The Unsung Hero Award means the most to me because it represents the values that I think are important. You do the work even if you don't expect recognition for it and do what's right even if no one is watching," Anderson said.
This year, Anderson was elected SGA senator-at-large and inducted into the Lambda Pi Eta communications honor society.
He's also the president of the UVA Wise Psi Chi psychology honor society, pioneering a free rental textbook service so students who couldn't afford texts could access them. So far, 40 books have been donated.
Deep into the Covid-19 pandemic, Anderson recognized the need to raise campus spirit and spearheaded the 2021 Give Thanks campaign where more than 60 faculty and students received gratitude messages.
"Noah is the kindest of human beings; always thinking about others and being willing to help," UVA Wise psychology professor and Anderson's mentor Kristina Feeser said. "He is always the uplifting person when things get tough."
Students, faculty and staff can thank Anderson, a groundskeeper for the environmental services department, for early morning snow shoveling to keep sidewalks clear. This week, even as he is preparing to give his speech, Anderson is also mowing the grass for commencement.
"My dad is a carpenter. We believe hard work is a virtue and physical labor is a privilege for those healthy enough to do it. I needed money and could have gotten it elsewhere but I wanted to work on campus. The maintenance and grounds crew do a lot to improve the quality of life here," Anderson said. "I'll see people out when I'm mowing grass and they're like 'I didn't know you did that' because they're used to seeing me in a suit and button up shirt."
Perhaps Anderson's most high-profile campus service has been a well-kept secret: he's one of the faces behind mascot Smiddy. For the past year, Anderson cheered and revved up fans, athletes and alumni. He—or Smiddy, rather—never missed a chance to snap a photo with Chancellor Donna P. Henry.
"Noah brought true spirit to the role. He brought Smiddy to life in a way that I hadn't seen before. He portrayed him with pride," said Smiddy's lead handler whose name is withheld to protect the mascot's identity.
Anderson's favorite Smiddy moment occurred at a basketball game this year.
"I sort of hijacked the band. They were doing their half-time show and I started conducting. I was butchering it, but it was a really fun time. I played the trumpet and electric guitar," Anderson said. "Everyone has their own version of how Smiddy acts. That is my version of Smiddy—a little mischievous."
For him, it's bitter sweet hanging up the seven-piece wool suit.
"The beauty of this college is you get surprised with opportunities at every turn—like becoming a mascot. It's a lot of work, time consuming and I got my exercise in the suit, but it was important. When you assume the role of Smiddy, you are the Highland Cavalier. It's humbling, you remain anonymous for your whole tour of service. You don't do it for recognition you do it to help uplift the athletes, especially when they need it the most."
College wasn't always in the cards for Anderson. When he graduated high school, he took a year off and took some local community college classes.  A year later, Anderson decided to attend college at a place similar to home, smaller, rural and in the mountains.
"I took the tour and I was sold. The campus itself struck me. It was small and you could stand at one end and see the other and it was a good thing for me," Anderson said.
At first, Anderson wanted to stay alone in his dorm room but his resident assistant at McCraray Hall encouraged him to explore campus and "made it feel like home."
"My RA inspired me and was the reason I got involved in organizations and became a student leader," said Anderson who became a Thompson Hall RA his junior year. "When you are coming in as a new student you think it's a chore to go do this or that but it is an important part of the school experience.
But despite his eloquent praise for UVA Wise, public speaking didn't always come easily for Anderson. He credits the first class he took with his mentor professor, Feeser. for helping him overcome his fears.
"In high school, I was a different personality. I wasn't confident. I was nervous, shaking and I couldn't spit out a word if I tried," Anderson said. "That is what that class did for me. She gave so much support and acceptance. UVA Wise helped me get my voice heard."
In fact, Anderson decided to pursue a minor in communication studies along with his psychology major.
"I want to do the clinical counseling side of psychology and go to graduate school, so communications went hand in hand. Professor Rachel Tighe taught non-verbal communications and it was a natural segue to expand my education and get as much as I could out of UVA Wise."
Professor of communications Amy Clark has been impressed by Anderson who came from a quantitative background in psychology to learn qualitative methodology and theory in her Rhetorical Criticism class and later in Advanced Research Methods.
His article, "An Interpretation on the Progression and Subversion of the Joker Character: A Critical Rhetorical Analysis" has won several awards and been submitted for publication.
"Not only is he a gifted writer and speaker, he has an amazing ability to distill complicated information in a way that's not only understandable, but enjoyable for an audience in any discipline. Plus, he's just an all-around good person. He will no doubt continue to blaze a path forward and I can't wait to hear about his accomplishments," Clark said.
Anderson won the award for Undergraduate Research in Communications Studies and the Alfred and Shirley Wampler Caudill Best Presentation Award for a communications project.
"At UVA Wise you can go to other departments and they let you explore even if it isn't directly related to your class. It's one of the shining opportunities here. The College is consistently supportive of you," Anderson said.
He's also thrived academically in psychology. A Napoleon Hill scholar, Anderson's academic achievements include mentoring and supervising students as a counseling teaching assistant. He also worked as a research assistant in the neurocognitive sciences lab where he authored two abstracts he presented at a regional conference and will present at a national conference in June.
Recently, he was awarded both the Leon and Helen Lederer Memorial Award in Applied Psychology and the Alfred and Shirley Wampler Caudill Best Poster Award for a psychology project.
A recipient of the Thompson Family and Colgate Darden scholarships and regular member of the Dean's List, Anderson has accepted a post-graduation research position with Feeser. He will pursue mental health service work in the area and a doctorate in clinical psychology.
"Noah is a dream student who has that unique combination of academic excellence and personal integrity. I have gained just as much from having him as a student as he got out of having me for a professor," Feeser said.
"I anticipate that Noah will follow in the footsteps of other students I've had who have gone on for advanced degrees and paid it forward in training others to be good counselors."
At this Saturday's commencement, Anderson will serve as student speaker and share his experience as a transfer, non-traditional student pursuing his degree during a non-traditional time.
"When the world asked the Class of 2022 to give in, or give up or give out, they didn't. They said no. They continued to pursue their dreams in most uncertain times. We have seen it through and there is character in that, Anderson said. "I want to say thank you to my classmates, professors and staff for showing up every day and creating a space so we could do it. I want to applaud them in that way."