Featured
UVA Wise Dedicates Library Space in Honor of Retirees' Enduring Legacy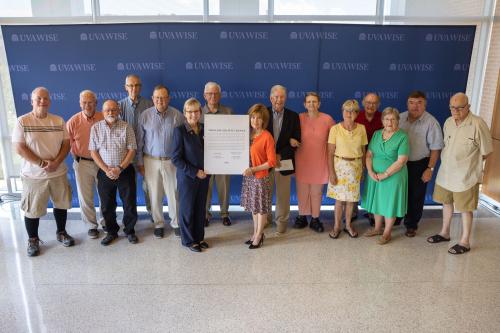 Photo by Mark Robertson-Baker II
For nearly 20 years, retired UVA Wise faculty and staff have worked to further contribute to student success.
Now, those dedicated public servants and educators have a new place in their honor on campus to call home—the Twinleaf Society Lounge on the fifth floor of UVA Wise's Library where the Books & Brew Cafe is located.
On Friday, dozens of faculty, staff and members of the Twinleaf Society gathered for a festive celebration of the newly dedicated space.
"It is my distinct honor to welcome you to the dedication of this incredible space as the Twinleaf Society Lounge. Today is about celebrating the unparalleled investment of time, energy and treasure from one of our most valued constituencies, our retirees," UVA Wise Chancellor Donna P. Henry said. "You all loved UVA Wise, or Clinch Valley College, as it may have been named while you worked here. It is not surprising that you found a way to continue making a difference after you retired."
Formed in 2003, Twinleaf Society's main purpose initially was to unite the retirees, facilitate communication between the College and its members, and to encourage continued participation in events and programs on campus.
The Society is named for the plant, Jeffersonia diphylla, commonly known as Twinleaf. The Society selected the plant as its symbol to represent the organization's dual composition of retired faculty and staff and to signify the tie between the group and Mr. Jefferson's university.
Twinleaf Society Board Member George Culbertson, a 1957 graduate, who worked at the College for more than 32 years as a mathematics professor, registrar, dean, chief financial officer, senior vice chancellor and chancellor recognized the founding faculty and staff who built the College in the early days of the 50s, 60s and 70s. What started as a group with an interest in social events in retirement, he said, found a deeper purpose—continuing to elevate the College.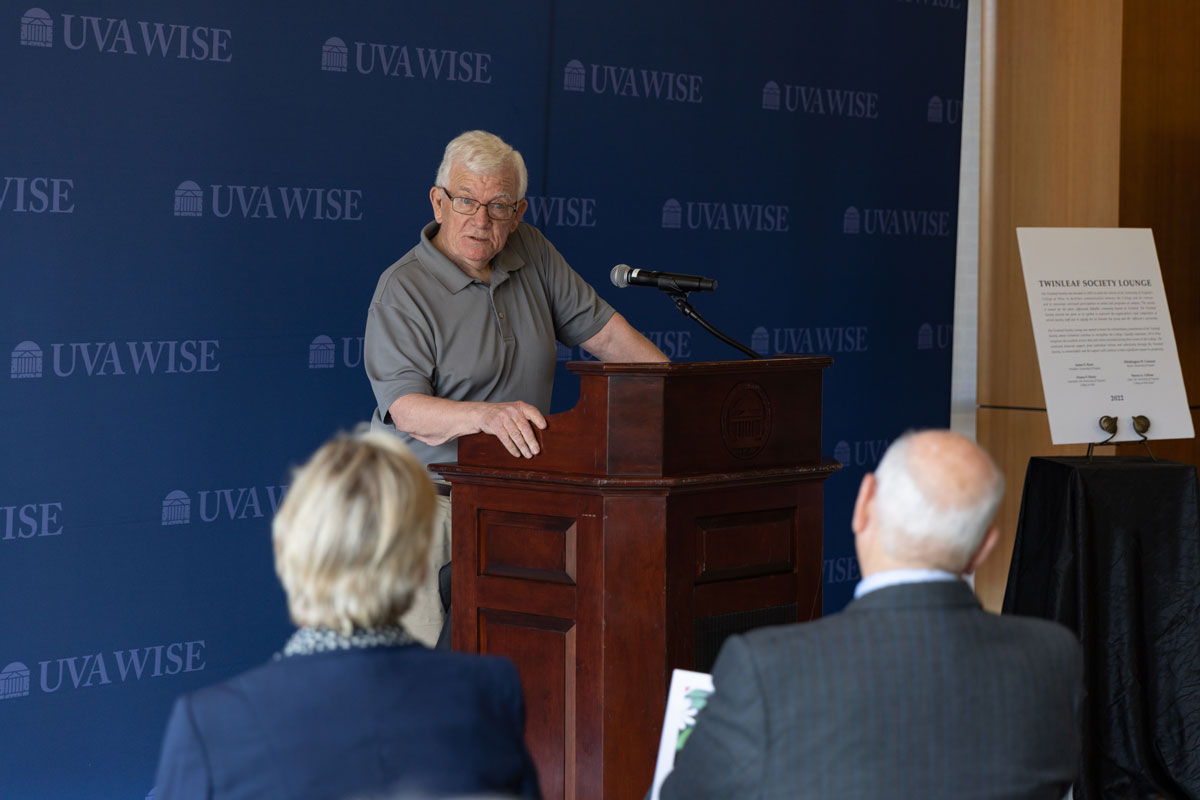 Photo by Mark Robertson-Baker II
"I think it is a recognition of our people and commitment from the College from day one. It is appropriate that it be here in the center of the campus in the library," said Culbertson who served as chancellor, steadily guiding the College during a time of transition. "I think this group of people—their commitment at the College—it didn't end with their last pay check and it continues today."
The newly dedicated Twinleaf Society Lounge is meant to be a gathering place where students, faculty and staff gather to study or discuss current topics or simply to catch up with one another for a coffee, latte or iced tea, Henry said.
"It's a place where all are welcome, where differences in backgrounds create cohesion instead of barriers," Henry said. "The legacy of the Twinleaf Society will live on strong here in this beautiful space. It will be where future generations of students, faculty and staff will come to visit and ponder challenges. They might even say, 'What would the members of the Twinleaf Society of 2022 have done about this or that?'"
Honored in 2020 as Volunteer of the Year, the Twinleaf Society has made an enduring and significant ongoing impact to the College.
The society's first project was the Twinleaf Clock, a beautiful focal point on campus where thousands stop and grab a lasting image of their time at UVA Wise.
"Each spring, hundreds of high school juniors and seniors make a trek to Wise to take prom photos, and that clock becomes part of their memories for a lifetime. The personalized bricks at the base of the clock provide a lasting legacy for those whose names they bear," Henry said.
Henry said Friday the group's mission has "evolved to serve a much greater purpose."
In fact, UVA Wise retirees have generously donated $3.8 million to the College. Those funds have benefited students and the College in many ways including student scholarships.
The Society created the Twinleaf Society Helping Hand Fund, an endowed fund that provides support in perpetuity for the Dean of Students Office to use to help students in need.
Twinleaf Society current officers include President Tami Ely, Vice President Katherine Stallard, Treasurer Martha Necessary, and Secretary Sharon Daniels.
"I think it is wonderful and so meaningful to have it in the library and the heart of campus," Ely said. "It's in a place where you can lounge and drink coffee and that's as good as it gets."
During her UVA Wise career, Ely worked in the former library, admissions, and business offices, spending more than 25 years in the development office, which is now the Office of Advancement and Alumni Engagement.
"One thing that hasn't changed is the caring and nurturing and excellent education that students get and I don't think that is going to change," Ely said. "It is so gratifying that you have positively impacted students, and to see that continue and run often into our alums anywhere and everywhere. We are so proud of them all."
Several special guests attended Friday's event including Thatcher Stanley, field representative for Ninth District Congressman Morgan Griffith; UVA Wise human resources staff member Debbie Vanover, who serves as chair on the College's Staff Senate; UVA Wise Van W. Daniel III Associate Professor of Chemistry Tegan Makal, immediate past chair of the College's Faculty Senate; and UVA Wise College Board Vice-Chair Lewey Lee.
"As a student here in the early years of the College, I heard the incredible dreams that the faculty and staff had for our little college, and through the years, watched the faculty and staff toil to see those dreams come true," said Lee, a 1964 UVA Wise alumnus. "The difference you, the retirees, made in the lives of the students is incredible, and we hear from alumni at every gathering a touching story about the kindness you showed to them. They tell us that you changed their lives for the better. For that, we are grateful."