Featured
UVA Wise Celebrates New Cadets this fall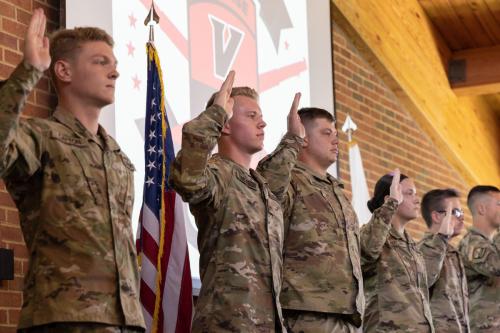 Photo by Mark Robertson-Baker II
Business, justice and psychology are a few of the majors that newly minted Army ROTC cadets at UVA Wise are pursuing this fall.
On Thursday, August 25, 2022, UVA Wise contracted seven new cadets in their Army ROTC program, bringing the number of UVA Wise ROTC program to 39.
The College's new ROTC leader, Captain Juan M. Colon, presided over the ceremony which was attended by family, friends, cadet's former teachers and mentors.
"Family members, friends and fellow Cadets, today you will witness a ceremony that will mark a transition and a transformation from a civilian to an officer in the United States Army," Captain Colon said. 
Several distinguished guests attended the ceremony including East Tennessee State University military science professor Lieutenant Colonel Kent Monas, Colonel Kyle Redman (Ret.), and UVA Wise Chancellor Donna P. Henry.
 "This transition will not be easy, it will take time, commitment, discipline and years of training. During this transformation they will learn how to talk, move and behave like a soldier and also most importantly how to be a professional leader or officer in the U.S. Army," Captain Colon said. "For family members, I will ask you with all my heart that you continue supporting and motivating your sons and daughters. Without your support, it is difficult to make it," Captain Colon said.
Students contracted Thursday came from across the state of Virginia from Southwest to Northern Virginia and as far away as Kentucky.
The new members of UVA Wise Fighting Cavalier Company include Paige Rutler, Wyatt Cayton, Brandon Walls, Bowen Tarter, Russell Erickson, Luke Huddleston and James Stidham.
Wyatt Cayton, of Hillsville, Va., chose to follow his parents who served in the U.S. Army by joining the ROTC.
"They both talked about how much they enjoyed their time while being in and I found no reason to say no to an opportunity to join and commission as an officer," Cayton said.
Cayton is pursuing a degree in justice administration.
"Most people try to look at bigger colleges, but I believe that it is better to get into a smaller class because each professor will get to see you more and know more about you. I am someone who asks a lot of questions, and that is not always possible to do when you are in a class of over 200 students," he said.
Also from Hillsville, Va., Brandon Walls is majoring in nursing. He joined UVA Wise's ROTC program for the educational and career path choices it provides.
Tazewell, Va., native Bowen Tarter, who graduated from Richland High School, and Luke Huddleston of Woodbridge, Va., both said they were attracted to the College's smaller class environment, ROTC and football programs.
Tarter is seeking a degree in administration of justice and Huddleston is pursuing a business administration degree.
Psychology major Russell Erickson of Leesburg, Va., chose to transfer from the Virginia National Guard to ROTC to become an officer.
"I wanted a change in my life," Erickson said. "I was looking to attend school at many different places, but UVA Wise went above and beyond in order to make sure I would be on the right path to create a successful future."
Staying close to his home in Whitesburg, Ky., made UVA Wise appealing to James Stidham, who is majoring in psychology.
"I chose ROTC as a great reliable way to pay my way through college, but also to build structure in myself, to grow as leader and as an individual," Stidham said. "I chose UVA Wise because of the home feeling, the great people and because of the small distance to my home."
Meet Captain Colon
This is Captain Colon's first year leading UVA Wise's ROTC program and teaching at the College as an assistant professor of military science.
Captain Colon, who has served nearly 14 years in the U.S. Army, is a graduate of Pontifical Catholic University of Puerto Rico—Arecibo and Arecibo Inter American University, ROTC program where he was commissioned as a Second Lieutenant in the Quartermaster Corps in 2012. He holds a degree in liberal science with criminal justice major and minor in accounting from the Arecibo, Puerto Rico Catholic University and an associate degree in computer management from Arecibo, Puerto Rico ICPR College. His military education includes the Quartermaster Basic Officer Leaders Course, Mortuary Affairs Course (4V) and Multifunctional Logistic Captains Career Course.
Captain Colon has served in variety of assignments ranging from platoon Leader to Command level and received many awards including the Armed Forces Reserve Medal with M device, Army Reserve Components Achievement Medal, the Army Commendation Metal and the Army Achievement Medal.
Joining UVA Wise's Army ROTC Program
To contract, students must be a U.S. Citizen, have earned a high school diploma or equivalent, maintain a college G.P.A. of 2.0, pass the Army Physical Fitness Test, and agree to accept a commission and serve in the Army on active duty or in the Army Reserves or Army National Guard.
Contracting is the first step toward becoming a Cadet rank in the Army, which leads to students eventually becoming Commissioned Officers. Earning the right to contract involves achieving good grades, meeting physical fitness requirements, displaying leadership attributes and competencies and more. The second step toward becoming a Commissioned Officer is finishing an undergraduate degree and the ROTC curriculum, and the final step is being sworn in as a Commissioned Second Lieutenant in the Army. 
In the summer between their junior and senior year, cadets obtain Advance Camp Credit, attending a 38-day assessment during which cadets display their leadership attributes and competencies by leading their ROTC peers across the country through various missions.
Learn more about UVA Wise's ROTC program on Facebook.