Featured
SGA President Kallie Berry: Making the Most of UVA Wise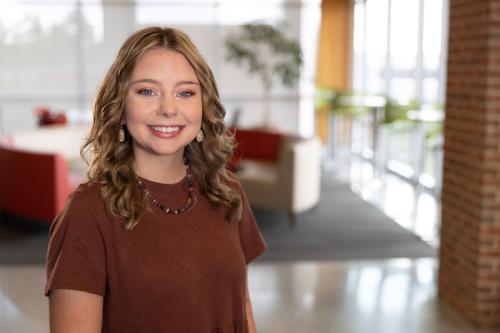 Photo by Mark Robertson-Baker II
Meet Kallie Berry, UVA Wise's 2022-23 Student Government Association (SGA) President.
Berry is an English major with a minor in secondary education who hopes to teach high school English. 
She is a huge believer in getting active and involved on campus. If you are out and about, you've probably seen her doing just that.
The junior plays alto saxophone for the Highland Cavalier Marching Band, tutors students in logic and biology and is a Baptist student minister.
UVA Wise Now sat down with the Gate City, Va., native Kallie recently to find out more about her and her vision for SGA.
Q. What made you want to get involved with SGA?
A. I had some friends from high school on SGA and they recommended that I run for freshman senator. I've been on SGA ever since. SGA was the first leadership role I found on campus.
If you look at my past, I'm the last person you would ever expect to be in leadership in college. I didn't come from a stable home. I don't come from a family with money. The fact I can even be at college is purely based on a scholarships. To have this opportunity to serve students who come from a background like mine is a blessing.
Q. So what do you hope to achieve for SGA this year?
A. My vision for SGA is for students to want to be involved and bring back participation after the pandemic. College is what you make it. Your participation truly does make a difference. We have access to resources and materials that can help students.
We want the student body to be aware that SGA is here for them and we are not here for ourselves or our resumes. We are here to represent them and to do what is best for them. Anyone from the student body can be a member of a committee. And, if they have ideas or want to get involved, they can join a committee to try it out.
Q. What are some things that you have learned or benefited you from being on SGA?
A. Leadership positions help your public speaking improve and grow your ability to ask and formulate good questions and how to respond when you are asked questions. You learn how to communicate with others on topics. You also learn how to disagree with each other with respect and move forward from that to help campus life advance. There's a lot of useful skills that are hard to find elsewhere.
I love everything about SGA. You can meet a lot of people and get to know and help them. You represent the students, hear from students and get to bring ideas to the board and serve on committees.
Q. What advice do you have for incoming or new students?
A. The best advice I can give is "give yourself the gift of done." Don't put it off until the last minute. Sit down, and plan out your day because you don't think you have time until you realize you have time. And make sure to add in time for breaks because cramming doesn't work.
Q. Are you involved in other activities or organizations on campus?
A. I've been in band my whole life. I really love marching band and it's a big part of me. I even have a tattoo dedicated to marching band. It's on my left foot of a song we played all through high school. In marching band you start on your left foot.  I plan on getting another one when I graduate from UVA Wise.  I will pick something related to marching here at the College, but I haven't picked it out yet.
I'm also a student minister for Baptist Collegiate Ministry. We hold a weekly bible study on Wednesday from 6 to 7 p.m., and it's a time for people to fellowship. We are starting campus worship team—piano player, drummer, singers—to form Campus Now, a worship night on the last Thursday of the month in the Chapel of All Faiths where everyone can attend.