Featured
UVA Wise Mascot Featured in New College Sports Book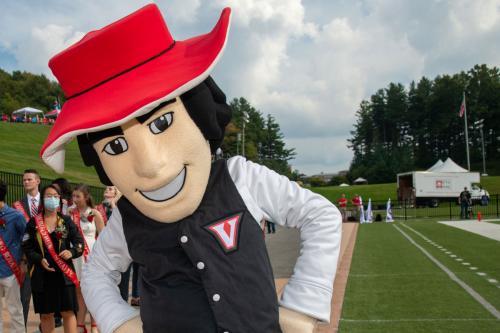 Smiddy, the University of Virginia's College at Wise's mascot, recently made his literary debut.
Just in time for UVA Wise's homecoming week, a new book about NCAA Division II athletic nicknames and mascots—Gorillas, Gators and Greyhounds—features Smiddy. Christopher Pio, a former collegiate athletics coach, wrote the book.
Since the first interactive mascots in professional sports (The Phillie Phanatic and San Diego Chicken) became wildly popular in the late 1970s, colleges have used costumed characters to entertain audiences and cheer for their teams, Pio said.
 "Today's mascots are more than just a person inside a costume - they have evolved into an identity for the school and a positive means to promote athletics and celebrate the joy of the college experience," Pio said. "My book attempts to describe the origin and meaning behind these mascots and illustrate the entertaining variety of modern characters used by different schools. It's fun reading for all sports fans young and old."
In celebration, here's some fun facts behind the magic of our beloved Highland Cavalier, Smiddy:
Smiddy is named for institutional icon Dr. Joseph Charles "Papa Joe" Smiddy, UVA Wise's first chancellor who served the college for 30 years and continued into retirement. In 2015, the mascot debuted with his new look and name when the College received full-time status in Division II.
Smiddy is happiest when cheering on the team, giving high fives or thumbs up to the crowd and taking photos with students, alumni and, of course, Chancellor Donna P. Henry.
There's nothing quite like being Smiddy. "Everyone is so excited to see Smiddy. That first walk out, the lights are on and the band is playing and everyone is taking pictures. It's something I love," former Smiddy Noah Anderson says.
There are many! There is no one Smiddy. The entire process is a closely guarded secret. Several students swap the role throughout the year, often switching to ensure the mascot's identity isn't revealed until the student graduates.
A team of students sworn to secrecy known as "Team Smiddy" serve as handlers to help guide and orient Smiddy to prevent any Cavalier mishaps.
Being Smiddy isn't a job you can apply for. Every Smiddy is selected for their school involvement, commitment and, most of all, spirit. 
Smiddy doesn't speak, can't feel his hands and can barely see through pinhole eyes. It's a learn on-the-job experience and it's awkward learning how to move around, says Anderson. "You have to get used to the clunky boots. You can't see anything and you're sweating buckets as you try not to fall down. It's learning to use hand gestures to express emotions and rev up the crowd."
Smiddy's handsome hatted head weighs a whopping ten pounds.
Some of former Smiddy Noah Anderson's favorite Smiddy moments are mischievous: hijacking and conducting the band at a basketball game, playing the trumpet and jamming on an air electric guitar to rev up the crowd. Every Smiddy has his own spirited cheerleading personality.
Just like super heroes, keeping a double life isn't easy, but it's worth it.  Hanging up the suit is always hard.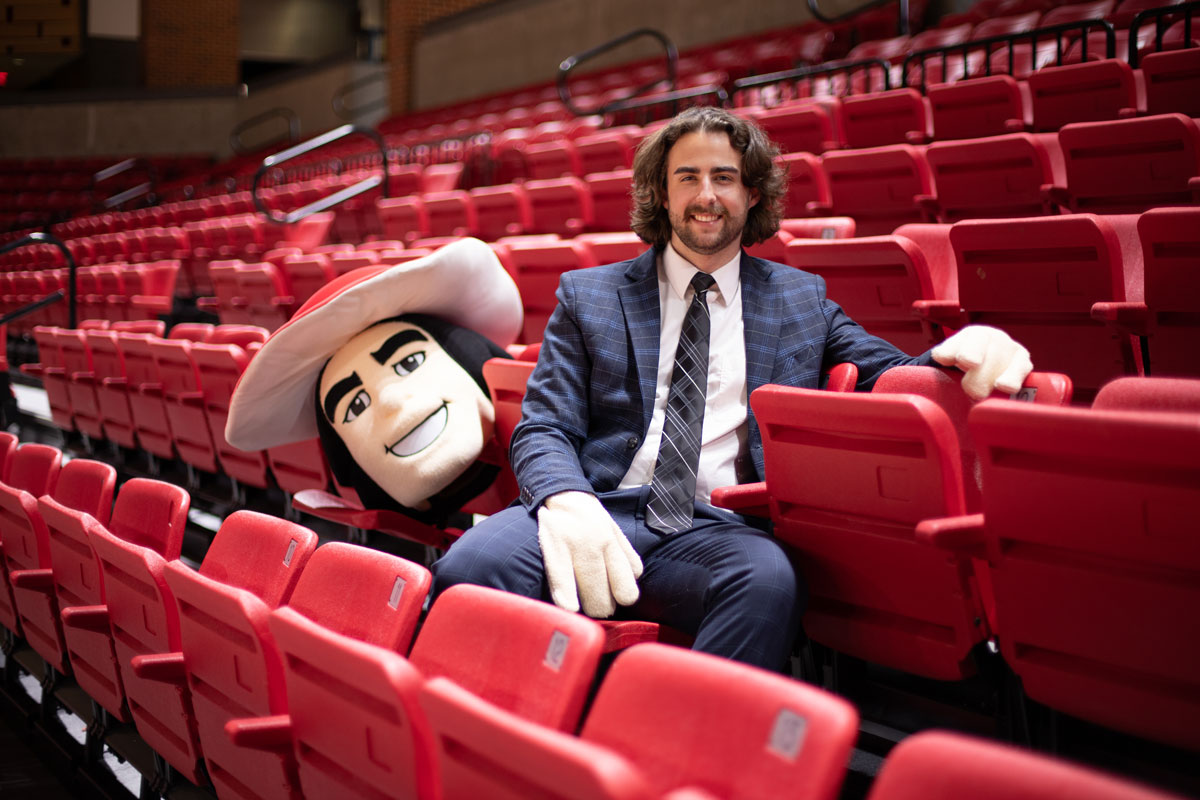 "When you assume the role of Smiddy, you are the Highland Cavalier," Anderson says. "It's humbling, you remain anonymous for your whole tour of service. You don't do it for recognition you do it to help uplift the athletes, especially when they need it the most."
Come stop by and say hi to your favorite mascot at UVA Wise's home sporting events, details can be found at www.uvawisecavs.com.