Featured
UVA Wise Kicks Off 10th Red Flag Awareness Week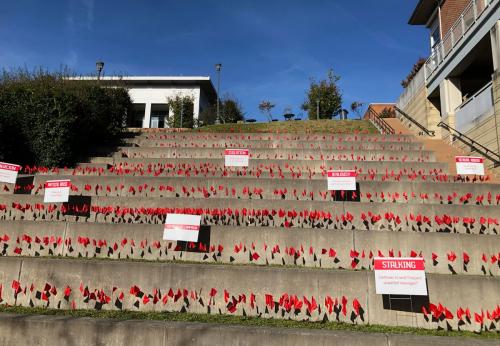 More than 1,500 red flags will adorn UVA Wise's campus next week to help raise awareness and encourage conversations to prevent domestic and dating violence.
Two UVA Wise seniors, Rachel Gibson and Olivia Faith Mullins, have developed two of the six days of awareness activities and programming, which runs Oct. 24 through Oct. 31.
While red flags are physical symbols, they represent the warning signs all people should be on the lookout for to prevent harmful, or even fatal, domestic and dating violence on and off campus.
"The Red Flag Campaign is so important because red flags in relationships are often overlooked or thought of as minor flaws. Being able to recognize these issues for what they are before things get out of hand can help so many people stay safe and escape dangerous situations. It gives them something to base their future relationships on," said Gibson, an administration of justice major.
The Red Flag Campaign was first piloted in Virginia on college campuses in 2006. The campaign is a project of the Virginia Sexual and Domestic Violence Action Alliance and was created by college students, college personnel and community victim advocates.
The campaign provides warning signs that can help identify if a relationship is unhealthy or abusive. It's held in October during Domestic Violence Awareness Month.
Research shows that about one in three women, one in 10 men and one in two transgender individuals are victims of dating violence, says Tabitha Smith, UVA Wise's associate vice chancellor for diversity, equity and inclusion.
Domestic and dating violence is defined as a pattern of behaviors that maintain power and control over another partner in an intimate relationship. Abuse in a relationship does not look the same in every relationship because all relationships are different, she said.
UVA Wise launched its first Red Flag Campaign in 2012 with 200 flags, and has grown the initiative into a week-long campaign with 1,500 flags across campus.
"It's a program where red flags are put out as a prompt for people to ask questions and create conversations around domestic and dating violence," Smith said. "I don't think people realize that there are different types of dating violence."
Dating violence includes not only physical abuse but stalking and emotional violence as well, Smith said.
Consent is the number one issue facing college campuses, Smith added. UVA Wise adheres to a policy of affirmative consent.
"If you are in someone's hula hoop space, you need to get a 'yes.' Just because you get a 'yes' for kissing doesn't mean you can touch," Smith added.
Because it's such a critical and important issue, UVA Wise is hosting two consent-related events, Cookies and Consent and Don't Touch This.
Olivia Faith Mullins, a senior psychology major and DEI sociology intern, conceived of a unique approach by offering Mac and Cheese to talk about bystander intervention tactics.
"I think the Red Flag Campaign is an incredible opportunity to bring awareness to such a pressing issue in society. I chose to do a program dealing with different ways to make a difference in sexual and domestic violence through bystander intervention," said Mullins, a senior psychology major and DEI sociology intern.
A cornerstone of the Red Flag Campaign, bystander intervention strategies address and prevent sexual assault, dating violence and stalking on college campuses.
The campaign encourages friends and other campus community members to say something when they see warning signs—red flags—for sexual assault, dating violence or stalking in a friend's relationship.
"We strive to have a safe and healthy campus community so to do that we need everyone—if they see something to say something," Smith said.
Then, on Sunday, Oct. 23, students, faculty and staff are welcome to help post red flags in the heart of campus near the Student Center and Library. Each year, many of the athletic teams including baseball, lacrosse and women's basketball pitch in.
On Saturday, Oct. 29 a public awareness announcement will be made at the UVA Wise football game and the team, coaches and cheerleaders will wear purple ribbons to promote domestic and dating violence awareness.
Red Flag Week Calendar of Events
Monday, Oct. 24: Do's & Donuts of Dating
10 a.m., Books & Brew
Senior Rachel Gibson knows students love food so she conceived of the event to help fellow students learn what is appropriate and inappropriate dating behavior. Students will feast on purple and red glazed donuts and share what they think is domestic and dating violence.
7 p.m., Virtual
Join Dr. Justine Shuey on LIVE on Zoom for this fun, interactive BINGO game where you can win Amazon e-gift cards and learn all about Love, Healthy Relationships, Communication, Consent, Love Languages, the Stages of Falling in Love, and so much more!
Tuesday, Oct. 25: Title IX Tuesday
Across Campus
Smith will share all the ways Title IX protects students, faculty and staff and give out a sweet treat.
Wednesday, Oct. 26: Can't Touch This
1-3 p.m., Slemp Center Atrium
Inspired by the MC Hammer song, "U Can't Touch This," students, faculty and staff can learn about consent and play several rounds of 1990s-inspired Kahoot!, a learning game, to win candy.
Wednesday Night, Oct. 26: Safety Walk
7 p.m., Twinleaf Clock
Come meet at the Clock to participate in a safety walk on campus with DEI, Campus Police, Chancellor Henry and your peers.  During the walk, every blue safety light will be checked to make sure they are working properly.
Thursday, Oct. 27: Cookies & Consent
10:30 a.m., Books & Brew
Pick up a yummy chocolate chip or oatmeal raisin cookie and get a deep dive into the many types and issues surrounding personal consent and behavior involving dating and relationships.
Friday, Oct. 28: "MAC" A Difference
12-2 p.m., Slemp Center Atrium
Come feast on a make-your-own Mac and Cheese while senior Olivia Faith Mullins shares the ins and outs of bystander intervention.
"My program will be a place where students can come and enjoy mac and cheese while gaining knowledge on how to be active bystanders in times where intervention is needed. I think this event will benefit the UVA Wise community by providing information on what bystander intervention is, the importance of bystander intervention, and in what situations bystander intervention is necessary." Mullins said.
Monday, Oct. 31: Safe Halloween
Noon to 2 p.m., Slemp Center Atrium
DEI along with the Virginia Health Department will assist students, faculty and staff maintain safe relationships. Participants can get a host of tests including rapid HIV, Hepatitis and syphilis.  A trick or treat spin wheel will tell you if a relationship is a "trick or a treat" plus candy.