Featured
UVA Wise Paves Way for Easy, No-Cost College Admissions Acceptance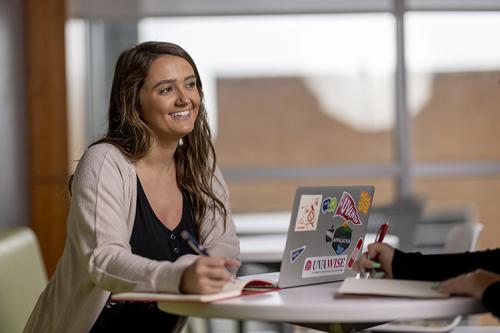 A student's path to apply and get accepted by UVA Wise has never been easier, quicker or more affordable.
UVA Wise has revamped its policies to make the admissions process even more student-friendly, said UVA Wise Vice Chancellor of Enrollment Jeffrey Baylor.
Simply put, it's a no-cost, no-test, no-stress approach for high school students to apply online to UVA Wise.
"We want to make sure we are providing access and affordability to all students, not just in Southwest Virginia or the Appalachian region, but across the Commonwealth and beyond," Baylor said. "These new policies are aimed at encouraging students to apply and to remove other concerns that may deter or delay their application. We have eliminated as many barriers as possible to help them do just that."
A longstanding mission for UVA Wise is helping first-generation students affordably attend college, graduate with a four-year degree and find a successful career.
"This eradicates monetary barriers and simplifies the admissions process to help serve all students, especially those first-generation students, who have additional hurdles to a college degree," he said. "No barrier is too small to clear because we want them to experience a transformational education that leads them to a successful job and lifelong success."
At UVA Wise, there is now no cost to apply. From now on, students will no longer pay the $25 application fee.
It's also easier to apply. Students can apply online at uvawise.edu/apply.
UVA Wise has also streamlined admissions requirements. Students no longer need a combination of test scores, class rankings and grade point average to be admitted. The College now requires a single qualifier.
Students that have or will complete the required high school course work, only need one of the following requirements for acceptance:
Student is in the top 50 percent of their class with at least a 2.0 grade point average, or
Student has a 3.0 grade point average on a 4.0 scale, or 
Student scores a 17 on the ACT or a 900 on the SAT with at least a 2.0 grade point average.
"Some high school students may not know whether or not they are college-ready so we want to make it as easy as possible to get a decision from us," Baylor said. "This provides high schools with clear metrics to know whether or not a student qualifies for admission."
Also, students won't have to wait long to get an answer. UVA Wise will provide an acceptance decision within 48 hours of receiving the application and high school transcript. Some cases may require additional information to help the College make that decision.
With these new options, students and their parents avoid other costly barriers. For example, the cost to take the ACT, without the essay portion, is $60. The SAT costs $55.
"Especially for first-generation students, it makes the standardized test optional so they don't have to pay or stress about standardized test scores, especially when they have already proven their willingness to do the work and have the ability to succeed in the classroom," Baylor said.
Also, enrollment deposits, historically required before orientation, have been eliminated. This change has several benefits as it will avoid upfront costs and, in many cases, allow students to use financial aid to cover this cost. 
"It's an expense that we don't have to collect early. It helps students and their parents avoid out-of-pocket costs, this way students can use these funds to help with their transition to college. We want to remove that barrier, reduce their stress and help them get here," Baylor said.
The new policies align with the College's continued mission to help under-served and first-generational students receive quality educations.
In 2019, the College launched the Within Reach program, which provides scholarships covering the cost of tuition and fees for students from Virginian families with an income of $40,000 or less.
In 2018, the College announced a significantly reduced tuition rate for students living within the Appalachian Regional Commission territory, which includes select counties ranging from New York south to Mississippi.
"We strive to be the most student-centered and accessible college and university in our region, and I am certain, changes like these support that mission," Baylor said.