Featured
Best-Selling author Adriana Trigiani to speak at UVA Wise's Fall 2022 Coffee Night and 25th literary journal Jimson Weed's debut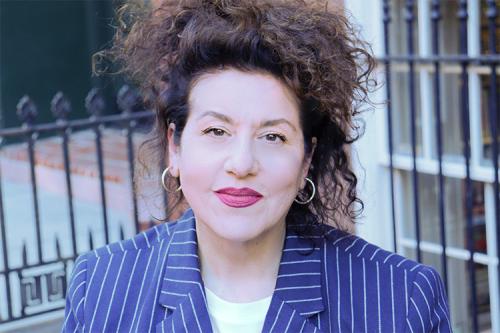 Adriana Trigiani, the award-winning author widely known for her novel and movie, Big Stone Gap, will read from her new book at the fall debut of Jimson Weed, the literary journal of UVA Wise. The event marks the 25th anniversary of the bi-annual publication.
Coffee Night is sponsored by the Department of Language and Literature and the Department of Communication Studies, according to Jimson Weed Managing Editor Trevor Meade.
The event will be held Nov. 14 from 6:30 p.m. to 8:30 p.m. at Cantrell Banquet Hall. Starting at 6:30 p.m., students and faculty will perform or read their poetry or prose from their contributions to the fall journal, followed by Trigiani's presentation. Coffee night is free and open to the public.
The first issue of the Jimson Weed was published in 1969 at then-Clinch Valley College and ran through 1986, published periodically. It was revived in 1998 and continues through the present day.
Now in its third decade, the literary journal is a student, faculty and college campus publication released each semester featuring poetry, prose, artwork and photography.
Nearly 50 contributors come from the College, community, and nationwide. The fall issue, the largest number of contributors ever, also features work from New Orleans, Chicago, San Francisco, New Mexico, Canada and Poland.
Michael "O'D" O'Donnell, associate professor emeritus of French, will share notes on retirement after 50 years of full-time teaching at UVA Wise. UVA Wise adjunct history professor Michael Samerdyke and students Trevor Meade, Alli Miller, Amanda Shoemaker, Lauren McCoy, Alexandria Smith, Angel Johnson, Ethan Samerdyke, Caroline Barb, Nolan Dawson and Abrianna Handel will also read or perform their work.
Trigiani Returns for Third Visit to UVA Wise
A Big Stone Gap native, Trigiani will present at both coffee night and a writing workshop earlier in the day on Nov. 14.
Trigiani is the New York Times bestselling author of 20 fiction and nonfiction books that have been published in 38 countries. She is also a playwright, television writer and filmmaker. Her new novel, The Good Left Undone, is an endearing story of family love, loss, memories and regret, old age and grief, mothers and daughters then and now, across generations, wars and continents. It was published in April by Random House.
Nominated three times by the Library of Virginia Fiction, Trigiani won for Home to Big Stone Gap in 2007, and has also won a RUSA Award from the American Library Association for Very Valentine. She is a recipient of the Appalachian Writers Heritage Award, presented by the Shepherd University Foundation, the West Virginia Humanities Council and the West Virginia Center for the Book.
Writing Workshop: Your Origins and Your Stories  
Trigiani will conduct a writing workshop Nov. 14 at 1 p.m. in the Rhododendron Room, fifth floor, Slemp Student Center.
A co-founder of the Origin Project, now in its tenth year, an in-school writing program that has served more than 2,700 students in Appalachia, Trigiani has led many writing workshops in the region. 
In this workshop, she will join students in celebrating their origin stories: where they come from and where they draw their inspiration. This event is for UVA Wise students interested in creative writing and for student writers (limited seating).
Coffee Night presentation
Trigiani will present "The Good Left Undone: How to Create Sacred Time & Space to Become a Writer" during coffee night at 7:30 p.m. Her talk, sponsored by the Lecture Committee and the Department of Language and Literature, will address ways to create sacred time and space to become a writer. This is Trigani's third time speaking at UVA Wise.
"I'll show how writers look at the time and space they are in as if it's a story. It's about how writers conduct a writing schedule that fits into their everyday lives and challenges writers to go to their inspirational space on their own time to refine their craft," Trigiani said.
Gillian Huang-Tiller, professor of English, along with other faculty advisors and the Jimson Weed editorial staff, said "it will be an evening of love, creativity, family and community spirit that Adriana and the College promote."
Trigiani's new novel will be available at the event and at the bookstore. A book signing will follow.
This event is free and open to the public. Students will receive cultural activity credit for attendance.