Featured
"A great friend to the College:" Bruce Wasem Honored as UVA Wise Volunteer of the Year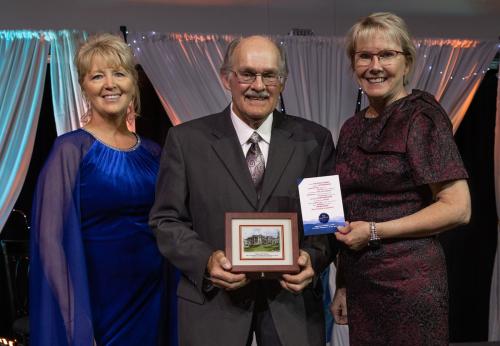 Photo by Mark Robertson-Baker II
Pick any UVA Wise event over the last 30 years—arts, academics and athletics alike. If you look at photos of the crowd, there's a good chance you'll find the 2022 Volunteer of the Year, Bruce Wasem, enthusiastically cheering for the College.
Since the day in 1991 when he stepped foot on the 396-acre campus, Wasem has been involved in everything possible to help make the College better for everyone.
"He always tries to make time to be there for music, theater, readings, and other events. If he could, he went to the games of former players," said Mary Ramseyer, wife of late football coach Bill Ramseyer. "He is very much a UVA Wise man. He is always there supporting the college. Whatever the event you would see Bruce there."
Not only does Wasem show up, he also makes donations and raises funds for student scholarships on behalf of several campus organizations.
Wasem was honored Saturday night for his extraordinary service and dedication to the College at its annual Benefactor's Celebration at the David J. Prior Convocation Center.
"This prestigious award recognizes extraordinary service which positively impacts our students, their families and the College. This year we honor an individual who has been a longstanding member of the UVA Wise family," Valerie Lawson, vice chancellor for advancement and alumni engagement said. "People noticed right away that Bruce Wasem was always the first to step up to serve and support others, and that he cared deeply about the students…Without fail, he goes out of his way to encourage and show the support of others. Tonight, we honor him for his dedicated service to several key groups who raise funds to support UVA Wise."
Wasem says there are many people more deserving of the award than him.
"I'm not really a volunteer. I'm just trying to pay my debt for all those years of salary I received," said Wasem, who is a former professor and football coach and now serves as an adjunct instructor. "I never even thought about this honor. I have seen all the people who have gotten and deserved this, and I never put myself in their category. I'm still not sure I should be, but it's a real honor."
Raising Opportunity
When legendary UVA Wise football coach Bill Ramseyer made the call to Wasem asking him to serve as his assistant, he accepted the mission and never stopped giving, Mary Ramseyer said.
"He is an extremely loyal person who gives his all. When he does a job, it is done well and right. He was an excellent coach," she said.
In 2021, Wasem raised funds to establish the Bill and Mary Ramseyer Football Bicentennial Scholarship, which provides financial support for students who meet the need-based criteria with preference given to members of the football program.
Wasem currently serves as the president of the Poor Farm Society, one of the College's first support organizations. Formed in 1982, the Society is named for the site on which UVA Wise was established, the former Wise County Poor Farm, which served indigent men and women.
Known for its annual gathering to remember the College's origin, the Poor Farm Society typically puts on a traditional Poor Farm meal of soup beans, cornbread and gingerbread. Society members raise money to support the general scholarship fund, Wasem said.
Wasem is also a one-time president of the Highland Cavalier Club, an athletics booster club which supports student scholarships and other athletic department needs. During his leadership, he helped bring in a new generation of members who are still serving today.
Wasem says he gives his time and donations to UVA Wise because, for him, the College has a larger purpose.
"It's important at this College more than any other. The commitment of people to this little school out in the middle of nowhere in the mountains fit my expectations when I first came," he said.
He was particularly impressed by the faculty's closeness and how much the College meant to the area.
"It was neat to be a part of it, and they accepted this Yankee coming down from Ohio," Wasem said. "It's all about giving the students the education to do what they would like to do with their life and be more than they thought they could be."
Serving Others
"A great friend to the College" is what Mary Ramseyer calls Wasem. In addition to serving as the first assistant coach of the football team from 1991-2001 and then head coach from 2002-2010, Wasem taught full-time for a few years before retiring in 2013 and joined the Twinleaf Society, a retiree association which works to make improvements and raise funds for the College, where he remains an active member.
He is also still active on campus as an adjunct professor teaching sports management, sports ethics and coaching.
"He fiercely advocates for truth and fairness and doing what is the right thing," Mary Ramseyer said.
For over 25 years, Wasem—one of the founding members of the Clinch Valley College/UVA Wise Black History Month Committee—has faithfully supported the committees' myriad activities, said former chair and current member, the Rev. Sandra Jones.
"Whether he was master of ceremonies, driving the van or acting as ambassador on- and off-campus, this soft spoken man volunteers his time, knowledge and energy to ensure the success of each program," Jones said. "The Black History Month Committee is honored to have him on our team and we join with the UVA Wise Foundation Board in celebrating him as volunteer of the year."
Wasem not only leads by example, but instills those principles in students.
"As a former public school teacher, you need to support kids and what they participate in. I always would tell my players, 'You expect the fans to come to your games, why wouldn't you watch them perform,'" Wasem said.