Featured
UVA Wise Celebrates 27th Annual MLK Jr. Remembrance March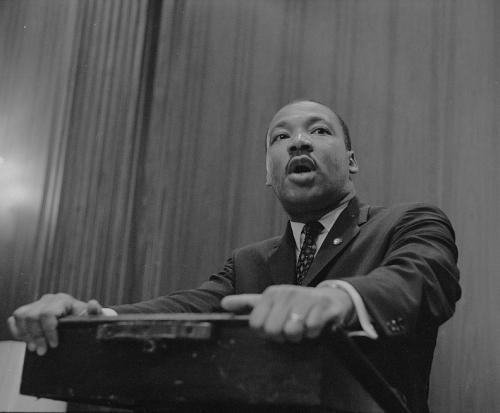 Courtesy: Library of Congress
The 27th annual Rev. Martin Luther King Jr. march and remembrance program, sponsored by UVA Wise returns in person this year celebrating the theme, "Remember, Celebrate and Act."
"We must not forget our history and the horrible things done from hatred. We celebrate the achievements we have made in human rights and remember we still have a long way to go. We as a society, should always be doing for others. Be kind to others, love each other, help those less fortunate and in need. We should always be striving to make the world a better place for those who follow us," said Debbie Vanover, chair of UVA Wise's Black History Month Committee which organizes the annual event.
The remembrance program, presented by both UVA Wise's Black History Month Committee and the Town of Wise, celebrates the legacy of civil rights icon Dr. King.
In 1983, the U.S. government designated the third Monday of January as a federal holiday honoring King's birthday on Jan. 15.
This year, on Monday, Jan. 16, the remembrance program and long-standing candlelight march, which was held virtually since 2020 because of Covid-19 restrictions, will be in person once again.
As part of the remembrance evening events, the free community dinner will begin at 5:30 p.m. at the Wise Baptist Church. Regardless of the weather, the candlelight march will commence at 6:30 p.m. at Wise Baptist Church and end at Wise Church of God, where the program will begin at 7 p.m.
Reverend Leroy Cain Jr., pastor of Chestnut Grove Missionary Baptist Church in Norton, is the program's main speaker. A South Carolina native, Cain attended Midland Technical College and worked in banking and then the funeral home industry.
In 2001, Cain decided to follow his father's footsteps and join the ministry, preaching his first sermon at Zion Pilgrim Baptist Church. Ordained a Baptist minister, he's previously served as an assistant pastor at Bull Swamp Missionary Baptist Church and later became its pastor.
The program will include several other guest speakers including
Town of Wise Mayor Teresa Adkins, UVA Wise Chancellor Donna P. Henry and UVA Wise Director of Alumni Engagement Corey Sanchez. Musical performances will be presented by the Fatty Livers, Wise Guys, Joshua Outsey, Colin Colston and UVA Wise Associate Professor of Music Peter Ryan.
Justin Preston will also recite Martin Luther King Jr.'s speech, "I Have a Dream."
The event kicks off the College's fourth annual Peace Week, which features a series of events focusing on the life, work and legacy of the civil rights leader and non-violence advocate through Friday, Jan. 20. 
The week's events are sponsored by the College's Diversity, Equity and Inclusion office. Some of the events will include a drum circle, potting a succulent plant, mindful fitness and teachings about Dr. King's six principles of nonviolence. For more information, https://www.facebook.com/UVAWiseDEI/.