Featured
Women's Lacrosse Coach Wins UVA's Highest Employee Honor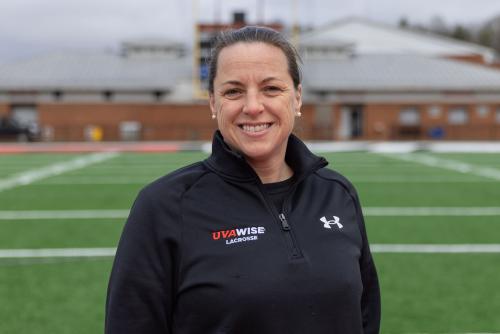 Photo by Mark Robertson-Baker II
The University of Virginia has recently bestowed its highest employee honor on UVA Wise Women's Lacrosse Coach Meghan Dennehy.
This month, Dennehy was named a 2022 Leonard W. Sandridge Outstanding Contributor Award (OCA) winner. She is among 11 staff or team members recently recognized by the University for demonstrating dedication to service through individual efforts, group contributions and commitment to our larger community.
She is the only UVA Wise recipient to receive UVA's highest individual employee award this year.
"I am so grateful to my colleagues who see value in my work and felt I was deserving of this award. Building the lacrosse team at UVA Wise has always meant more to me than just wins and losses—our program focuses on the development of each player both on and off the field," Dennehy said. "Even though most of my job is focused on leading the women on the lacrosse team, I have enjoyed getting more involved on campus outside of the athletic department. I think it's important to connect and build relationships that extend beyond our titles, throughout the whole campus community."
The award is named after Leonard W. Sandridge, who had an exceptional career lasting 44 years at UVA. He served in many roles including treasurer, director of the budget, executive assistant to the president, senior vice president and chief financial officer and eventually, executive vice president and chief operating officer.
Each of the winners receive $1,000, an engraved gift and recognition at a reception later this month.
This semester, Dennehy kicked off her ninth season at the helm of the women's lacrosse program and her 16th season as a collegiate head coach. She has accrued 118 wins in her career which ranks 16th among all active NCAA Division II coaches. The only lacrosse coach in UVA Wise history, she has tallied 70 victories with the Highland Cavaliers. She has also won two conference championships while at the College.
"Starting from scratch, she quickly built the team into a conference contender and outstanding representative of our institution. She was twice named conference coach of the year, including in the program's first season," wrote former UVA Wise football coach and current kinesiology instructor Bruce Wasem in his nomination of her for the honor. "It is clear that Dennehy is an outstanding teacher of skills and strategy, producing lacrosse victories and great publicity for the College."
Donna Hale, UVA Wise adjunct professor of administration of justice, recommended Dennehy for the way she works with the players.
"She does things the right way, and her players love and respect her. I have also met many of the lacrosse parents, and I have seen how much they love and respect Coach Dennehy as well. She has built and maintained a high-quality lacrosse team that speaks well for the University of Virginia's College at Wise," Hale wrote in her nomination.
Dennehy's dedication isn't just focused on athletics. She serves on numerous College committees including the strategic planning committee, athletic and academic hiring committees and the gender equality and inclusion for athletics committee.
Recently,  Dennehy's lacrosse players raised $30,000 during their annual phonathon, inspired by their coach's encouragement and motivation.
Dennehy currently serves as the athletic representative to the staff senate and as vice-president.
"What I found most important is that she enhances the relationship between the faculty and staff. Meg has been a part of our peer group for as long as I can remember. She brought together faculty and staff through dinners, barbecues and social gatherings. I would never have an opportunity to get to know so many staff if it were not for her efforts," Ronald Floridia, associate professor of administrative justice, wrote in his nomination.
This year, she taught freshman seminar for the first time and serves on the first-year-experience advisory committee working to strengthen the support of students' education.
Dennehy contributes to the College by building a sense of responsibility in her players and insisting they participate in service programs including trash clean up and beautification programs, tutoring elementary school students, attending campus musical performances and participating in the annual MLK Jr. March, Wasem said.
Outside the College, Dennehy is a member of the NCAA Division lI coaches connection committee for the national lacrosse coaches organization and on the Intercollegiate Women's Lacrosse Coaches Association Board of Directors. She also serves on the NCAA regional representatives committee for selection to and oversight of its regional tournament. She recently joined the YWCA Northeast Tennessee and Southwest Virginia Board of Directors.
Dennehy, a native of Gambrills, Md., is a 2004 graduate of Limestone College where she received a bachelor's degree in fitness and wellness with a minor in biology. At Limestone, she earned All-American honors for three consecutive seasons in lacrosse. During her senior year as a captain, she led the Saints to a 13-4 record and a national ranking of third in the country. During that same year Limestone made its first appearance in the school's history to the NCAA Final Four. In 2013, Dennehy was inducted into the Limestone College Hall of Fame.
"Dennehy proves herself not only as a competent and successful coach, but as an overall asset to the school. She provides valuable leadership, and is forward-thinking through her relationships with donors," wrote Floridia. "I cannot think of a better role-model for young women than Meg. She encourages her team to be the best on and off the field. Off the field, Meg's players demonstrate the professionalism that radiates from her role as a leader."