Featured
UVA Wise Celebrates Women's History Month in March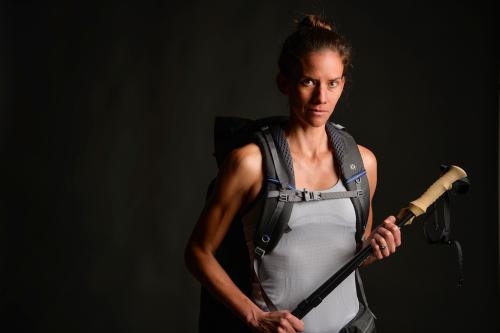 A woman who traversed the Appalachian Trail in record time will host a guided hike and inspirational talk as part of this year's Women History Month series sponsored by UVA Wise in March.
Jennifer Pharr Davis hiked 47 miles per day, every day, for 46 days in 2011 when she set what was then the fastest thru-hike of the Appalachian Trail for anyone. Pharr Davis will headline the month-long series which features trailblazers from Appalachian history, sports and international studies.
Each March, the College's Office for Diversity, Equity and Inclusion (DEI) celebrates Women's History Month by organizing programming to promote the role of women in the past and present.
UVA Wise Assistant Professor of Information Systems Karen Carter who helped to organize the events, says the importance of the series is best surmised by the late U.S. Supreme Court Justice Ruth Bader Ginsburg, "Fight for the things that you care about, but do it in a way that will lead others to join you."
All of the panels, speakers and events are open to the public and will be broadcast on Zoom. For more information, visit uvawise.edu/events.
Women's History Month Events:
"Lunch and Learn: Las Mariposas (The Butterfly Sisters)"
Wednesday, March 1, at 1 p.m.
Smith Dining Hall -  Free lunch is provided at 12:30 p.m.
UVA Wise Instructor of Spanish Jessica Daves will share her scholarship on the story of how the Mirabal sisters, also known as the "Butterfly Sisters"—Patria, Minerva, and María Teresa. They were leaders in the opposition against the Dominican Republic dictatorship of Rafael Trujillo (el Jefe) and were eventually killed for their resistance against his regime and became national heroes.
The Mariposas ( Butterfly Sisters) is the code name for the Dominican Mirabal Sisters whose work is a critical part of 20th century Dominican history, but has also been memorialized internationally in pop culture and activist spaces.
The lecture will also feature how the lives and deaths of these remarkable women, as well as the long-term impact of their work in Dominican memory and international awareness.
A reminder that this presentation makes references to homicide, violence against women, and sexual assault. No explicit imagery or descriptions are included.
Daves holds her Ph.D. in Spanish language and literature from the University of Virginia and her B.A. and M.A. from Auburn University.
"A Women's History of Appalachia"
Wednesday, March 8, at 1 p.m.
Zoom
In the 1960's and 70's, Appalachian women were leading the charge on a number of fronts: labor rights for coal miners, welfare access, reproductive health access, the Federal War on Poverty and civil rights.
Associate Professor of History and Endowed Chair at West Virginia University Jessica Wilkerson will share the subject of her new book project, "A Women's History of Appalachia." Sharing these stories of women and their relentlessness is the core of her work as an author and historian.
"Women's history month is a time to consider the contributions of women in U.S. history, as well as to encourage the study of women's history. This is especially significant for Appalachian history, which too often has been rendered in very masculine terms, ignoring or glossing over how women across race and ethnicity have been part of history," Wilkerson said.
In 2019, Wilkerson wrote, "To Live Here, You Have to Fight: How Women Led Appalachian Movements for Social Justice." 
Wilkerson's other work shares the stories of underrepresented Appalachians with projects such as the Long Women's Movement Project at the Southern Oral History Program, the Invisible Histories Project-Mississippi to document LGBTQ+ history in Mississippi, and the Black Families of Yalobusha County, Miss. Oral History Project at the University of Mississippi.
"From Obstacle to Opportunity: Women's Sports Panel"
Wednesday, March 20, at 1 p.m.
Cantrell Hall and Zoom
UVA Wise student and lacrosse player Kameryn Darrington hosts a panel featuring unique accounts from women who have utilized their relationship with and dedication to sports to create community and opportunity.
"It's imperative that young girls have the opportunity to participate in sports at a young age. Competing in sports helps provide critical fundamental life skills; the importance of health and exercise, competition, critical thinking and teamwork," said Julie Scott, UVA Wise Director of C. Bascom Slemp Student Center, who is a panelist.
Scott has created a local youth basketball league that provides opportunity for more than 200 girls.
"It is vitally important that young girls see strong women leading programs, coaching, women officiating and women working to provide organized opportunities for healthy competition," Scott said. "Girls want to see enthusiasm and a sense of belonging, and, for me and my sports daughter, everything has to be 'extra' and memorable…Girls appreciate the experience and simple joy of playing with friends, and that is what keeps them engaged in sports."
Other panelists include Marcia Mitchell, a former Brown University basketball player and UVA Director of TRiO Student Support Services and several UVA Wise student athletes.
"Jennifer Pharr Davis: Appalachian Trailblazer"
Sunday, March 26, 4 p.m.
Guided hike starting at The Norton Reservoir Trailhead
"A Woman's Place is in the Record Books"
Monday, March 27, 1 p.m.
Cantrell Hall and Zoom
In 2011, Pharr Davis did the unthinkable—hiked 47 miles per day, every day, for 46 days which was the fastest thru-hike of the Appalachian Trail for a man or woman.
On Sunday, March 26, join Pharr Davis along with Explore Norton, on a guided hike starting at 4 p.m. at The Norton Reservoir Trailhead through Flag Rock Recreation Area trails. Following the hike, there will be an informal reception and kickback at Norton's Expo Center, located at 115 8th St SW, Norton.
The next day, Monday, March 27, at 1 p.m. at Cantrell Hall and on Zoom, Pharr Davis will tell her amazing story, "A Woman's Place is in the Record Books."
She will share her inspirational, raw tale of overcoming obstacles to cement her place in history.
Since that record-making Appalachian Trial hike, Pharr Davis has gone on to earn awards like National Geographic's Adventurer of the Year (2012), Asheville's WomanUp Entrepreneur of the Year (2019) and Men's Journal's 25 Most Adventurous Women of the Past 25 Years. Pharr Davis currently sits on President Biden's Council for Sports, Fitness and Nutrition and has sold more than 70,000 copies of books she has authored.
"Rashmi Sadana: The Moving City: Gender and Mobility on Delhi's Metro"
Wednesday, March 29, at 4 p.m.
Zoom
Last year, Rashmi Sadana, Associate Professor of Anthropology at George Mason University, penned her new research book, "The Moving City: Scenes from the Delhi Metro and the Social Life of Infrastructure."
Sadana will discuss the ways that modern capital interests impact urban planning and the way these decisions impact gender and socioeconomics in India. Sadana's research and presentation provide a unique look into the environment and inequalities of India's capital city.
"Latinx in Higher Education: Panel Hosted by Peter Valadez"
Friday, March 31, at 1 p.m.
Zoom
In 2020, Inside Higher Ed posted that Latinx managers made up only 10 percent of American higher education management positions. Hear from UVA Wise Coordinator of Diversity Initiatives Karina Rufino, Associate Dean for Inclusion, Diversity, Equity and Accessibility Catalina Piatt-Esguerra and University of Virginia Human Resources Partner for UVA Health and School of Medicine Maria Terry about their experiences to overcome adversity and create opportunities for themselves and others in higher education. This event is hosted by UVA Wise Lead Multicultural Center Intern Peter Valadez.