Featured
UVA Wise Eighth Annual SWVA Economic Forum to Feature Richmond Fed President's State of the Region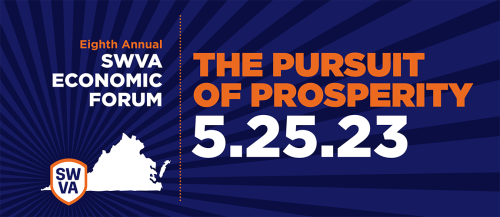 UVA Wise is pleased to announce that Federal Reserve Bank (FRB) of Richmond President Tom Barkin will present the "State of the Region" address at the College's Eighth Annual SWVA Economic Forum in May.
Barkin will share his insights on the overall economy and Southwest Virginia region and offer a question and answer session at this year's one-day forum on Thursday, May 25 at the David Prior Convocation Center. Early bird registration begins March 1.
"We are excited to host the Eighth Annual Southwest Virginia Economic Forum and thrilled Barkin will provide a valued perspective and knowledge of what's happening in the economic landscape and here in Central Appalachia," Director for UVA Wise Economic Development and GO Virginia Region One Kalen Hunter said.
"The Pursuit of Prosperity" is the 2023 theme for the conference which will repeat last year's virtual offering with a hybrid event where participants can attend either online and in person.
"This year we will embrace the theme of 'The Pursuit of Prosperity,' and share the momentum that is driving our region forward," Hunter said. "We hope you will join us as we discover more about energy initiatives, creative talent pipeline solutions and inspiring community development strategies."
UVA Wise is a catalyst for economic development in Southwest Virginia, serving as the support entity for the GO Virginia Region One program and facilitating many other community efforts.
Since 2018, Barkin has served as both president and CEO of the FRB of Richmond where he is responsible for the Bank's monetary policy, bank supervision and regulation and payment services. He also oversees the Federal Reserve System's information technology organization. He serves on the Federal Reserve's chief monetary policy body, the Federal Open Market Committee. Prior to the Richmond Fed, Barkin was a senior partner and CFO at McKinsey & Company, a worldwide management consulting firm, where he oversaw McKinsey's offices in the southern United States. He earned his bachelor's degree, MBA and law degrees from Harvard University.
Tamarah Holmes, Director of the Office of Broadband and Program Manager of the Virginia Appalachian Regional Commission (ARC) Program for the Virginia Department of Housing and Community Development, will emcee the conference.
For 20 years, Holmes has worked in community and economic development in New York, New Jersey and Virginia. She played an instrumental role in the creation of the Virginia Telecommunication Initiative (VATI) having served as the lead in the development of the program that has grown from a $1 million to a $750 million appropriation since 2017. As Virginia ARC program manager, she oversees ARC's economic and community development programming in 25 counties and 8 independent cities in the Appalachian region of Virginia. Holmes holds a master's degree in urban planning and analysis with a concentration in housing and community development. She received her doctorate in public policy and administration from Virginia Commonwealth University.
Registration for the Forum is required and opens March 1 with early bird rate costs which are $20 for virtual attendance and $40 for in-person attendance. Day of conference walk-ins are welcomed. Please visit the Southwest Virginia Economic Forum website for registration, program updates and sponsor information.