Featured
Former MECC Vice President Vickie Ratliff Awarded Prestigious Kanto Memorial Award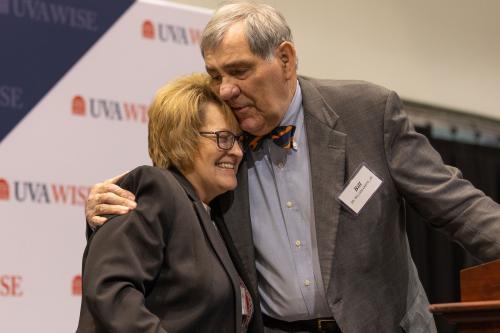 Photo by Mark Robertson-Baker II
Vickie Ratliff, retired Mountain Empire Community College (MECC) vice president of academic affairs and workforce solutions, received the William P. Kanto Memorial Award at the 39th annual Forum on Education held at the University of Virginia's College at Wise (UVA Wise) Thursday evening.
Ratliff is the 31st recipient of the award, which recognizes a local citizen leader who has advanced the cause of education in Wise County. It's named after William P. Kanto Sr., who played a vital role in education in the region.
"We are pleased to recognize an academic leader who has had an immeasurable impact on Mountain Empire Community College and education in Wise County and Norton. She has been a true servant leader who has passionately and tirelessly advocated for students of every age to have the opportunity to be successful by creating many pathways for them to follow in pursuing their educational goals," said Dr. William J. "Bill" Kanto Jr. who presented the award named for his father.
Ratliff, an MECC alumna, served both as a professor and administrator before she retired in 2021. While at MECC, she held numerous leadership roles, including vice president of academic affairs and workforce solutions and student services and dean of business and information technology.
Retirement didn't stop Ratliff from continuing to make an impact in education, Kanto said. The Big Stone Gap resident has helped MECC with grant administration, served UVA Wise as project lead for Opportunity Appalachia and served as an interim dean of health programs at Virginia Highlands Community College (VHCC).
She, with her husband, established the Donald and Victoria Ratliff Scholarship in 2010 to assist MECC students enrolled in business and information technology curricula.
She holds a Ph.D. in education from Liberty University, an M.B.A. from Morehead State University, a bachelor's in business administration from Tusculum University and an associate's degree from MECC.
Thursday night's presentation of the award held special meaning for Kanto, who shared that his father was a charter member of the state community college board and worked with then-Governor Linwood Holton to establish MECC.
"There is a relationship here I truly treasure, and I am so glad you are a recipient of this award," Kanto said. 
Ratliff said she was honored and humbled to receive the award.
"I have been blessed for years not only with my family but the jobs I have had, and education is at the center of that," Ratliff said. "I am not worthy of this award. Those of you in the classroom every day, and particularly those working with K-12, deserve the award. You make the foundations and we just take it from there. And it is not always easy whether you are in higher ed or K-12. We do it because we love education, and we love our students, and love this region. If we didn't, we wouldn't be doing what we are doing. I thank you. This is an honor I will always treasure."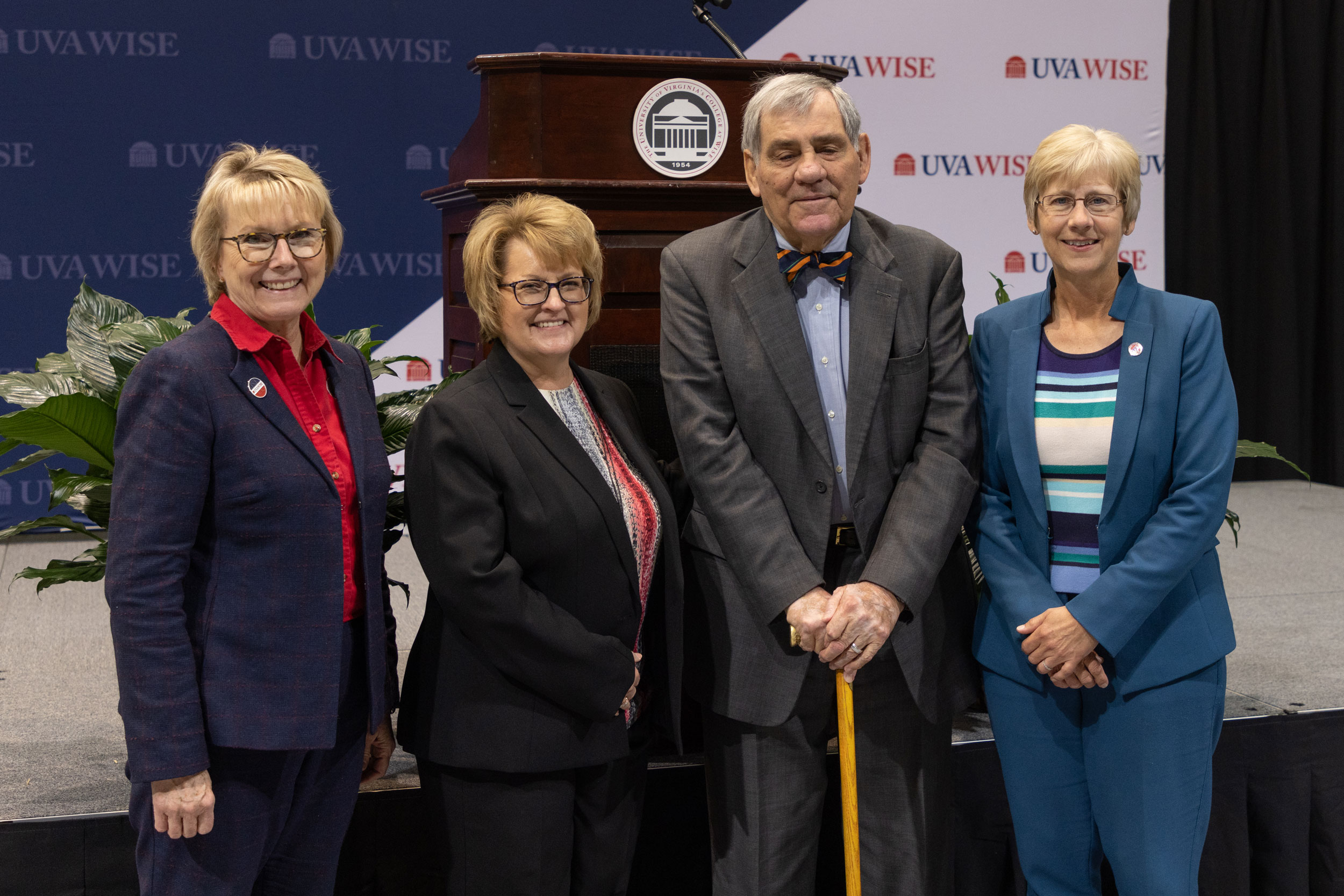 Photo by Mark Robertson-Baker II
More than 100 regional educators attended the annual Forum on Education at UVA Wise's David J. Prior Convocation Center.  Special guests in attendance included UVA Wise Chancellor Donna P. Henry, MECC President Kristen Westover, Norton City Schools Superintendent Gina Wohlford and Wise County Schools Superintendent Mike Goforth.
Virginia Secretary of Education Aimee Rogstad Guidera delivered the keynote speech via Zoom.
"We need to learn from those of you in the room that are teaching us every day how to be great. We need to replicate your stories. We need to learn from what you're doing well, and we need to make sure that others across the Commonwealth are learning from your successes," Guidera said. "Every single student at every single level deserves a great teacher, deserves access to a great education. And I want to applaud you all tonight for gathering and celebrating this and taking the time to say it matters to celebrate and recognize excellence."
Guidera shared her goals for educating Virginia's students, which entails investing in people, providing students the skills to meet the needs of the changing labor market and ensuring every student gets what they need to be successful. She added that a key priority is making sure students not only get educated inside the classrooms but expand their experiences through internships.
"Investing in people is a winning strategy," Guidera said. "With increased exposure to the world outside education and increased experiences, it changes people's dreams. It changes their opportunities and provides pathways and better outcomes in the long run."