Featured
UVA Wise Springs into Service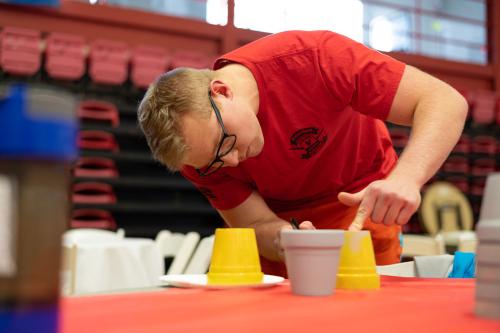 It's no joke. Students can spring into service on April Fools' Day at UVA Wise.
This year, the College will celebrate its 13th annual Day of Service on Saturday, April 1.
Students, faculty and staff can select from a wide variety of ways to improve their community from making blankets for pets, helping families in crisis or cleaning up the campus and surrounding community.
"We hope that participants use Day of Service as a way to strengthen their connection to our community outside of campus," said Nicole Honeysett, UVA Wise assistant dean of students and director of community standards.
Day of Service will kick off with its traditional breakfast sponsored by Wise Kiwanis Club at 8 a.m. inside the Greear Gymnasium. There, students, faculty and other volunteers can also pick up their SGA-sponsored t-shirts.
Around 9 a.m., volunteers will depart to their community-based projects and return to campus around noon.
"Community service is one way to leave a positive impact as a member of the UVA Wise community while also allowing participants to build relationships, gain new skills and learn more about community around us," Honeysett said.
The UVA Wise sponsored volunteer event got its start in 2011 when UVA Wise and the University of Virginia joined together to honor the inauguration of then-UVA president, Teresa A. Sullivan.
The 2023 Day of Service project slate includes:
Campus Beautification: Help prepare the area near Slemp Student Center circle on campus for spring by mulching and weeding. 
Pet Blankets: Help make fleece pet blankets for the Wise County Animal Shelter.
Wise Primary School: Help paint, organize supplies and complete with other maintenance projects at Wise Primary School.
Campus Shoebox Campaign: Work on a variety of projects to support the Campus Shoebox Campaign for needy children all over the world.
The Big Glades: Spend time with the Student Government Association (SGA) beautifying the Big Glades in Wise.
City of Norton: Help revitalize an existing roof garden at one of Norton's public parks. This 4-hour project involves replacing the garden and planting native species on a lofted surface.
Wise County Animal Shelter: Travel to the Wise County Animal Shelter to help shelter staff prepare for spring at their facility. All participants must sign a waiver and be over the age of 18 to participate. 
Lonesome Pine Library: Help the Lonesome Pine Library with various projects inside and outside the library in Wise.
Family Crisis Support Services: Travel to help set up living quarters at a new location of Family Crisis Support Services.
Students should register to volunteer: https://www.uvawise.edu/day-service.