Featured
UVA Wise NSLS Chapter Receives National Recognition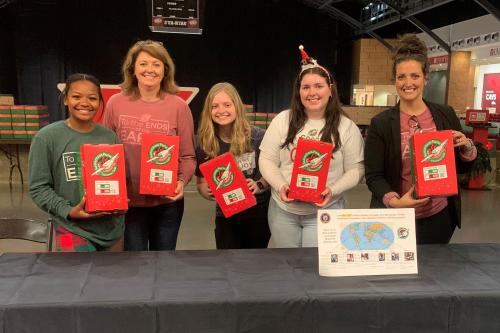 The UVA Wise National Society of Leadership and Success (NSLS) chapter recently learned it was recognized with the Distinguished Chapter Award for the Spring 2023 Scholarships and Awards season.
NSLS is an organization that provides a life-changing leadership program that helps students achieve personal growth, career success and empowers them to have a positive impact in their communities. Each year, the NSLS recognizes one chapter for the impact it's had on both its members and the broader community, as well as honoring additional standout chapters with the Distinguished Chapter Award.
"We work very diligently to go above and beyond within our chapter. Being a small chapter, having the involvement and number of inductees that we do is significant in comparison to larger universities. We might be small, but we have made a large impact," says Stephanie Shell, director of orientation and special programs and NSLS advisor at UVA Wise.
Small but mighty, the UVA Wise NSLS chapter has made waves of impact on the lives of student members as well as those in the surrounding communities. The UVA Wise chapter leads with an impact focus, looking to discover the ways in which they can help students make an actionable difference in the world.
"Helping our students connect the dots with what they are learning in NSLS to life beyond UVA Wise is very important. Those invaluable life skills that are often taken for granted are what we try to highlight and instill in our future leaders," Shell adds.
UVA Wise's chapter has even inspired a former member to help inspire students the way that she was. Telena Turner, coordinator of student engagement at UVA Wise, stepped into the role of co-advisor after being an NSLS member as a student. Turner says she entered the chapter as a shy college freshman and left as a confident leader. While participating as a student Turner went above and beyond the NSLS standards, earning the National Engaged Leader Award (NELA), as well as serving as President on the Executive Board. The time spent within the organization fueled her desire to assist in "building leaders who make a better world," as the NSLS motto says.
"What I love about being an advisor is the customized leadership training experience. Being able to assist them in taking their dreams and passions to the next level is something that I am happy to be a part of," says Turner.
Cloey Bailey, from Coeburn, Va., who is double majoring in cell and molecular biology and psychology serves as the success networking team (SNT) coordinator on the NSLS 2023-2024 Executive Board. Her involvement within the chapter has already impacted her trajectory.
"I wasn't surprised to hear that we were being recognized nationally. Our chapter is very effective in a number of ways that other people may not realize in a larger setting," says Bailey. "We have such a large outreach for such a small school, which speaks to the difference UVA Wise's chapter has made. The people within the organization really want to see you succeed."
The reach of the chapter spans further than just Wise County. Since the fall of 2013, the chapter has coordinated a Campus Shoebox Campaign in support of the Operation Christmas Child project with Samaritan's Purse. Students have participated in a variety of events to support this effort, such as speaking to other organizations to obtain funding. Members have traveled to the processing center for Operation Christmas Child to witness the next steps in the venture. There they saw what happens next, and even had the opportunity to hear shoebox recipients tell their stories. That firsthand experience proved that their efforts had a global impact.
"Our students are not just learning about themselves, they're learning how to better serve their community," Turner adds.
Kayla Powers of Wise, Va., a 2023 graduate and now NSLS alum, reflects on her time in NSLS, "I had the immense pleasure of working alongside of some of the best leaders throughout my time serving as President on the Executive Board. My favorite project, by far, was the Operation Christmas Child Shoebox Campaign that NSLS participates in yearly."
This isn't the first time UVA Wise NSLS chapter has been honored. The chapter was recognized with the Force For Good Award in 2020, and received the Distinguished Chapter Award in 2019 by the NSLS National Office. The chapter also was recognized with the 2014-2015 Best Overall Program of the Year for its second annual Campus Shoebox Campaign, and co-advisor, Stephanie Shell was named a 2021-2022 & 2014-2015 Advisor of the Year. The Campaign was also previously recognized as the 2013-2014 Service Program of the Year.
"Being involved in an organization like the NSLS can be as much or as little as a student wants it to be. The members of our chapter have really put forth the effort to maximize their experiences so that they may take what they have learned to other places in life. Coming from a small chapter, the impact they have made is easily recognizable," says Tabitha Smith, co-advisor and associate vice chancellor for diversity, equity and inclusion.
The NSLS is the nation's largest leadership honor society, with 762 chapters and 1,858,432 members nationwide. The UVA Wise Chapter was founded in 2011 and aims to continue to foster an environment that helps people discover and achieve their goals.