Featured
Musick To Our Ears: Alumna Earns Federal Law Enforcement Position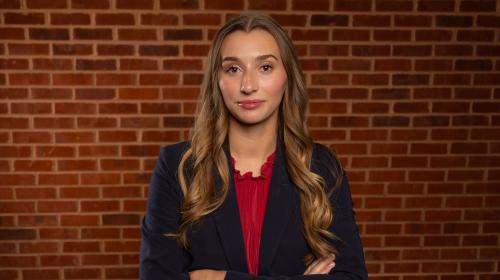 Photo by Mark Robertson-Baker II
Erin Musick of Fall Branch Tn., a recent alumna of UVA Wise, has been busy since graduating from the College in May of this year. Musick, who earned a Bachelor of Science in Administration of Justice, immediately put her degree to use. Shortly after graduating, she interned with the Georgia Bureau of Investigation (GBI), where she gained the necessary experience to lead her to her next venture: working in a confidential, high-profile federal law enforcement position with the Department of Homeland Security.
Musick began her journey as a Cavalier when she was recruited to play for the UVA Wise women's golf team in 2020. Starting her college career during a global pandemic brought forth its own set of challenges, but it was nothing she couldn't handle. During her freshman year, she took Introduction to Criminal Justice, which ignited her interest in public service. Her desire to help communities and improve the criminal justice system has been the driving force behind her joining the field.
After deciding what field she wanted to go into, Musick realized that she wanted to work at the federal level. Her internship with the GBI allowed her to step into the shoes of an agent and experience criminal investigations firsthand. From obtaining search warrants to sitting in on autopsies, she witnessed it all.
"The internship gave me so much insight. It made me realize exactly what type of field work I wanted to do," said Musick.
When reflecting on her time at UVA Wise, Musick also cited her close relationships with faculty and staff as being one of the most impactful parts.
"If I didn't build such strong relationships with my mentors, I wouldn't have gotten where I am now," said Musick. "Tabitha Smith introduced me to this position opening specifically. Without her, I wouldn't have gotten an opportunity like this."
In addition to Smith, who serves the College as associate vice chancellor for advocacy and opportunity, she also credits some of her success to UVA Wise mentors Kendall Rainey, director of athletics; Ronald Floridia, associate professor of administration of justice; Yenli Yeh, professor of administration of justice; Ben Mays, department chair and associate professor of theatre and technical director; and Donna Hale, adjunct professor in the department of social sciences.
"Erin's deep passion for advocating around issues of sexual violence demonstrates her passionate heart. She is also one of the most determined students I have ever encountered. Her motivation to go after her goals is contagious. I am blessed to have had the opportunity to cheer her on as student and now as an alumna," said Smith.
The process leading up to this point has been lengthy for Musick. For several months she has participated in an assortment of rigorous physical fitness tests, polygraph examinations and other interview tactics to prepare her for the position.
When asked about what experiences have best prepared her for this career, Musick said, "Being a woman. Having to learn to be aware of your surroundings and being able to protect yourself. There have been situations growing up where I felt like my safety was at risk. That made me realize that I wanted to protect myself and others around me."
According to the Bureau of Justice Statistics, in the year 2020, 15% of federal law enforcement officers and 13% of supervisory law enforcement personnel were female. Musick says she is cognizant of the myths of women in law enforcement and is prepared to enter the field ready to prove those theories wrong.
Musick also hopes her integrity is a trait that will serve her well in the field. She believes her good values and honesty came from her parents and were further developed during her time serving on the UVA Wise Honor Court, which is a body of students elected to enforce the College's Honor System and adjudicate violations.
"My hope for this job is to take what I have learned and be the best I can be," Musick added. 
Erin is slated to begin her training before the end of the year.