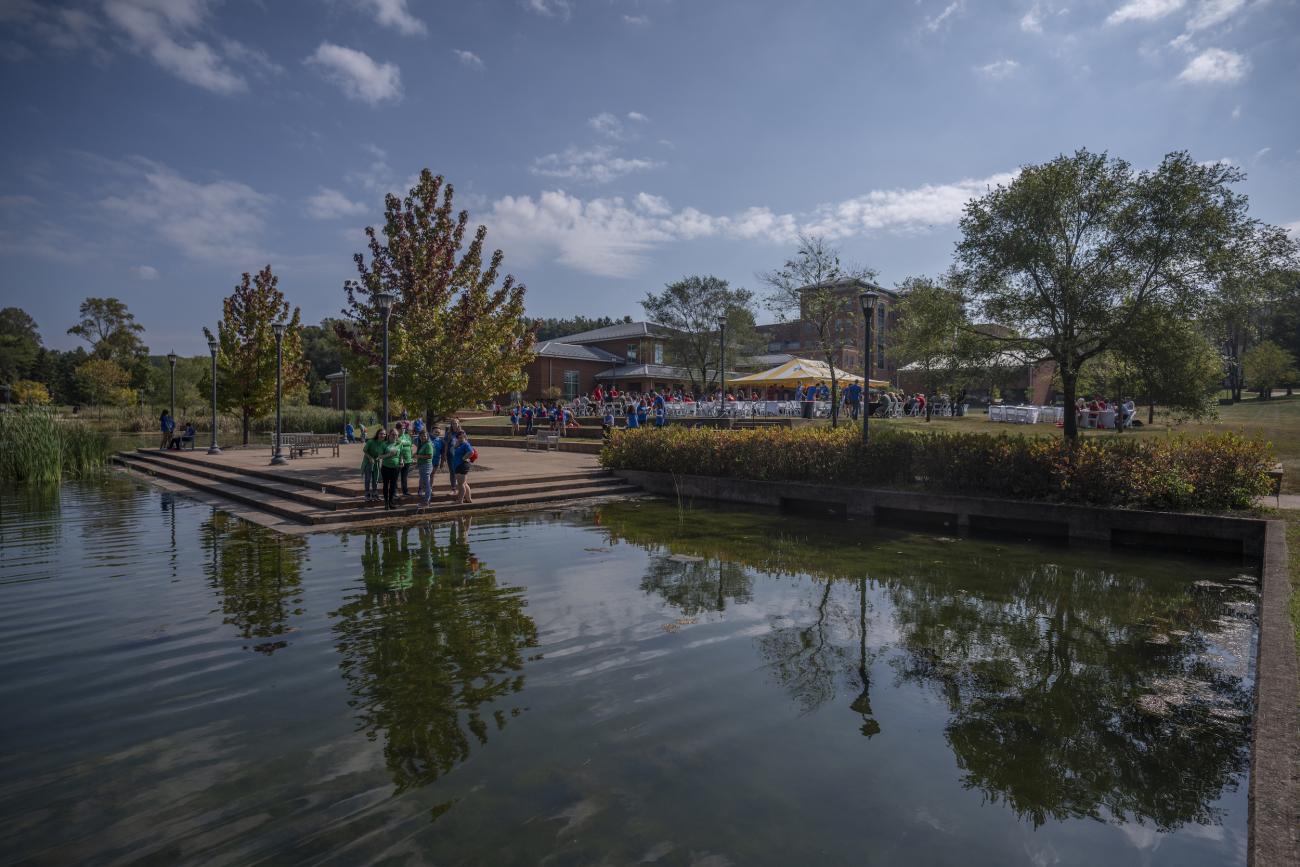 Clubs & Organizations Directory
Alpha Gamma Omega
Alpha Gamma Omega is a Christ-Centered social fraternity. Our brotherhood seeks to know, love, and glorify God and be used by Him to establish, equip, and encourage lifelong followers of God. We aim to develop men as fully mature leaders of Christ by following the commandments in the word of God. Men that have Christ at the center of their lives, who impact the communities around them, and win others for the Kingdom
Alpha Gamma First Gen Honor Society
The Alpha Gamma chapter of the Alpha Alpha Alpha First Generation Honor Society is a national honor society, serving to promote awareness and create a community of first-generation college students across campus.  Once students are accepted into this honor society, they become a lifetime-member.  The honor society is also open to faculty and staff who were first generation college students during their pursuit of a Bachelor's degree.  UVA Wise alum are also welcome to apply for the honor society.
Asian Student Association
The purpose of the Asian Student Association is to inform, celebrate, and appreciate Asian culture by gathering the student population here at UVA Wise. Our goal is to share the different aspects of Asian culture through fun activities such as food nights and calendared holiday events that highlight different culture
Arts Guild
The Art Guild is an organization open to students of all majors with the intent of sharing art and forming a connection with the Wise community through art. Members also aim to give each other feedback, tips, and constructive criticism (when asked for it) to fellow members. We accept members at any time and have a discord server to help prospective members navigate and learn about the Art Guild or the arts in general.
Baptist Collegiate Ministries
Baptist Collegiate Ministries and the Baptist Student Center are spiritual resources for the UVA Wise Community. Students are encouraged to grow spiritually, intellectually, socially and physically as well as develop their individual gifts, leadership skills and engage in acts of love, worship and service. Everyone in the college community is welcome to participate. BCM is sponsored by the Emerging Leaders Team of the Virginia Baptist Mission Board and the churches of the Wise Baptist Association. BCM is in its 50th year at UVA Wise!
Black Student Union
The purpose of the Black Student Union is to represent the interest and concerns of black students at UVA Wise and to bring together all aspects of the black student life for the purpose of improving the campus environment. Our goal is to promote unity on campus by offering diverse cultural, informational, social and academic events.
Caval33ts Gaming Club
Caval33ts is an Esports club that puts together teams of players for collegiate tournaments for games such as Overwatch, Rocket League, and others. The club also hosts local tournaments for Super Smash Bros. and does casual game nights as well.
Cavalier Basketball Club
The Cavalier Basketball Club is a club made to play pick-up basketball. To become a member, one must be a University of Virginia's College at the Wise student, staff, or alumni. The Cavalier Basketball Club meets one time a week. For the current Spring 2022 semester, the club meets in Greear Gymnasium on Wednesday nights from 9-11 pm.
Circle K International
Circle K International exists to provide students and other college members with the chance for volunteerism as well as to build a stronger bond with the community. Circle K is committed to building leadership, friendship, and citizenship in our society through community service. Circle K International is a branch of the Kiwanis Club of Wise.
DevHub@Wise
DevHub@Wise works to bring innovative technology solutions to far Southwest Virginia. Our primary objectives are to: train and educate students from UVA Wise in technological literacy (ex. app development) and address issues in the Appalachian community with technology-based solutions.
Finance and Investing Club
The Finance and Investing Club at The University of Virginia's College at Wise is a newly established club that is aimed at helping students learn financial tips and tricks, as well as how to invest. Our goal is to provide all members with knowledge regarding finances and investing so that they can use this for the rest of their life. We strive to create a network of students and alumni that can share and exchange information with one another about finances and investing. Along with teaching, we also work together as a team to develop investing strategies and identify potential stocks to invest in.
The Guild of Gaming Cavaliers
The Guild of Gaming Cavaliers is an open community for the purpose of enjoying the hobby of tabletop gaming and its associated activities. Games such as Dungeons & Dragons, Call of Cthulhu, and Traveler. Associated activities can be, but are not limited to; Creative Writing, Worldbuilding, Painting, Drawing, sculpting, and various other crafts. Prior experience is not required and all who are interested are welcome to join in on the community and fun of the hobby.
Honor Court
UVA Wise adopted an Honor System in 1956 under which all students pledge to cooperate in acting honestly and honorable. The Honor System is administered by an Honor Court composed of two representatives from each class. Upper class representatives are elected by the student body each spring and freshmen representatives are elected after the start of the fall semester. It is the job of the Honor Court to enforce the Honor System and to adjudicate violations. The Honor Court office and conference room are located in the Student Leadership Wing on the third floor of the Slemp Student Center.
Intramural Sports
Jimson Weed Literary Journal
Jimson Weed is a biannual journal of the Department of Language and Literature at UVA Wise. The Journal publishes poetry, prose, and original art including paintings and photography. The Jimson Week can also be found digitally on the college website.
Kinesiology Club
The Kinesiology Club promotes health and wellness among college age students and helps students explore the career opportunities within Kinesiology. We help students connect to post-graduation and career opportunities within Kinesiology, such as: occupational & physical therapy, athletic training, exercise physiology, nutrition, personal training, and sports psychology. By being a part of the kinesiology club or one of the four kinesiology majors (Health and Wellness, Exercise Science, Sports Management, and Health & Physical Education), you can learn more about how a career in Kinesiology can be very beneficial. Our goal is to teach students about the best ways to live an active and healthy lifestyle to help improve their health and connect them to careers within the kinesiology field.
LGBTA Society
Marching Highland Cavalier Band
The Marching Highland Cavaliers is open to any student who has prior band experience. Members should be able to perform on brass, woodwind or percussion instruments or be able to perform routines with flags, rifles or baton. Tryouts are held in the spring.
The National Society of Leadership and Success
The National Society of Leadership and Success (NSLS) promotes student leadership by helping students discover and achieve their goals. NSLS members are success-oriented campus leaders who have a 3.0 or greater GPA and are in good standing as students at UVA Wise.
Outdoor Recreation Program
The Outdoor Recreation Club encourages student involvement in campus life and the natural resources of Southwest Virginia and works to promote outdoor adventures, activities and interests of the student body.
Phi Mu Alpha Sinfonia
Phi Sigma Sigma Sorority
Phi Sigma Sigma is an international philanthropic and social organization, the first non-sectarian fraternity for women and a proud member of the National Panhellenic Conference. Phi Sigma Sigma provides a premier member experience to collegiate members on almost 100 campuses across North America. Grounded in the motto "Aim High," Phi Sigma Sigma consistently looks for innovative, new ways to develop the sorority experience for today's campuses and foster lifelong friendships among collegiate and alumnae members. Passionate about serving our campus and community, Phi Sigma Sigma supports the philanthropic cause of "school and college readiness." We partner with the Kids in Need Foundation and the Backpack Build program to provide support to local schools. 
Pi Kappa Phi Fraternity
Pi Kappa Phi is a national Greek letter social fraternity. For over 100 years, Pi Kappa Phi has been building better men on college campuses across the country. Pi Kappa Phi is a first class fraternity who firmly believes in the tenets of Character, Leadership, Academics, Sportsmanship, and Service. The Epsilon Epsilon Chapter takes pride in being the longest standing social Greek organization on campus. Active in student government, athletics, intramurals, the arts, numerous academic organizations, and community service projects, the brothers of Pi Kappa Phi are leaders in many ways.
Psi Chi
Psi Chi is a national honor society whose purpose shall be to encourage, stimulate, and maintain excellence in scholarship of the individual members in all fields, particularly in psychology, and to advance the science of psychology.
Residence Hall Association
The Residence Hall Association (RHA) at UVA Wise promotes community among residents and students, represents all students living in residence halls and apartments, supplies channels through which residents may express opinions and performs all other duties necessary for the betterment of residential students. RHA is a very active organization on campus and represents UVA Wise at several state and regional conferences, including VACURH,  SAACURH and NACURH.
Sigma Alpha Omega Sorority
We are a Christian social sorority.  First of all we are founded in Christ and secondly in sisterhood.  We encourage one another to grow in love through life in Christ.  Some of the ways in which we fellowship include Bible studies, social activities, retreats, and service projects.  Sigma Alpha Omega® is a great way to get involved and enjoy college life while remaining true to your identity as a child of God. Our mission is to glorify God by reaching women across the world through the expansion of the sisterhood, by encouraging spiritual development through Christ‐inspired accountability and unity, by participating in evangelistic and philanthropic endeavors, and focusing on good scholarship and humble leadership
Student Activities Board
The Student Activities Board at The University of Virginia's College at Wise is a branch of the Office of Student Activities.  Its mission is to provide a cultural, social, and recreational outlet for the student body of the College.  The Student Activities Board strives to enhance the college experience by encouraging student involvement and leadership.  We, the members of the Student Activities Board, are committed to providing various sources of entertainment that will create a sense of community amongst the student body.  Our mission is to complement those of the College and the Office of Student Activities. Membership is open to all students that show an active interest in Student Activities.
Student Ambassadors
The UVA Wise Ambassadors work in cooperation with the UVA Wise Admissions Office. The Ambassadors work to develop positive attitudes among the students who express interest in UVA Wise, educate and acquaint prospective students, parents and visitors in an honest and positive manner about college life at UVA Wise, the college community, campus geography, and areas helpful to the aforementioned individuals, assist the various divisions of the college community, project an increased level of school spirit and pride to both the existing college community and prospective students, and provide feedback to the Admissions Office. Ambassadors assist by giving campus tours and helping at Preview Days.
Student Athlete Advisory Council (SAAC)
The purpose of the Student Athlete Advisory Committee is to provide a voice for student-athletes in order to enhance the overall student-athlete experience. Specifically, the responsibilities of the SAAC include:
Create a line of communication with athletic administration
Disseminate information to student-athletes
Gain input from student-athletes regarding UVA Wise, conference, and national athletic policies and concerns
Solicit student-athletes responses to proposed legislation
Sponsor outreach activities for the local and campus communities
 
Student Government Association
The Student Government Association (SGA) represents the student body in matters affecting student life and affairs of the College, promotes and supervises student organizations and activities, and promotes improvement of community conditions. All students enrolled for six or more semester hours are voting members of the SGA. The branches of the SGA include elected executive board officers, senators representing each class, at-large senators, and an international senator.  The SGA president has the power to appoint members of the student body to their cabinet.
Student Nurses Association 
The Student Nursing Association's purpose is to engage students in shared governance and civic duty in order to prepare them for future leadership positions. In order to be a member, students must be accepted or have provisional acceptance into the UVA Wise nursing program.
Tetris Club
The UVA Wise Tetris club aims to build a tight-knit community around the
critically acclaimed puzzle game Tetris. Research suggests that playing
Tetris aids in the development of an individual's critical thinking
skills while improving general cognitive speed. Members will find
themselves immersed in a highly inclusive yet competitive environment,
building upon these core skills and finding new opportunities for
friendships and rivalries along the way. Tetris Club officers and
committee members will act according to UVA Wise's student conduct code
and demonstrate high degrees of honesty, mentorship, and leadership.
Wesley Fellowship
Wesley Fellowship is an open and inclusive Christian community of spiritual exploration. Wesley meets regularly for discussions about faith and life. There are also gatherings for worship, study, fellowship, and spiritual growth. Wesley provides opportunities to participate in community service and outreach projects, including an alternative spring break trip. At Wesley students explore what it means to be in relationship with God, others, and all of creation through Jesus Christ. Membership is open to all students. Though Wesley Fellowship is distinctly Christian, one need not identify as Christian to come explore Christianity with us. You are welcome at Wesley. Our current website is www.uvawisewesley.org.