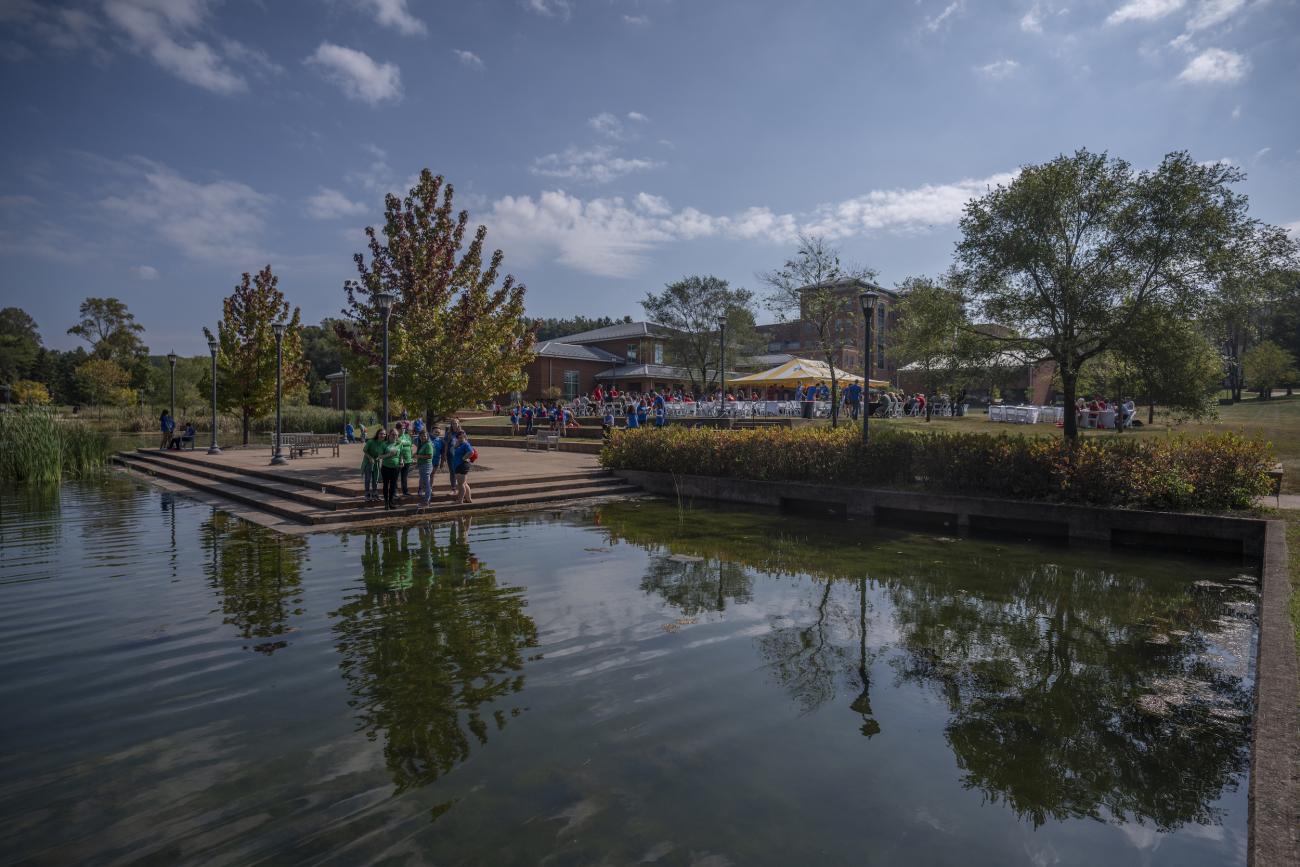 Clubs & Organizations Directory
African Cultural Association
Alpha Phi Sigma
Arts Guild
Baptist Collegiate Ministries
Baptist Collegiate Ministries and the Baptist Student Center are spiritual resources for the UVA Wise Community. Students are encouraged to grow spiritually, intellectually, socially and physically as well as develop their individual gifts, leadership skills and engage in acts of love, worship and service. Everyone in the college community is welcome to participate. BCM is sponsored by the Emerging Leaders Team of the Virginia Baptist Mission Board and the churches of the Wise Baptist Association. BCM is in its 50th year at UVA Wise!
Catholic Campus Ministry
Circle K International
Circle K International exists to provide students and other college members with the chance for volunteerism as well as to build a stronger bond with the community. Circle K is committed to building leadership, friendship, and citizenship in our society through community service. Circle K International is a branch of the Kiwanis Club of Wise.
Darden Society
The Darden Society is the oldest academic honor society at UVA Wise. Founded in 1964 as Clinch Valley College's first honor society, it was named for Colgate Darden, governor of Virginia, president of the University of Virginia, and benefactor of the College. Membership is by invitation only.
DevHub@Wise
DevHub@Wise works to bring innovative technology solutions to far Southwest Virginia. Our primary objectives are to: train and educate students from UVA Wise in technological literacy (ex. app development) and address issues in the Appalachian community with technology-based solutions.
Environmental Club
The Environmental Club's mission is to educate young people about the environment, environmental thought and activity, and to support and promote environmentalism. The Environment Club is an organization of faculty, students, staff, and others concerned with environmental issues on campus and in the surrounding area.
Gaming Club
The Gathering
The Gathering is a ministry of Camp Bethel in Wise. The purpose of The Gathering is the same as Camp Bethel Ministries with a focus on college students. Members strive to spread the Gospel of the Lord Jesus Christ in keeping with the Great Commission and to disciple in Christian living.
Highland Cavalier
The Highland Cavalier is the College newspaper. Published each Friday, while school is in session, the Highland Cavaliers keeps students, faculty and staff updated on the latest happenings at UVA Wise. Any student is welcomed to participate on the staff of the Highland Cavalier.
Honor Court
UVA Wise adopted an Honor System in 1956 under which all students pledge to cooperate in acting honestly and honorable. The Honor System is administered by an Honor Court composed of two representatives from each class. Upper class representatives are elected by the student body each spring and freshmen representatives are elected after the start of the fall semester. It is the job of the Honor Court to enforce the Honor System and to adjudicate violations. The Honor Court office and conference room are located in the Student Leadership Wing on the third floor of the Slemp Student Center.
Innovators INC
Interfraternity Council 
The Interfraternity Council (IFC) is the umbrella organization for four inter/national fraternities. The purpose of the IFC is to promote and further the best interests of the fraternity community, its member chapters, and The University of Virginia's College at Wise. Belonging to a fraternity entails a life-long commitment and encapsulates all parts of a student's life: academics, leadership friendship, brotherhood, athletics, community service, career exploration, and social activities.
Intramural Sports
Jimson Weed Literary Journal
Jimson Weed is a biannual journal of the Department of Language and Literature at UVA Wise. The Journal publishes poetry, prose, and original art including paintings and photography. 
Lambda Pi Eta
LGBTA Society
Lovelace Society
Marching Highland Cavalier Band
The Marching Highland Cavaliers is open to any student who has prior band experience. Members should be able to perform on brass, woodwind or percussion instruments or be able to perform routines with flags, rifles or baton. Tryouts are held in the spring.
Multicultural Alliance (MCA)
The purpose of the Multicultural Alliance is to provide educational opportunities (i.e. speakers, special programs, panel discussion) concerning multicultural issues for the students, faculty, and staff at the University of Virginia's College at Wise and for the surrounding communities. The MCA will assist in creating an atmosphere at UVA Wise where all people will be treated with equal respect and will be provided with equal access to every facet of UVA Wise's program irrespective of race, gender, age, national origin, ethnic group, religion or any disabling condition.
National Association for Music Educators
National Association for Music Education (NAfME), among the world's largest arts education organizations, is the only association that addresses all aspects of music education. NAfME advocates at the local, state, and national levels; provides resources for teachers, parents, and administrators; hosts professional development events; and offers a variety of opportunities for students and teachers. The Association orchestrates success for millions of students nationwide and has supported music educators at all teaching levels for more than a century.
National Residence Hall Honorary 
The National Residence Hall Honorary recognizes individuals living in the residence halls who have provided outstanding service and/or provided important leadership in the advancement of the residence hall system. NRHH recognizes the top 1% of residence hall leaders.
National Science Teachers Association 
The National Science Teachers Association (NSTA) is open to all students at UVA Wise. The NSTA is an alliance of the National Science Teacher's Association, Arlington, Va. The purpose of NSTA is promote the mission of NSTA, to acquaint pre-service teachers of science with the support resources from NSTA, to provide professional development in science education to pre-service teachers and to acquaint pre-service teachers of science with others like themselves at their university or college across the United States and Canada.
The National Society of Leadership and Success
The National Society of Leadership and Success (NSLS) promotes student leadership by helping students discover and achieve their goals. NSLS members are success-oriented campus leaders who have a 3.0 or greater GPA and are in good standing as students at UVA Wise.
Order of Omega
Order of Omega is a national, Greek leadership honor society that recognizes Greek leaders who have made significant contributions to inter-Greek relations and activities and who inspire others to strive for similar conspicuous attainment. Order of Omega brings together outstanding fraternity men and women to create an organization which will help to mold the sentiment of the institution on questions of local and intercollegiate fraternity affairs. Order of Omega also brings together members of the faculty, alumni, and student members of the institution's fraternities and sororities on a basis of mutual interest, understanding and helpfulness and helps create an atmosphere where ideas and issues can be discussed openly across Greek lines and to help work out solutions.
Outdoor Recreation Program
The Outdoor Recreation Club encourages student involvement in campus life and the natural resources of Southwest Virginia and works to promote outdoor adventures, activities and interests of the student body.
Panhellenic Council
The Panhellenic Council (PHC) is the umbrella organization for four inter/national sororities at UVA Wise. Membership is composed of sorority women at UVA Wise.
Philosophy Club
Phi Alpha Theta
Phi Mu Alpha Sinfonia
Phi Sigma Sigma Sorority
The Theta Rho chapter of Phi Sigma Sigma prides itself on being one of the most diverse organizations on campus. The chapter is made up of ladies from several different ethnicities and backgrounds. Their main focus as a group is to serve the campus, the community, and their International organization through fundraisers and philanthropy events. Their focused philanthropies include: The National Kidney Foundation, The Susan G Komen Breast Cancer Awareness Fund, The Ronald McDonald House,  the two oversea's children they sponsor through Children's International, their Adopt-a-Street, as well as local nursing homes and orphanages that we volunteer with.
Pi Kappa Phi Fraternity
Pi Kappa Phi is a national Greek letter social fraternity. For over 100 years, Pi Kappa Phi has been building better men on college campuses across the country. Pi Kappa Phi is a first class fraternity who firmly believes in the tenets of Character, Leadership, Academics, Sportsmanship, and Service. The Epsilon Epsilon Chapter takes pride in being the longest standing social Greek organization on campus. Active in student government, athletics, intramurals, the arts, numerous academic organizations, and community service projects, the brothers of Pi Kappa Phi are leaders in many ways.
Pi Sigma Alpha
Pi Sigma Alpha is the Political Science National Honor Society.
Pre-Professional Club
The purpose of the Pre-Professional Club is to assist in making students who desire to enter a profession by providing opportunities for self improvement and preparation for professional programs. The professions include, but are not limited to pre-medical, pre-pharmacy, dentistry, forestry, engineering, physical therapy, and veterinary medicine. Though generally oriented towards students who wish to enter these areas, anyone of any major who is interested may join. Volunteer work, test preparation material (MCAT, PCAT, etc.) and scheduling speakers, programs and workshops that could be beneficial to those aspiring to enter professional schools are emphasized.
Psi Chi
Psi Chi is a national honor society whose purpose shall be to encourage, stimulate, and maintain excellence in scholarship of the individual members in all fields, particularly in psychology, and to advance the science of psychology.
Residence Hall Association
The Residence Hall Association (RHA) at UVA Wise promotes community among residents and students, represents all students living in residence halls and apartments, supplies channels through which residents may express opinions and performs all other duties necessary for the betterment of residential students. RHA is a very active organization on campus and represents UVA Wise at several state and regional conferences, including VACURH,  SAACURH and NACURH.
SAFER
Sigma Alpha Omega Sorority
Sigma Delta Pi
Sigma Zeta
Sigma Zeta is an honor society dedicated to the sciences (natural science, mathematics, or computer science). The organization strives to encourage and foster the attainment of knowledge of the sciences and recognizes the attainment of high scholarship among those fitted for membership in this society.
Spirit Haven: Pan Pagan Alliance
Student Activities Board 
The Student Activities Board at The University of Virginia's College at Wise is a branch of the Office of Student Activities.  Its mission is to provide a cultural, social, and recreational outlet for the student body of the College.  The Student Activities Board strives to enhance the college experience by encouraging student involvement and leadership.  We, the members of the Student Activities Board, are committed to providing various sources of entertainment that will create a sense of community amongst the student body.  Our mission is to complement those of the College and the Office of Student Activities. Membership is open to all students that show an active interest in Student Activities.
Student Ambassadors
The UVA Wise Ambassadors work in cooperation with the UVA Wise Admissions Office. The Ambassadors work to develop positive attitudes among the students who express interest in UVA Wise, educate and acquaint prospective students, parents and visitors in an honest and positive manner about college life at UVA Wise, the college community, campus geography, and areas helpful to the aforementioned individuals, assist the various divisions of the college community, project an increased level of school spirit and pride to both the existing college community and prospective students, and provide feedback to the Admissions Office. Ambassadors assist by giving campus tours and helping at Preview Days.
Student Athlete Advisory Council (SAAC)
Student Government Association
The Student Government Association (SGA) represents the student body in matters affecting student life and affairs of the College, promotes and supervises student organizations and activities, and promotes improvement of community conditions. All students enrolled for six or more semester hours are voting members of the SGA. The branches of the SGA include elected executive board officers, senators representing each class, at-large senators, and an international senator.  An historian and an elections commissioner are appointed by the SGA president.
Student Nurses Association 
The Student Nursing Association's purpose is to engage students in shared governance and civic duty in order to prepare them for future leadership positions. In order to be a member, students must be accepted or have provisional acceptance into the UVA Wise nursing program.
Student Virginia Education Association 
The Student Virginia Education Association (SVEA) provides an opportunity to explore education as a profession, to evaluate student's aptitudes, capabilities, and interests as prospective educators. The Association strives to strengthen the teaching profession by encouraging pre-professionals to become active members in the United Teaching Profession.
Virginia Rural Health Association
Wesley Fellowship
The Wesley Fellowship at UVA Wise provides students with an open arena for exploring one's faith and learning about what it means to be in relationship with God, others, and all of creation, through Jesus Christ. Through our many opportunities for worship, fellowship, spiritual growth, and service, students will experience the Christian faith as being very relevant to today and vital for lasting fulfillment. Membership is open to all persons involved in and related to the academic community who have a desire to involve themselves in and to participate in the Wesley Fellowship. The organization is open to ALL students.
Women in Stream
Young Americans for Liberty
The Young Americans for Liberty's (YAL) mission is to train, educate, and mobilize youth activists committed to "winning on principle." Our goal is to cast the leaders of tomorrow and reclaim the policies, candidates, and direction of our government.
Young Democrats
The Young Democrats work to educate young people about the political thought and activity and to support and promote the candidates and ideals of the Democratic Party of Virginia and the United States. Any full or part-time student enrolled in UVA Wise is eligible for membership.
Young Republicans Association