Giving
UVA Wise names library foyer after first African American student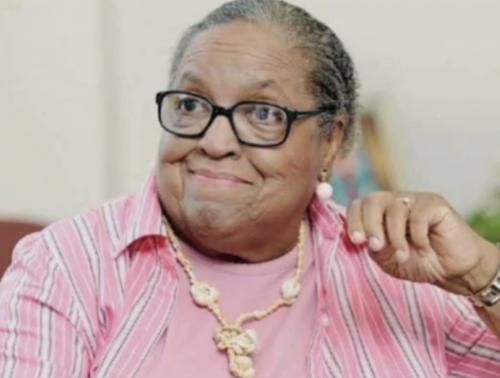 UVA Wise honored a true trailblazer on Aug. 28 by dedicating the library foyer after Miriam Morris Fuller, the College's first African American student who enrolled when segregation was in full force in Virginia.
The event was slated for spring 2020, but the global pandemic forced its rescheduling. The dedication was held virtually on Friday, and Fuller and her family watched from her home in Missouri as several speakers addressed her stellar career as an educator and a pioneer.
"The University of Virginia College at Wise dedicated the library foyer in honor of Dr. Miriam DeLois Morris Fuller on Friday, August 28, 2020. Fuller was the first black student at the College during segregation in the State of Virginia.
"Today, we recognize Dr. Fuller for a lifetime of achievements and a life of service, faith, courage, and tenacity," Chancellor Donna P. Henry said. "The University of Virginia's College at Wise library foyer will be named the Dr. Miriam Delois Morris Fuller Library Foyer in her honor."
Henry offered a glimpse of the political and social context that was ongoing in Virginia and the United States during the time when Fuller enrolled at UVA Wise. Virginia lawmakers defied a 1954 Supreme Court ruling that said segregation was unconstitutional. Massive resistance followed for many years, and segregation was a reality when Fuller enrolled at the College in 1960.
Fuller was a librarian at the segregated Bland High School in Big Stone Gap, the building that now houses the town hall. She wanted to upgrade her skills by taking additional business courses. She asked Professor Emma McCraray, a business instructor at the College, if she could enroll. McCraray was very supportive.
Fuller lined up with other students to register for classes at CVC. The College had a reputation early on for its mission to provide educational access to all, and Fuller was welcomed.
She has also repeated a variation of an often-shared tale that an individual reported to Chancellor Joseph Smiddy that a woman of color was in line to enroll in classes. As the story goes, Smiddy responded, "Well, is her money green?" That was the end of the matter.
Henry said she does not want to suggest that racism and bigotry are a distant memory today.
"Many of our fellow Americans can recount experiences where they too were and are threatened, persecuted, assaulted, or dismissed on account of their race or ethnicity," she said. "You will find this to be true not only among older African Americans but among young people and even among our own UVA Wise students."
Henry urged all on campus to listen to each other and to be compassionate and open-minded as the nation navigates processes and rectifies the painful parts of its history.
Fuller, who had earned a bachelor's degree at Virginia State University, excelled at CVC and had a legendary career as a librarian, educator, and author of a series of curriculum books that were used for decades in public school systems across the nation. She thanked all involved with the dedication of the library foyer. She said she hoped her strong history with UVA Wise would inspire others to reach their goals. She taught at the University of Missouri for 17 years.
"As a native of Wise County, I'm proud to be the first African American student at the University of Virginia's College at Wise," Fuller said. "As a youngster, I had a Christian upbringing, and my parents, Charles and Edith Morris, raised me and my brother, Dr. Charles Morris Jr., to believe we could accomplish anything we set our minds too."
Rev. Sandra Jones, who retired after a strong career at UVA Wise and was in the Upward Bound program as a youngster, attended Bland School. Fuller was the librarian when Jones was a student at Bland.
"Mrs. Fuller was always a lady, quiet, encouraging, and friendly," Jones recalled. "Her mother and her aunts on her father's side were all ladies. She was my Girl Scout leader."
Jones said teachers such as Fuller, even outside the classroom, influenced the community, especially families who had children at Bland High, in many ways. Jones said Fuller knew the Jim Crow era would change in the future, so she saw the need to gain more skills and to educate others. Jones said Fuller's decision to attend the College would have been made with much thought and prayer.
"She broke all the rules to pursue more education," Jones said. "Congratulations and best wishes to you, Dr. Fuller. You made a difference in the lives of all the students you taught at Bland and beyond."
The Appalachia Training Center, Central, and Bland High Schools Alumni Association also congratulated Fuller and said the former students are forever grateful for her service to the schools.
"Because of the vital role you played in our lives many years ago, we have learned the importance of positive and progressive education and the enormous importance of establishing, pursuing and preserving a legacy for the future of our children in the Southwest Virginia communities," the executive board of the ATCB Alumni Association said.
Leton Harding, a member of the UVA Wise Board, said Fuller has lived her entire life based on her unshakable faith and purpose.
"We are all immensely inspired by your life story," Harding said. "You opened doors, you raised ceilings, you built foundations and you shed light on our potential as individuals, as a society, and as Americans."
Jesse French, a senior communication and foreign studies major at UVA Wise, said it was an honor to speak at the dedication and to meet Fuller virtually.
"It is such an incredible honor as an African American, female college student to meet you virtually after all the extraordinary things you have accomplished," French said. "From being the first African American student here at Wise to being the 2014 Woman of Achievement recipient, you are truly an incredible role model beyond deserving of this dedication. We should all strive to be brave like Dr. Fuller. She was the first African American student during a time of segregation she stood strong even when she was alone."