Featured
Students present "The Crowe Hollerers' Medicine Show"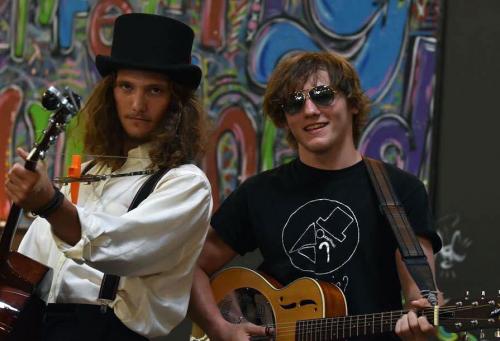 Luke Sage, a junior at UVA Wise, has long thought of himself primarily as an entertainer.
The Atkins, Va., native who is majoring in theatre, first performed for a crowd in a magic show during elementary school. He soon graduated to plays and, when high school rolled around, formed a band with his younger brother, Blane, a freshman at UVA Wise.
The two started playing on street corners in Marion, Va., and in Sparta, N.C., building fans until, Sage says, "someone eventually let them start playing inside." Nowadays, the group, known as "The Crowe Hollerers," is a three-person outfit, rounded out by UVA Wise junior Ashlyn Mullins, playing shows in West Virginia, Tennessee, North Carolina, Kentucky and Virginia.
The goal, though, for Luke Sage has always been more. He wanted to find a way to marry all the arts in one, big, fantastic show. And thus "The Crowe Hollerers' Medicine Show" was born.
Patterned after old-time medicine shows where snake-oil salesmen pitched patent medicine with a healthy side dose of singing, dancing and performing, "The Crowe Hollerers' Medicine Show" will bring two short plays, music and storytelling to the UVA Wise campus on Friday, Aug. 27 at 7:30 p.m. on the Lawn by the Lake, just outside the Gilliam Center for the Arts.
"I'm an entertainer," Sage says. "That's all I've ever wanted to do. Music, theatre, art, storytelling – and it's all there."
The UVA Wise show will be nearly a complete Cavalier affair, with students, faculty and alumni all performing. In fact, the only person not associated with the College taking part in the Aug. 27 show is Abingdon-based actor and filmmaker Joseph Stam. Stam and Sage first met while working on a series of movies with Cross Purposes Productions.
The medicine show will feature two original short plays, "We're Going To Be Friends," and "Detective Mitch Dash and the Case of the Pied Swiper."
The first performance will feature Sage, Stam and Mullins. Sage and Mullins will be joined by UVA Wise graduate Kara Dotten in the latter performance.
Between the plays, UVA Wise sophomore Brock Davidson and UVA Wise theatre professor Ben Mays will be performing Jack Tales. Mays will be joined in storytelling by his wife Kimberly Mays, a professional storyteller, actress and singer who has performed for audiences far and wide on both sides of the Atlantic!
The Crowe Hollerers, comprised of the Sage brothers and Mullins, will also perform.
The medicine show idea was fine-tuned during Sage's entrepreneurship classes at the college and was the winner of last year's Entrepreneurship Cup. The funding from the competition allowed him to buy supplies for sets, including paint, brushes and wood, and to help defray travel costs for bands planning to play at the Aug. 28 show in Marion, Va.
On Aug. 28, the Medicine Show will travel to the Marion Farmers Market, where the actors and musicians will be joined by fellow musicians from Tennessee, West Virginia and Maryland. The Marion show, which will stretch for roughly nine hours, will also feature food trucks and arts and crafts vendors.
In the old days, touring medicine shows would travel the country peddling miracle cures between various bits of entertainment. The shows, some of which continued until World War II, were especially common in the 19th-century old west. The shows promised a cure for disease, wrinkles and any number of other ailments.
Sage notes that his show isn't selling patent medicine or miracle elixirs, but promises that it's "a cure for what ails you" nonetheless.
He points out that, "Music, storytelling, art and theatre might not add years on to your life – and may even contribute to wrinkles, what with all the smiling and laughing – but they will add life to your years."
Audience members are encouraged to bring their own chairs or blankets for seating. In the case of inclement weather, the event will be rescheduled. Questions about this event can be directed to Luke Sage at jls9gb@uvawise.edu or 276-266-4406.