Featured
ROTC students honor first responders, commemorate 9/11 anniversary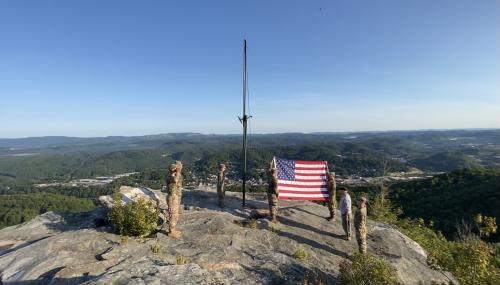 Photo: SGT Cody Collins '15, Army National Guard
Just before 7 a.m. today, under sunny skies, more than 40 Army ROTC cadets from the University of Virginia's College at Wise (UVA Wise) began their hike to Flag Rock in Norton, Va. Just under an hour later, they had replaced and saluted old glory in its place high atop the landmark location. They then headed to their next of three stops today, each of which marks commemorates the 20th anniversary of the September 11 terrorist attacks of 2001.
Their second stop was the Norton Expo Center, where the cadets of the cadre, known across campus as the "Fighting Cavs," hosted a reception honoring police, firefighters and other first responders whose service on 9/11 and following that tragedy continues to bring safety and security during challenging times for citizens of the U.S.
One attendee was Darcy G. Flanary, a 1991 graduate of then-Clinch Valley College (now UVA Wise) who serves as a patrol deputy for the Wise County Sheriff's Office.
"Watching these cadets serve today really makes me proud; it gives me chills," says Flanary.
When 9/11 happened, Flanary had just finished a night shift at the Wise County Jail and was asleep. She woke just in time to see the plane hit the second tower. "I remember wanting to go to work, like that would help anything," Flanary says. "But I felt like I had to do something; I wanted to do something."
Since then, Flanary has done a lot. She's earned her master's degree in criminal justice from Radford University and translates that, along with her UVA Wise education, into her daily service for the Sheriff's Office.
"I do this job because I want to serve my local community," Flanary adds. "I feel blessed to do this work. I know a lot of people say that, but it's true. Several of these cadets have said the same to me today."
One of those cadets is senior Jacob Johnson, who is in his second year of organizing the event.
"It's an honor to do this," says Johnson. "I grew up in the shadow of 9/11, and as a future military officer, I think it's important for us to remember how 9/11 changed everything."
During the event, remarks of thanks were made by Tabitha Smith, associate vice chancellor for diversity, equity and inclusion at UVA Wise; Josh Justice, the College's dean of students; and Captain Kyle Brenay, who leads the UVA Wise Fighting Cavs cadre. Together with the Virginia National Guard, the three offices co-sponsored the event and brought it to life.
"On 9/11 the first responders led the way, and the Army just followed suit," Captain Brenay said. "One of the things we value in the Army is servant leadership. Today, our cadets are serving to honor the contributions of the first responders and the lives lost on that sad day."
Tonight, the Fighting Cavs will complete their third act of service for the day when they air a video recognizing the service of UVA Wise community members, both veterans and first responders, when the UVA Wise football team takes on ETSU. The video project was coordinated by cadet Haley Kerhart. Tune into the ETSU Sports Network to see coverage of the game and event.