Featured
New UVA Wise Plan Helps Students Build Lifetime Success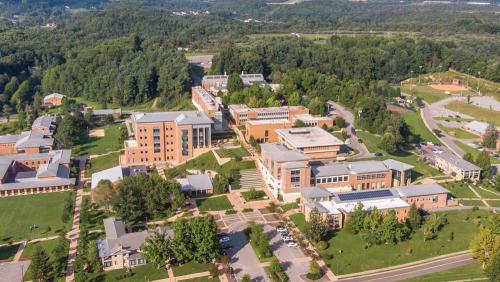 UVA Wise recently unveiled its bold new plan for the next decade.
The College is shifting its mission to prepare students not only to land their first internship or job, but to give them the academic foundation for a lifetime of personal and professional success.
Since February 2020, the College has been diligently mapping a new strategic plan, "Your College for a Lifetime," which outlines a new mission, values and initiatives for 2020-2030.
"Through this strategic planning process, our College has designed an academic experience featuring the classical underpinnings of a liberal arts education, one that wrestles with age-old questions, and current-day dilemmas," says UVA Wise Chancellor Donna P. Henry. "We define an experience that prepares graduates for their first career, or graduate school, and their second and third careers—even their golden years of retirement."
During the COVID-19 pandemic, Chancellor Henry established a committee to chart a new bold path forward that is student-centered and community-engaged. Chaired by Provost and Vice Chancellor for Academic Affairs Trisha Folds-Bennett and Kenneth Asbury Professor of History Mark Clark, the steering committee brought together diverse individuals from more than a dozen College departments. The plan they developed was approved in September by the Board of Visitors.
At its heart, the plan reimagines the college experience for the 21st century. Students who might have believed college is unattainable are equipped to achieve an exceptional higher education leading to social mobility. The aim is creating lifelong engaged citizens prepared to make positive lasting impacts.
Already, the work of the strategic plan is underway. The College is currently re-envisioning its liberal arts core curriculum focusing on student retention and success, creating first- and second-year communities and further developing experiential learning. Key practical, competency-based building blocks for students will be centered around technology, research, communication and critical thinking skills.
Further strengthening the College's collaboration with the local community and region is a cornerstone of the plan. For example, a 38-member Vibrant Communities Committee, one of the Plan's implementation groups, works to strengthen relationships between College faculty and staff, key stakeholders from Norton, Wise County, the local chamber of commerce and the Wise Business Association to exchange ideas about tackling issues and fostering economic growth. Since its inception this spring the committee has identified key issues including housing, child care and communication of the assets and events of the region.
Another key component is investing in faculty and staff recruitment and retention. One way the College plans to do that is through its new Center for Educational Excellence and Innovation dedicated to advancing teaching and learning across levels and disciplines and cultivating life-long learning. This year, the Center has hosted more than 20 workshops for staff and faculty.
As part of the new vision, the College has identified additional key projects, a total of 10 thus far, to help bring the plan into reality. To learn more about them and the larger vision for the next decade, check out the entire plan at: strategicplan.uvawise.edu.
"At UVA Wise, we empower graduates for the world they live in today and for the world we'll inherit and shape in 25, 50, or, perhaps, 75 years," says Chancellor Henry. "Each of us serves as an indispensable part of this vision and this community ecosystem. I look forward to what we will accomplish together."