Featured
Faculty Semester Abroad at Oxford Leads to New Student Opportunities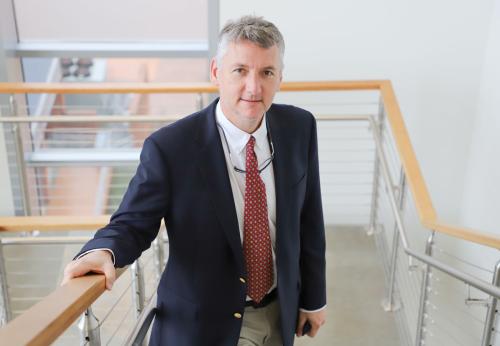 Photo by Nathan Rasnake
Andy Cox, associate professor of education and director of teacher education at UVA Wise, set out on his sabbatical last fall to the University of Oxford and the University of South Wales to inspire new opportunities for students in the UVA Wise Teacher Education Program.
Cox had two goals before his trip to the United Kingdom last fall: research how the University of Oxford Teacher Education Program operates to further enhance UVA Wise's program and to create a new study abroad program with the University of South Wales.
Enhancing Teacher Education
While in England, Cox researched possible innovations for UVA Wise's already robust teacher education program—UVA Wise has offered K-12 teacher certification for more than 50 years and graduates about 35 students each year.
"I'm constantly trying to make our teacher education program the best it can be. I had a crazy idea. If you are going to do a sabbatical, go to the best of the best," Cox said.
Cox did some research on top university ranking systems and discovered the University of Oxford consistently ranked in the top five universities in the world since 2012.
"Educators and policymakers agree that teacher quality has more impact on student achievement than any other identifiable factor," Cox said. "I thought the comparison of teacher quality between the two programs could result in positive changes to our program to increase teacher quality."
Cox sent off an email to the University of Oxford. Only minutes later, he got a response from an Oxford faculty member saying, "I would be more than happy to have a conversation about our teacher education programmes."
"I get lots of these sorts of emails but Andy's enthusiasm caught my attention," said Trevor Mutton, associate professor and director of graduate studies at the University of Oxford Department of Education.
Cox traveled there last September where he spent two months learning about teacher education.
At UVA Wise, like other American colleges and universities, undergraduates complete a student teaching internship as part of their coursework before graduation. The typical internship is conducted over 60 days during their final college semester. At Oxford, students seeking teaching licensure will complete a year-long internship.
"It's a long time but it gives them the chance, depending on what the purpose of the school placement is, to be really educative. It has depth and breadth," Mutton said. "It's not an apprentice model. It gives them the time and space for the opportunity for reflection—to make sense of what they are seeing and doing and to experiment and try things out."
Discussions centered on how and why Oxford's program is structured the way it is. For example, the placement of student teachers for an extended time ensures teacher candidates are well prepared with the theory and practice necessary to be strong educators.
"I was quite intrigued by some of his ideas about higher education and structures in the U.S. and the role of school districts and superintendents," Mutton said. "But always the conversation was underpinned by the focus on quality and not just innovation for innovation's sake."
"It was an honor to work with Trevor. What his team is doing for teacher education is what all teacher education programs should aspire to be," Cox said.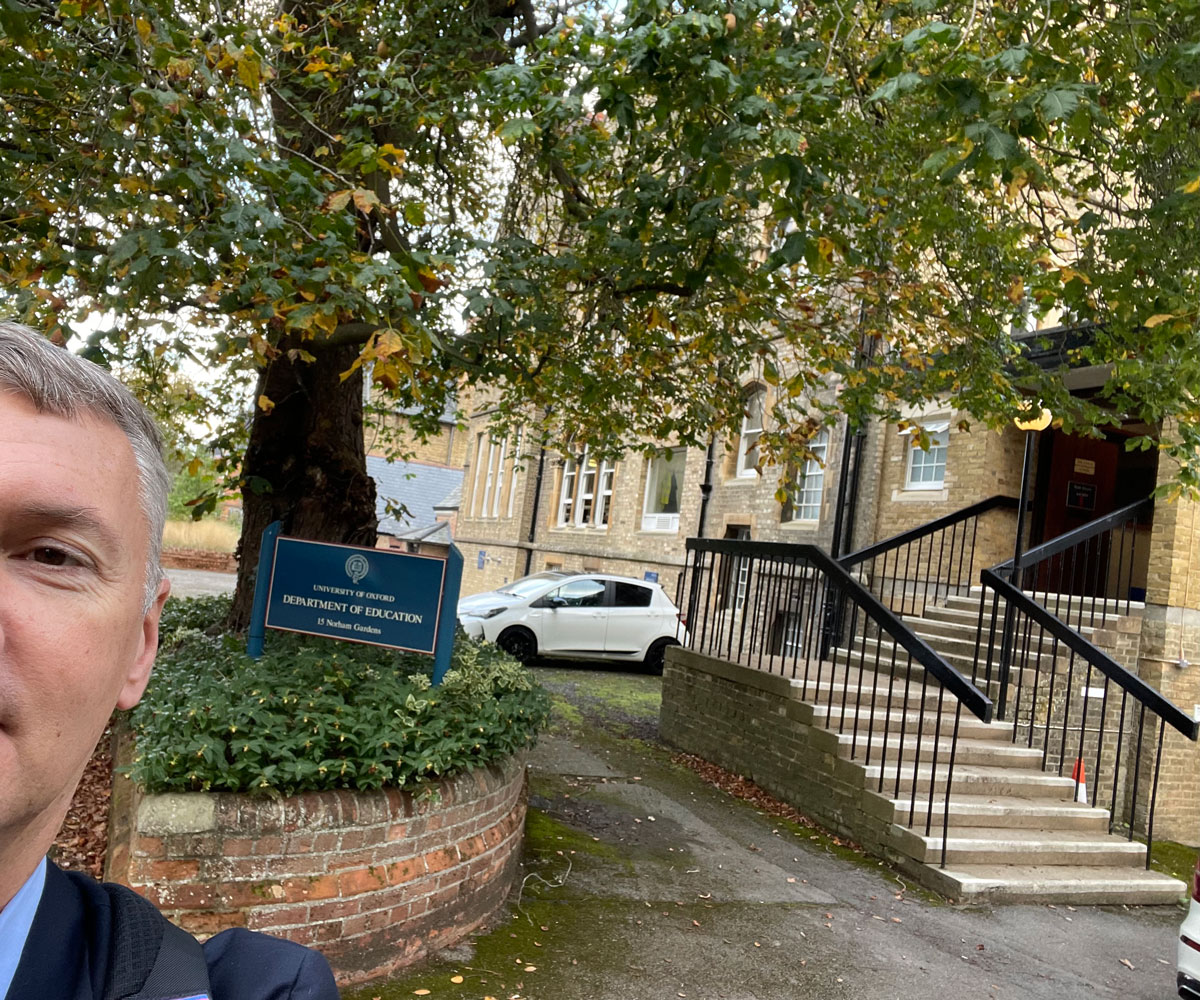 A Fresh but Familiar Study Abroad: Wise to Wales; Wales to Wise
Cox's second sabbatical goal was to create and structure a more appealing study abroad program to encourage UVA Wise students to participate.
In Wales, he worked with faculty at the University of South Wales to create a short-term study abroad opportunity for UVA Wise students. The shorter study abroad combined with the opportunity to work with K-12 students around the University of South Wales may be appealing for students who would like to study abroad for four weeks.
When proposing international studies to his students, Cox has heard concerns about living in large cities with unfamiliar cultures, language barriers, and leaving for a full semester.
"I wanted to find a school that mirrors our school where students could relate to their surroundings but could also have the amazing experiences that come along with an international study abroad," Cox said.
Cox contacted Jamie James, head of the School of Education, Early Years and Social Work at the University of South Wales.
"It was clear talking to Andy how well aligned our values are and what we are seeking for students: to give a sense of self in the wider world and their place in their profession and a platform on which to be confident," James said.
The University of South Wales is a regional educational institution with three main campuses serving 25,000 students.
South Wales matches well with UVA Wise because there's no language barrier, the universities' dedication to the Wales region, similar socio-economic population, and the campus values the landscape in the same way the UVA Wise community values the mountains.
Cox and James are working on the details now and hope to develop a four week mini-study abroad that starts with virtual exchanges with a student buddy and faculty member before traveling.
James and a group of colleagues are planning to visit UVA Wise next month.
"It takes a good deal of foresight for an institution to put resources of that length of an overseas visit in these current and cash-starved times," James said. "It shows (UVA Wise) is outward-looking, wants to learn from elsewhere, and encourages this kind of engagement. Making those links just doesn't happen on its own."
"I couldn't have asked for a better experience. I believe students from both institutions will have tremendous experiences in the U.S. and Wales," Cox said.