Featured
UVA Wise Alums Conjuring the Voices of Old Gods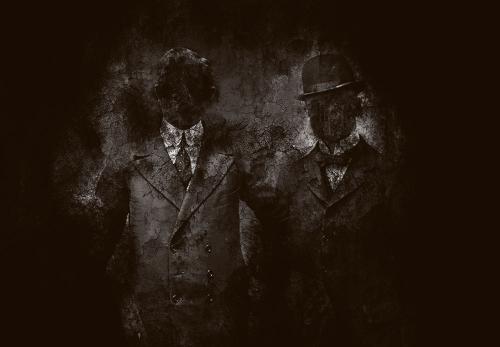 A UVA Wise alumni duo recently dropped their third season of the award-winning horror anthology podcast set in Appalachia.
UVA Wise alumnus Steve Shell and alumna Cam Collins had already earned their place in the College's rich history. They were members of Clinch Valley College's last graduating class in 1999. In fact, Collins, who former classmates may remember as Lauren, is a legacy—both her parents graduated from CVC (Linda Kay Leffler '72; Roger D. Collins '74).
But that's not their only claim to fame. Today, Shell and Collins are best known as creators and writers of the wildly popular horror anthology podcast, Old Gods of Appalachia, which debuted Halloween 2019.
The podcast is set "in the mountains of central Appalachia" where "blood runs as deep as these hollers and just as dark."
This month saw the release of their third season, "As Above, So Below" exploring villain and monster stories.
Recently, Old Gods won eight awards in the 2021 AudioVerse Awards including Best Writing in a Storytelling Production. Last year, they also took home 2021 Discover Pods Awards—Best Fiction/Audio Drama and Best Overall Podcast. Winners in other categories included NPR's Morning Edition and Conan O'Brien Needs a Friend.
In a region known for its oral tradition of storytelling, Shell and Collins transform folklore, local and regional history with a heavy dose of all things ghostly and sinister into a new Appalachian mythology with deep and diverse roots.
"We didn't have a real mythology. I liked the old timey folk tales and grew up hearing 'Jack' tales. I wanted there to be a unique mythos," says Shell.
It's so successful that they both quit their day jobs to create the podcast.
"We were producing the show as a fun project, and it exploded out of the gate. We never saw it coming, not ever in a zillion years," says Shell.
With more than eight million unique downloads, it's no surprise Old Gods was featured in Vulture magazine. The New York Times described the show: "the mountains of central Appalachia are haunted by the sort of sanity-draining eldritch monsters found in a Stephen King novel or in HBO's Lovecraft Country."
"(It's) like watching a beautiful and twisted landscape slowly get painted in. The co-creator and narrator Steve Shell's gruff twang lulls the listener into a false comfort," writes a New York Times reviewer.
"We had no idea they included us. We found out from a Google alert," Collins says. "There's a lot of great writers with podcasts out there, but for whatever reason people seem to have connected with our show, and we are so grateful for the support."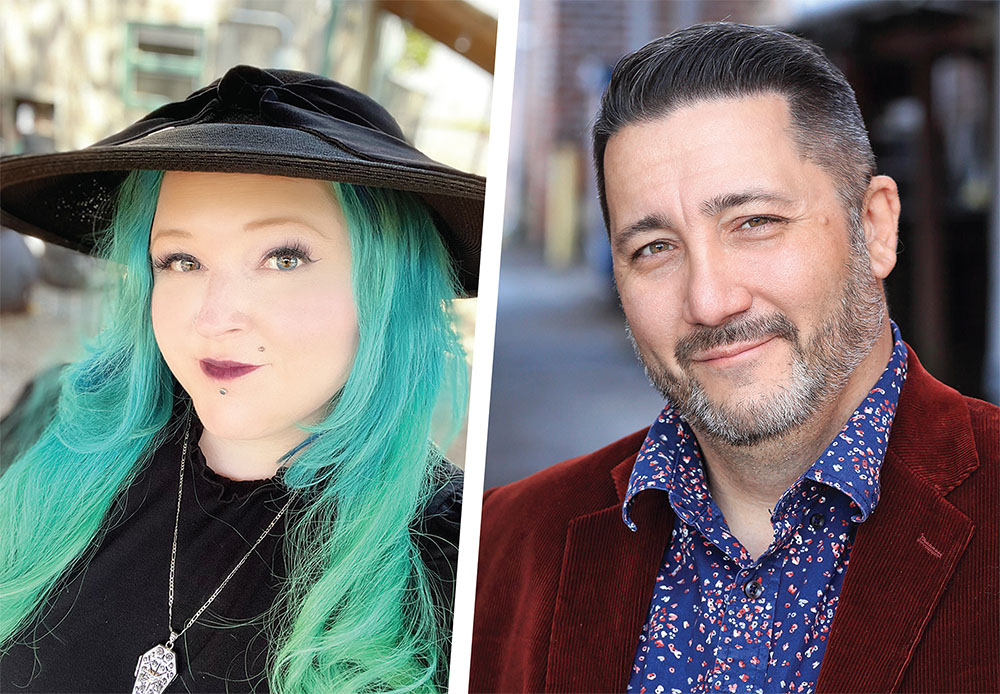 Old Wise Days
The two Wise natives found an academic refuge for pursuing intellectual interests and creative abilities at the College.
Shell, who grew up near campus, spent copious time there before enrolling. When the first Mac lab opened, he played video games and even wrote his first "bad" poetry there while in high school. While on campus, he performed at faculty-led coffee nights.
Communication Studies Department Chair Rachel Tighe and Professor Emeritus Ron Heise made a significant impact on Shell who earned his B.A. in mass communications and later returned to obtain his B.A. in English literature.
A member of the Darden Society, Collins says she received key "encouragement and confidence" in her creative writing. She worked in the Mac lab while earning her B.A. in English within two years. Tighe was a huge "positive influence," says Collins.
"She encouraged me to go to graduate school and wrote a letter of recommendation for me to get accepted to the University of Georgia," says Collins who obtained her M.A. in speech communication in 2001.
"Coming to the College was a revelation for me. I finally got to focus on subjects that interested me and with professors who cared. Choosing a small school was the very best thing I could have done," Collins says. "I would recommend this school to anyone. It re-ignited a love of learning in me that had lapsed. It made all the difference really."
New Haunts, Old Wise Ways
Before Old Gods took off, Shell worked as an English and drama high school teacher for 16 years in Asheville, led Asheville's national slam poetry team in 2015-2016, hosted Moth StorySLAM for five years and created another podcast, Knowne World Bardcast, featuring medieval reenactors.
During graduate school, Collins realized an academic career wasn't for her. When she finished her master's degree, she got a job doing web design and eventually started her own business. 
A passionate supporter of small business, she volunteered for years with Believe in Bristol, the town's main street organization. She was also instrumental in bringing public art to downtown Bristol as a board member and later board president of the local non-profit, Art in Public Places. Before Old Gods of Appalachia, she co-hosted another podcast, Appalachian Arcana, highlighting the crossroads of folklore, the paranormal and true crime.
During a mountain drive, inspiration struck Shell as he was headed to host a Moth storytelling event at Appalshop in Kentucky. He returned to his home in Asheville, began to write and, soon afterwards, Collins joined the project.
"We had wanted to write fantasy and horror together, but never did. It was a tall order to get something published. But then came podcasting. There were no barriers to entry. No one to give you permission—just the platform," Shell says. "Old Gods has been good to us. It changed my life."
Unlike many horror podcasts, you won't find gratuitous violence against women or animals. They issue content warnings for episodes. What you will find are imaginative, time- and reality-bending narratives built on Appalachian culture and expanded to include those who often aren't portrayed—people of color and LGBTQ+ characters.
"We include those characters because they have always been here. I think if people are inspired to think a little more, do more or learn from the show that is great and wonderful, but ultimately, we are here to write interesting characters," Collins says.
Shell writes, narrates and does sound design for the podcast while Collins writes, edits and produces transcripts for auditory- or sensory-challenged fans.
Old Gods is found everywhere people listen to podcasts including Spotify and iTunes. The fan base is impressive with 22,000 followers on Twitter, 13,000 subscribers on YouTube and 6,600 Patreon supporters.
The success spawned Old Gods-inspired products—everything from stickers and T-shirts to perfume to herbal teas.
Old Gods recently partnered with Monte Cook Games to produce an Old Gods of Appalachia tabletop role-playing game coming out next year. The kickstarter launched on April 12 quickly surpassed its initial $50,000 goal and has raised more than $1.25 million dollars to date.
 "We create characters and imbue them with tenderness or humanity and people latch on to them," Shell says. "While the characters and stories are fictional, if the places or people feel like home to you, we have done our job. We are going to keep telling more stories until we feel we are done."