Featured
UVA Wise students help create first eco-tourism guide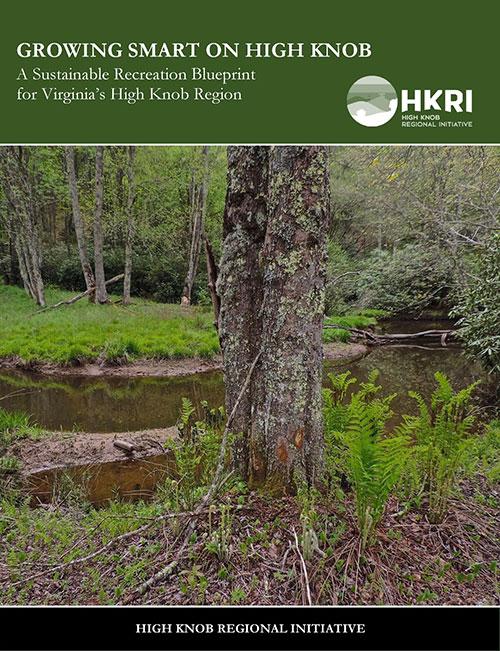 A first-ever comprehensive guide for eco-tourism development in the High Knob region is now available.
The High Knob Regional Initiative recently published its guide, "Growing Smart On High Knob: A Sustainable Recreation Blueprint For Virginia's High Knob Region." It provides current local, state and federal regulations, a listing of key regional outdoor stakeholders and agencies, and a guide to best management practices to assist with growth in Southwest Virginia's outdoor economy. Its goal is to proactively minimize environmental impacts of large new outdoor projects like trails or campgrounds and public recreational use. 
For the past few months, UVA Wise Associate Professor of Biology and the guide's editor Wally Smith has led the project with students in his conservation biology course. UVA Wise students Alesha Allen, Jordan Edwards, Rae Guevara and Garrett Stiltner helped develop the first two chapters of the guide. They researched sustainable practices, worked with local and state agencies and sought input from a wide range of experts including state conservation groups, wildlife resource agencies and outdoor outfitters to draft the user-friendly, eco-friendly tourism development guide. 
"We wanted this effort to be as inclusive as possible in order to capture the needs and concerns of a broad cross-section of High Knob's outdoor community," Smith said. "The student group did a fantastic job translating evidence-based recommendations and other technical content into user-friendly info for their portion of the guide."
The peer-reviewed manual is funded through a $10,000 grant the University of Virginia's College at Wise received earlier this year from the Virginia Environmental Endowment (VEE)—a non-profit foundation committed to improving the environment through pollution prevention, natural resource conservation and environmental literacy.
The guide focuses on eight communities surrounding High Knob, a 4,200-foot summit in the Jefferson National Forest and the highest elevation in the Cumberland Mountains Physiographic Province.
"We are excited to get this info out there and to see how it is going to be used. The publication isn't the end product; it's the beginning of a new phase of economic development for the region," said Smith. "There has been a lot of interest in the outdoor economy here for the past few years and now we are ready for that next phase and hoping this will be a catalyst for new efforts."
This new manual is the first of several year-long educational outreach projects—including interpretive pamphlets, online materials and instructive videos—aimed at helping outdoor enthusiasts and entrepreneurs limit harmful environmental impact while promoting recreational activities and economic tourism growth.
"Our goal has been to provide a roadmap for how to build smart and sustainable projects that avoid both environmental and financial costs for communities down the road. It's a strategy to prevent issues on the front end with positive, proactive measures," Smith said.
Key contributors included Virginia Department of Conservation and Recreation, Virginia Department of Wildlife Resources, U.S. Forest Service and the City of Norton.
The 74-page toolkit is a one-stop shop for outdoor education and a planning resource manual.
The toolkit also serves as a guide to the unique natural resources located in the 500-square mile High Knob Region, home to the headwaters of the Powell and Clinch Rivers.
These two watersheds—two of the nation's most biodiverse—contain one of Virginia's highest concentrations of rare and federally-protected wildlife, including freshwater mussels and the bright yellow and black High Knob mimic millipede.
One chapter explains the importance of sustainability and its role in preserving the environment and promoting eco-friendly economic development. Another offers a beginner's guide to outdoor development. Throughout the guide, photos illustrate environmental damage resulting from unsustainable development practices with examples of how to remedy and prevent them.
The guide takes on some current issues in outdoor management, Smith said. For example, a multi-use trail for horseback or ATV riding can chase off wildlife or contribute to water quality issues in nearby streams, causing conflict with local residents or other outdoor groups.
"There are lots of open spaces in our area that for generations have been hunting grounds or fishing areas. Conflicts can result if these are suddenly developed as a recreation asset without talking to the stakeholders who have used them for decades," Smith said. "This guide encourages entrepreneurs and planners to reach out to a diversity of groups before development to avoid problems and extra costs down the road. It's about encouraging communication and having those conversations in the outdoor community to include all stakeholders."
The bulk of the toolkit is devoted to best practices. There's a chapter each on trail development, climbing and bouldering areas, watersport development and capital project development.
But it's not just for planners. The resource guide offers best practices for all outdoor enthusiasts, including best practices for social media promotion. The resource guide also explores current issues and offers guidance on drone use.
"The main goal is to attract people to the area in a responsible way and hopefully make the region more visible," Smith said. "The guide may be one of the first all-encompassing models detailing these issues for the central Appalachian region. We hope it will become a model for other communities in Appalachia and beyond."