Featured
Even the Sky Seems Limitless for UVA Wise Student, NASA Scholarship winner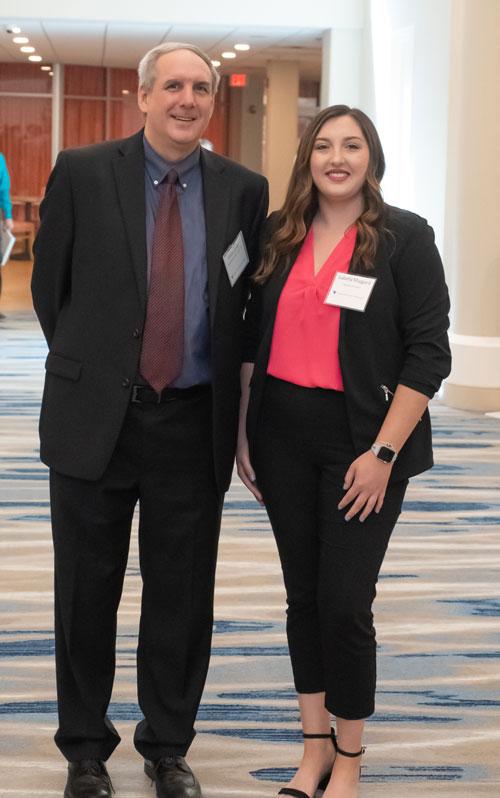 Photo Courtesy of VSGC Brian Williamson
This spring, UVA Wise rising junior Isabella Maggard earned her seat at the luncheon table among leading undergraduate scientists from some of Virginia's top universities.
Maggard, of Pound, Virginia, just completed her 2021-2022 Virginia Space Grant Consortium (VSGC) Science, Technology, Engineering and Mathematics (STEM) Bridge Scholarship.
"It was very rewarding," Maggard said. "UVA Wise is under-represented. There are many talented people in Southwest Virginia and to have a seat at the table with these bigger universities was a remarkable experience. I'm very thankful for the opportunity to have the Consortium recognize me as a UVA Wise student and look forward to opportunities for our college in the future."
A coalition of five Virginia colleges and universities, NASA, Virginia's Center for Innovative Technology, state educational agencies and aerospace institutions, the Consortium coordinates developing high technology educational and research efforts.
The organization hosts a variety of programs including the STEM Bridge Scholarships providing $1,000 to upcoming sophomores or juniors.
Students from any federally recognized minority group and enrolled full-time in the STEM program at one of the five Virginia Space Grant member universities—University of Virginia, William and Mary, Virginia Tech, Old Dominion University and Hampton University—are eligible.
For 2021-22, UVA asked UVA Wise to nominate a student. Associate Professor of Biology Josephine Rodriguez, who coordinates the College's National Science Foundation-funded Scholarships in STEM (S-STEM), selected Maggard who applied and was accepted.
"Isabella represents the best we have in the Department of Natural Sciences, if not the entire College, at our sophomore and junior level," Rodriguez said. "She will only rise and do more wonderful things here. At just 20 years of age, she has already accomplished so much as an NSF S-STEM scholar."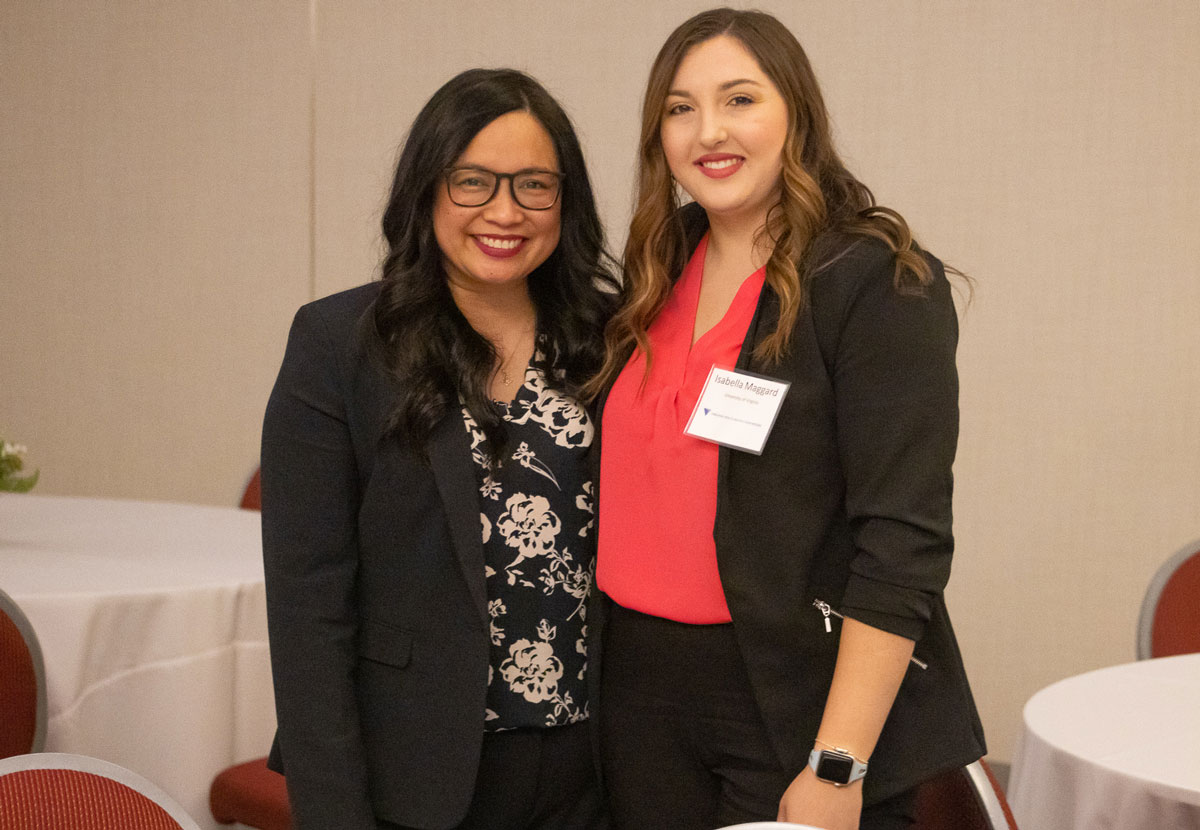 Photo Courtesy of VSGC Brian Williamson
A first-generation student, Maggard is pursuing an environmental science major and minor in biology. She was recently elected chief justice of the conduct board, where she has served since spring 2021. She has also served as an expedition leader and plans to take on that role again in the fall.
This year, Maggard won the Tice Total Achievement Award, which honors students who exemplify family values, community service, cooperation, creativity and scholarship.
As part of the NSF S-STEM grant, Maggard also participated in a specialized chemistry recitation with Associate Professor of Physical Chemistry Galen Sedo. She and other NSF student scholars would meet weekly to get additional instruction to further develop the critical thinking skills needed to approach chemistry problems for their introductory chemistry class.
She has worked on several research projects at UVA Wise and completed a summer internship with Virginia Cooperative Extension in 2021. This spring, she presented research on environmental genomics at the 83rd Association of Southeastern Biologists (ASB) meeting in Little Rock, Arkansas.
"I was introduced to the research aspect of science and loved it. I realized there are other options after college including graduate school and obtaining a doctorate degree," Maggard said. "I love learning new things and being challenged academically."
She is already giving back by serving as a mentor for Freshman Seminar. Associate Professor of Physics Jan Fiala recommended Maggard as a tutor for students in physics and chemistry in the fall.
"I'm thankful for the support I have been given since attending UVA Wise. These resources have encouraged me to stay close to home and continue my education. I want to continue to be a resource to other students and encourage them along their academic journey," Maggard said.
As a VSGC STEM Bridge scholar, Maggard was required to write two papers meant to inspire students to pursue a career in aerospace science: one on a NASA project and one about a faculty member.
Maggard wrote about the Coral Reef Airborne Laboratory conducted by NASA's Jet Propulsion Laboratory in Pasadena, California. The laboratory monitored coral reefs and the effects of climate change using an instrument called a portable remote imaging spectrometer.
"It allowed scientists to view the coastal waters in hard-to-see places and from that they determined the health of the environment of the reefs," Maggard said. "Marine science interests me and this requirement allowed me to explore this particular area of science."
For her second project, Maggard interviewed UVA Wise Assistant Professor of Geology Teresa Brown, who works with soils and organic matter. "One of NASA's primary goals is stewardship of the earth", Maggard said.
Maggard learned about research Brown hopes to do with NASA involving soil, groundwater and cave systems. She discovered her true passion—soil science and restoration.
This summer, she will be working with the College's John C. Buchanan Endowed Chair of Biology, Bruce Cahoon, on a three-year, $747,000 competitive grant, along with other universities, to investigate and eradicate root rot and other fungal issues for rural farmers and growers of ginseng.
"She is an eager and quick learner, having picked up the intricacies of environmental DNA metabarcoding and applied the technique to new systems," Cahoon said. "She is just beginning her scientific career, but she has already demonstrated qualities that will take her far, like curiosity, tenacity and focus. I think she has a bright future."
The most important aspects of the VSGC Bridge STEM scholarship for Maggard came in discovering opportunities she did not realize existed.
"Knowing those opportunities exist and that you can apply and receive them is very inspiring," Maggard said. "Sending me to network with people, building that capital, is really important."
In late April, Maggard and Rodriguez attended the VSGC student research conference and luncheon in Newport News, Va. It was the celebration and culmination of her year-long scholarship.
"It was the first time I had met any of the other scholars," Maggard said. Her travel was funded by a National Science Foundation grant.
She shared a room with a computer science major from Virginia Tech. Scholars had a wide variety of majors including computer science, aerospace, environmental science and biology.
"It was interesting to learn about their research, the school they attended and their purpose with the VSGC," she said.
During the conference, two women from NASA's development program shared their own experiences.
"They told us about how they started with NASA and the opportunities and internships available. It was inspirational," Maggard said. "I was like a kid in a candy store. I was with rocket scientists and shook hands with the director of NASA's Langley Research Center. That was kind of crazy. I never dreamed as a sophomore I would be doing things like this," Maggard said.
Maggard adds that she is thankful Rodriguez nominated her for this scholarship and many others since she started at UVA Wise.
"She has been an amazing mentor to me and other students. She helped me at the conference and gave me advice about what I should do to make the most of it," Maggard said. "I get to talk to her all the time. I'm so lucky to have her as my mentor. She is my number one fan at the College."