Featured
UVA Wise Students Experience Life Changing Trip in Greece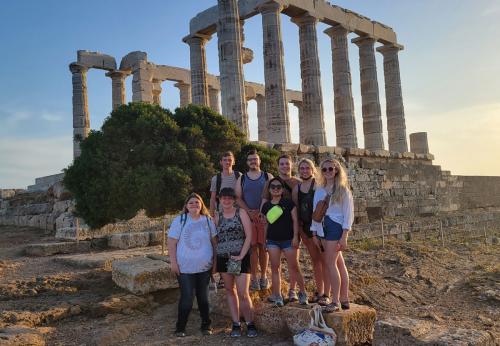 UVA Wise student Mei Lin Ni found new confidence on a recent study abroad trip to Greece.
"It was an amazing experience that taught me how to adapt and be more independent which has made me more confident and outgoing," said Ni, who is majoring in nursing and minoring in history. "This trip has also given me the chance to make connections and form friendships with my UVA Wise peers that may not have happened just on campus."
She is one of 13 students who traveled to Greece for nearly two weeks in May. It's the first time the College has sponsored a student trip there.
UVA Wise Associate Professor of Philosophy Anthony Cashio and John Morton Beaty Endowed Chair in Political Science Heather Evans created and taught the course, "Politics and Philosophy of Ancient Greece."
The course includes key Greek philosophers—Plato, Aristotle and Socrates—the more than 4,000-year history of Greece, political systems, empires and Greece's role in the origins of democracy and how American democracy came to be.
"This was a fantastic opportunity for our students as they had the chance to visit the birthplace of democracy," Evans said.
While studying abroad, students learned "how to be citizens of a global community and what that means. It's leaving Southwest Virginia and learning to think independently—how to be more self-confident and how to navigate a foreign place—knowing you have the ability to do that," Cashio said.
The group toured Athens, Greece's capital, the Temple of Apollo at Delphi on Mount Parnassus, the Cape of Sounion which is home to the Temple of Poseidon and Santorini, one of the Cyclades islands in the Aegean Sea.
Akrotiri, Santorini is one of the oldest cities in Greece, a prehistoric city over 4,000 years old.
Exploration was a big part of the trip. Students did a boat tour of the Caldera of Santorini, a half-moon shaped island. On the tour, they hiked rock formations on an active volcano, visited an old Greek village, ate Octopus kababs and swam in a sulfur hot spring.
"I have never seen such beautiful sunsets, architecture and landscapes. We hiked on top of an active volcano, swam in the Aegean Sea to reach hot springs, visited both red and black beaches, saw the remains of Akrotiri, and had the best food of our lives. I can say that I have truly lived after being in such a perfect place," said UVA Wise student Travis Cantrell, a nursing major.
For some students, it was their first trip abroad and to a big city like the 3.1 million populated Athens, Cashio said.
"Saying that studying abroad in Greece for two weeks was truly awe inspiring and life changing would be an understatement. I would not change a single thing about the trip in retrospect. The memories I made there will last a lifetime," said Jeron Stidham, a psychology major and philosophy minor. "The trip will hold a special place in my heart for years to come, and all of the glory for that goes to my peers and professors who shared the experience with me."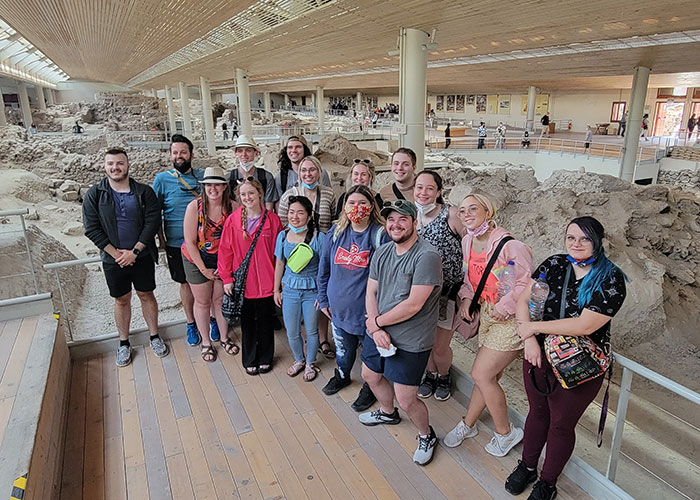 Two years ago, Cashio and Evans discussed taking a group of students to Greece. Evans had done a similar trip as an undergraduate and they decided they would be a perfect academic match to co-teach the class and lead the trip.
"As an undergraduate student myself back in 2003, I had the chance to study abroad in Greece and designed this trip to repeat those experiences for our students.  Immersing our students in Greek culture is something they will remember for a lifetime," Evans said.
Sarah Dotson, who graduated in May with her biology degree, agrees.
"Ancient Greece left a long-standing mark on many areas of the modern world so it was incredibly humbling and life-changing to learn about it all while actually in the country. In between the educational moments, we were able to explore the culture of modern-day Greece, eat our weight in gyros and take an endless number of Instagram-worthy pictures," Dotson said.
The professors held a few orientation meetings before the trip where the students learned about the places they were going. UVA Wise students received financial assistance to help with the costs of the trip.
"UVA Wise supports these students doing this. Every one of our students got a scholarship. We want this to be available for everyone who wants to do it," Cashio said.
Instead of the traditional summer journal, students kept track of their travel reflections by posting to social media. They posted photos of their days and responded to a reflection prompt.
"When you go to the Temple of Delphi, the religious, intellectual, political and philosophical center of ancient Greece, the first thing you see upon entering is, 'Know Thyself.' Philosophy still plays off this idea. Acts of self-reflection involve thinking about your ideas, your arguments and your place in the world and community. Study abroad trips are like massive catalysts to do that," Cashio said.
Rising senior, Chloe Allen, a history major with a concentration in intellectual history and sociology and minors in pre law and women's studies, shared this reflection:
"Today at the archeological site of Delphi, I learned so much. Before going to this site, I was not really sure what Delphi was other than what I had briefly researched online. While there, I discovered that individuals from all over the world came to Delphi to ask the Oracle for religious and political advice. Delphi could be viewed as the Facebook or Instagram of Ancient Greece as individuals used to write little "bios" about themselves on slabs and have the slabs on display for others to read. In addition, Delphi was a sacred site and location which housed a treasury. The treasury was used to store the most valuable religious offerings such as gold. My favorite part of Delphi was seeing the very long wall that has been standing since 600 BC without restoration. Overall, the site provided an interesting experience as to how Ancient Greeks handled political and religious questions."
Logan Smith, a nursing major and business administration minor, offered his thoughts regarding Athens and the Acropolis:
"Democracy is hard work. Some of the most brilliant architectural features of the world are built on one of the highest points in the city of Athens. Stone after stone, and one beautiful pillar after another, was brought and built here. Though, once freedom is built, it's not promised to last, as seen by the many ruins upon the 'birthplace of democracy'," Smith wrote. "At first, I aimed to take pictures and soak in the beautiful, unfractured side of the Parthenon, but upon my feelings in the moment, I was drawn to the reconstruction, the brokenness, all the imperfections because that's really what freedom, democracy is all about. The reconstruction, the perseverance, the moving forward. If not for these, what would democracy be today?"
UVA Wise students who traveled to Greece included Ni, Cantrell, Smith, Allen, Dotson, Stidham, Paula Hall, Victoria (Tori) Fultz, Molly Frazier, Bragan Wade, Justin Fraley, Lillie Sanders and Daniel Johnson.
You can check out other posts from the trip on social media by following the hashtag, #cavsgogreece.