Featured
UVA Wise and Virginia Tech Team Study Mining-Impacted Stream Ecosystems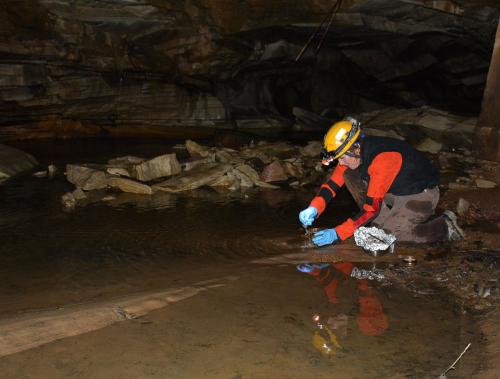 Photo by Audrey Patterson
Fueled by a $700,000 grant, the University of Virginia's College at Wise and Virginia Tech will partner to investigate ecosystem processes in impacted streams in Southwest Virginia where salinity has risen as a result of sewage, construction, mining and other activities.  The National Science Foundation (NSF) recently awarded the grant to an interdisciplinary team of researchers with Virginia Tech's Global Change Center (GCC) and UVA Wise's Department of Natural Sciences.
"This collaboration will reveal new insights into the understudied problem of stream salinization, and provides a unique opportunity for UVA Wise environmental science students—and the larger learning community—to engage with research that could advance the restoration of vulnerable headwaters ecosystems," said Terri Brown, UVA Wise assistant professor of environmental geology.
Globally, only 2.5% of water is fresh, and that freshwater is rapidly becoming a critically-threatened resource. Human activities have caused freshwaters to become increasingly salty over the past century, and in Appalachia, many long-term impacts have contributed excess salt to headwater streams. Construction and blasting activities crush, grind and pulverize rocks, making them weather and dissolve faster and sending mineralized runoff (salinity) into streams and wetlands. Road and airport de-icing salts, municipal wastewater and agricultural fertilizers also add salinity to freshwater streams, with corresponding declines in biodiversity and nutrient cycling through the freshwater food web. 
The Appalachian Mountains are home to some of the most biodiverse ecosystems in the world. These ancient mountains feed thousands of springs and headwater streams that provide habitats to native communities of mussels, snails, fish, aquatic insects and microorganisms. Most freshwater species have very low tolerance to elevated salinity, defined as the weight (in grams) of mineral matter dissolved in 1 kilogram of water, so high levels of stream salinity have consequences on the functioning of these ecosystems.
The new research partnership (dubbed "Salty C") aims to gain a better understanding of salinity's impacts on stream ecosystems by measuring carbon cycle processes—the interconnected flow and transformation of matter and energy between dissolved, biological, and geological components—at varying salinity levels.
"The Salty C study utilizes an innovative, integrated approach to assess stressed streams that may drive better management and control of freshwater salinization, which benefits everyone who enjoys nature, aquatic sports and ultimately, our shared sources of drinking water," Brown said.  
NSF requires scientists to demonstrate active engagement and outreach in local communities, known as "broader impacts," which prompted research team leader, Sally Entrekin, associate professor of entomology at Virginia Tech, to invite Brown to help develop community engagement aspects of the proposal. Their plan to improve public awareness and appreciation of ecosystem services includes a K-12 teacher training workshop on aquatic ecosystems; three UVA Wise undergraduate summer research fellowships; and the College's own student research to characterize interactions between groundwater, surface water and plants in the study streams.
 UVA Wise is partnering in the first two years of the study beginning in March 2023, and will receive just over $71,000 to fund related student research, stipends and the 2024 K-12 teacher workshop.