Featured
UVA Wise Awarded $354,000 Peer Mentor Program Grant to Increase Student Success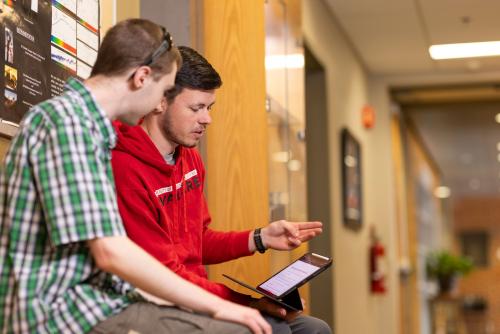 Photo by Kyle LaFerriere
Going to college can be hard, especially for students who haven't had a role model or adequate financial means. In their first year of college, students work to make friends, find their academic direction and participate in new activities as they develop a sense of belonging.
UVA Wise is implementing a newly created peer mentor program to help those first-year Pell Grant eligible students, especially those who are low income or first generation newly minted Highland Cavaliers, find their way to personal and academic success.
In July, the State Council of Higher Education for Virginia (SCHEV) awarded UVA Wise a four-year, $354,000 grant to establish a new peer mentoring program, the Mentorship and Adaptability Program (MAP) initiative. The program will begin this fall.
"Our data shows that if a student experiences success in the first year they are much more likely to persist and complete their degree. UVA Wise currently offers a wide assortment of academic intervention tools, but we also understand success often requires assistance beyond the classroom and tutoring," said Mike Shell, UVA Wise Dean of Student Success and Degree Completion.
UVA Wise has had success with a similar mentorship program developed by Assistant Director of Academic Services William Waggoner working with student athletes. The new MAP initiative is the first large-scale expansion of that approach at the College. 
The program will also add to an already existing comprehensive network of student support services available to UVA Wise students.
Recognizing Pell-eligible students face unique challenges during their college journey, the MAP initiative will assist students in meeting these challenges head-on, Shell said.
UVA Wise aims to increase the graduation rates among Pell-eligible students by providing them with a network of resources necessary for them to achieve their goals.
First-year, Pell-eligible students will be matched with experienced upper-level Pell-eligible students who will serve as mentors. MAP mentors will help new students navigate through their freshman and sophomore years.
The program allows students themselves to develop a supportive environment where mentors will offer guidance in educational, social and emotional aspects of college, helping mentees navigate their first year successfully. Mentors will be provided training and resources to assist in their work and a $1,000 stipend. 
MAP mentors will also help their mentees plan for success by developing time management skills, encouraging them to prioritize academic work, set realistic goals, plan their schedules and teach good note-taking and test-taking skills and strategies.
The well-being and mental health of new students is also a high priority for the program. MAP Mentors will provide a helping hand so mentees can adjust to the new social and emotional aspects of college life. They will encourage participating in campus activities and provide information on campus counseling services for mental health, if needed.
"I am excited to see the implementation of the Mentorship and Adaptability Program, as it will provide invaluable support to our first-year students, especially those from disadvantaged backgrounds," said UVA Wise Director of Academic Services Jeremy Goodson, who along with Waggoner will recruit and train peer mentors. "The program will foster a culture of mentorship and inclusivity, ensuring that our students receive the necessary guidance to thrive academically and personally."
The peer mentoring program will provide students an opportunity to learn and model behaviors that have led to success, Goodson said. 
"We believe students understand and use these tools better when they see themselves in the model. We are extremely happy to partner with SCHEV on this exciting new program," said Shell, who believes the program has the potential to enhance student retention and academic success.
Overall, MAP's mission is foster an inclusive and engaged campus community from a student's journey from their first day of classes to commencement.
The program will be part of the College's new Academic Success Center (ASC), which opens this fall. Located inside the UVA Wise Library, the ASC will be staffed with new academic intervention specialists and equipped with the latest technology and resources.
The center will provide a welcoming environment for students to study, collaborate and succeed. With tutoring rooms, workstations and a variety of study spaces, ASC is a dedicated place for students to hone their skills and achieve their academic goals. Expert staff and peer tutors will offer one-on-one or group support.
The ASC and the MAP initiative are the most recent College investments in student success, said Shell. Both deliver on key values of UVA Wise's newest strategic plan, "Your College for a Lifetime," which focuses on prioritizing holistic student development and engagement.
"Through personalized guidance and a strong support network, UVA Wise is dedicated to equipping students with the tools and resources needed to thrive in their college experience and beyond," Shell said.