Featured
UVA Wise Offers New Online Pilot Program for Community College Grads To Complete Four-Year Business Degree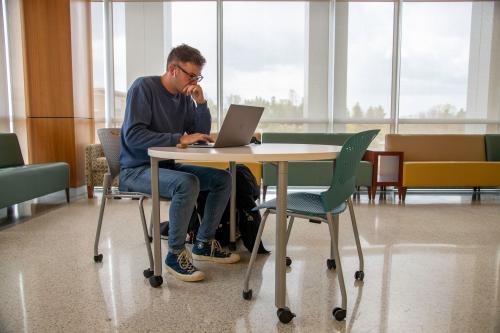 UVA Wise is introducing a new option that centers around a simple equation to business acumen: two plus two equals four. Enrollment is now open for a new online program designed for working adults to finish their bachelor of science degree in business administration and management in two years or less.
Those who already hold an associate degree of arts, associate degree of science or associate degree of arts and science, with two years of college classes under their belt, now have an easy, affordable and flexible way to obtain their four-year business degree.
Graduates of this program can expect to earn more income, land a promotion at work or chart a new path that aligns with their passions or career goals.
Built for those who can't attend traditional college classes on campus because they work full-time or care for family, the new program is completely online but not impersonal.
Advisors will help students stay on track, and the program's online classes are offered year-round to accommodate changing work and family schedules and ensure students will complete their business degree.
"If you have to stop out for a semester because of life's challenges, no worry. Most of the classes you need will be available online the very next semester and certainly within two semesters. With your personal advisor's help, you will be right back on track, ready to continue toward your goal. We teach courses in the 2+2 Business Degree Pathway every season of the year," said David L. Kendall, UVA Wise Chair of Business and Economics.
The new 2+2 Business Degree Pathway gives students the highly sought-out business administration skills needed to forge ahead with a successful career: hands-on experience solving financial problems in business, managing people and choosing winning business strategies. Students will learn skills in finance, accounting, marketing and management.
Each student's pathway is catered to them, building on the classes they've already completed for their associate degree.
Some students may have already finished some of the lower-division courses and won't need to repeat them, opening opportunities to take other upper-division business courses.
Within the program students only need to complete 20 classes, an equivalent of 60 hours of additional course work, to get their business administration degree.
Building on courses from their associate of arts or associates of science, or associate of arts and science , students will compete 12 required courses which include: financial accounting, managerial accounting, foundations of business, quantitative analysis with spreadsheets, quantitative methods for business, microeconomic principles, macroeconomic principles, principles of finance, principles of marketing, principles of management, strategic management and business capstone.
Whether a student seeks to be an entrepreneur, manager or business finance specialist, they can select three courses from a set of required electives to customize their academic path. An additional five unrestricted electives provide even more opportunity to personalize and specialize their business administration degree.
For more information, www.uvawise.edu/business-pathway.