Featured
New Professor Serves Up Hospitality, Tourism at UVA Wise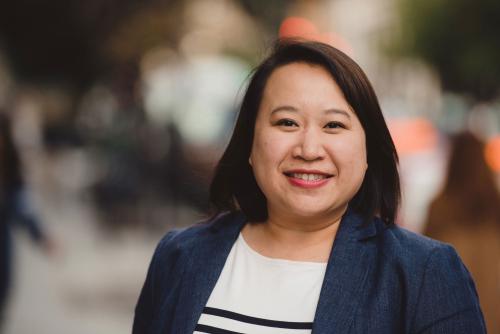 Photo by Jaron Johns
UVA Wise welcomes Cherry Brewer, a veteran hospitality and tourism scholar with global real-life expertise, as the College's first hospitality and tourism professor.
She's taught hospitality and tourism both internationally and in the U.S. Her industry experience also hails from around the world. She's served as a tour guide in Bangkok, worked in a hotel near Disneyland Paris and operated a Thai restaurant in Sydney, Australia.
This fall, Brewer joins the faculty of UVA Wise as an assistant professor of hospitality and tourism management.
"Brewer is the embodiment of real-world experience, academic rigor and enthusiasm for teaching. Her passion for hospitality and tourism is contagious, igniting a spark in every student fortunate to learn from her. Her cheerful spirit has been an inspiration to our growing department," said Gurkan Akalin, executive director of the UVA Wise Institute of Applied Data Analytics and chair of the College's Department of Business and Economics, which houses the new hospitality and tourism program.
Brewer teaches two new hospitality and tourism management courses as part of a new major at the College. The classes include an introduction to hospitality and tourism and principles of marketing.
"These new classes provide great transferable skills that students can use in many parts of their education and lives," Brewer said. "We are building a program so students will have both the soft and hard skills that are essential in the emerging industry in the region."
Brewer's extensive industry experience and academic career made her an excellent choice to educate new students for an emerging industry in Southwest Virginia.
A new Hard Rock Casino in Bristol, Va., brings numerous jobs and tourism potential for the region, she said.
"With the new Casino opening, there will be many tourism and hospitality-related job opportunities. The industry will soon be booming. We need to provide the educational foundation for these students to be ready to take advantage of them," Brewer said.
The beauty and natural resources of Southwest Virginia also has great untapped potential for tourism, Brewer said.
"This region is an unexplored area that people need to know about. Appalachia has a rich culture, abundant natural resources, and is an emerging tourism destination," Brewer said.
When the UVA Wise faculty position came available, Brewer knew she wanted a new challenge.
"I've been working in hospitality all my life, for almost 20 years, in both the industry and academia. I felt like it was time to build something new, and I wanted to use my whole life experience to help create a new hospitality and tourism management curriculum. I'm very excited to have this opportunity, and I look forward to seeing the new graduates from this program."
She was also attracted to the position because of UVA Wise colleagues and students she met during her interview.
"I was very impressed by them and how supportive they were. I felt welcomed since the first day I was here," she said.
Brewer said she loves the region and campus.
"I really love the drive to work in the morning. You can see the fog on the mountain. It's the most beautiful scenery and so peaceful," she said.
Brewer is also among faculty in the business and economics department who have developed a new technology-based hospitality and tourism management major. The major expects to offer courses in foundations for business management and specialized segments of hospitality and tourism including hotel and lodging management, tourism development, event planning, food and beverage, business ethics and casino operations.
Most recently, Brewer held a similar post at Western Carolina University for two years, where she was an assistant professor of hospitality and tourism management.
Brewer found her passion for hospitality and tourism when she graduated college and had a chance to explore the world.
"When I traveled, I learned many new things from diverse people in different cultures, and it changed me for the better," Brewer said.
Brewer said it's important to travel and get out of your comfort zone.
"What I love about hospitality jobs is the delight and joy you give to people. When I did something for customers and they smiled, I also got a good feeling and that was appealing to me. It's a job where you make people happy, and that is the key concept of hospitality and tourism. My previous jobs also allowed me to make a lot of good friends all over the world, and we still keep in touch until now. It's wonderful."
Brewer grew up in Nakhon Pathom, a small city an hour outside Bangkok, the capital city of Thailand, where she earned her bachelor's degree in art history. After graduation, she worked in an art gallery and put her art history degree to use as a guide for foreign tourists visiting Bangkok.
She then obtained her MBA in hospitality and tourism management from her alma mater, Silpakorn University. As part of the MBA program, she spent a semester in France, earning her second master's degree in tourism management from the Université de Perpignan via Domitia.
It's there where she learned the ropes in the hotel service industry near Disneyland Paris. "It's one of my fondest memories—working in Paris and learning French and European culture. Every weekend I traveled to other countries like Belgium, Italy and Switzerland by train," she said.
She jumped at the chance to see Australia and brush up on her English while helping run her sister's Thai restaurant in Sydney. Brewer did a little bit of everything from making appetizers, washing dishes, waiting tables and doing the business taxes.
"It was my first look at being an entrepreneur. I was in front serving customers and in back helping my sister do the business accounts. Working in the restaurant and running your own business, you have to make sure at the end of the month the employees get paid, and sometimes you don't get paid," Brewer said. "It was a great opportunity to learn."
Eventually, she returned to Thailand where she taught for five years at two private universities. She'd never been to the United States before coming to earn her doctorate in retail, hospitality and tourism management from the University of Tennessee in Knoxville (UT).
"I was delighted to go there. On my first day I arrived in Knoxville, and my roommate took me to Buffalo Wild Wings, and we played trivia. That was my first, fun American cultural experience," she said.
In Knoxville, Brewer, as a UT graduate assistant, got to share her talent and passion for cooking as a guest chef for the Ready for the World Cafe, a program where UT students learn to manage a restaurant with Pellissippi State Community College. They put on an international three-course luncheon.
"I would come to campus to cook Thai green curry chicken, steamed jasmine rice, spicy papaya salad and coconut ice cream, and I taught the students how to create the menu and serve customers," she said. "It was fun and the students learned a lot, not just cooking but also how to serve. Many had never served people before. We taught them how to greet customers and make them feel welcome. It's so important to make sure to keep people enjoying their meals from the first step until they walk out of the restaurant."
Brewer also taught an non-credit cooking course where Knoxville residents learned to prepare Thai food.
She also served as a program coordinator for U.S. Department of State Global Sports Mentoring Program. While at Western Carolina University, she recruited several international delegates of that program to share their experiences and culture with her class, and she hopes to do the same at UVA Wise.
School's not over for Brewer just yet. To prepare and develop the new courses in casino management and gaming, she will take an online gaming management certificate from the William F. Harrah College of Hospitality from the University of Nevada Las Vegas starting next spring.