Featured
UVA Wise Hosts First Majors Fair Brunch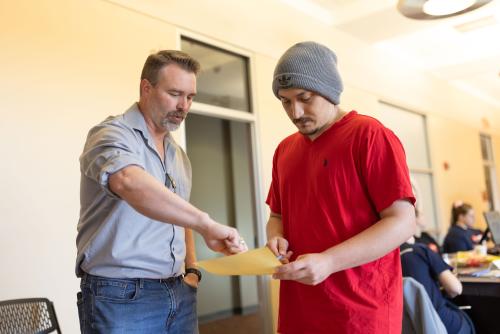 Photo by Mark Robertson-Baker II
UVA Wise student Dallas Hart hadn't chosen his career path but after attending the College's first Majors Fair Brunch this week, he decided to double major.
The event held this Wednesday and hosted by the Office of Academic Affairs gave students the opportunity to explore their career paths. It was part of "Taking Care of Business Day," which allows students to handle campus errands by registering for classes, paying fees or seeking academic support.
Hart, a transfer student from Tampa, Fl., found the fair to be helpful in his academic journey.
He chose UVA Wise for its robust mathematics and computer science department. So he naturally immediately gravitated to the computer science table at the event. After speaking with Jacob Somervell, professor of computer science, and David Frazier, instructor in software engineering, Hart's mind was made clear.
"I came to UVA Wise undeclared, but with a deep interest in computer science as I had already begun on that path when earning my associate degree," said Hart. "The Majors Fair gave me the opportunity to learn what the course load is like. Because of this event, I have decided that I would like to double major in both computer science as well as software engineering."
At the event, brunch was served, along with a wealth of information about each academic discipline offered at UVA Wise. Undecided students gathered around each table to learn and potentially find their new home within one of our 33 majors and 40 minors.
The Office of Career Discovery and Planning partnered with Academic Affairs to run the event. Tonya Nations, director of career discovery and planning, stressed the importance of events that aid in the early stages of the discovery process.
"It's important that students are informed of every opportunity that exists within our liberal arts campus. Having faculty members from each department readily available to educate students on the possibilities that can occur within a specific major is invaluable for a student at the beginning of their academic journey," said Nations.
Ray Stratton, associate professor of art, emphasized the importance of broadening students' horizons early in the career discovery process.
"Helping first year students take their interests to the next level stems from simple conversations that can take place at a fair like this. I like to learn about a student's passions and then suggest that they take classes outside of their artistic comfort zone, which helps them discover their path even further," said Stratton.
UVA Wise Dean of Academic Programs and Curriculum Sabrina Qureshi summarized the event saying, "Students who choose their major early are more inclined to remain committed to their academic path. Hosting an event like the Majors Fair Brunch enhances student success and strengthens the College as a whole."
The Office of Academic Affairs plans to make the fair an annual event.