Featured
College hosts opening Convocation, welcomes new students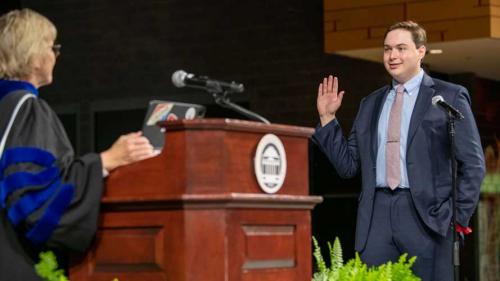 On Tuesday, August 17, 2021 the University of Virginia's College at Wise (UVA Wise) held its opening Convocation, an academic ceremony that begins the year. During the ceremony, the College welcomed 351 first year students and 92 transfer students. 
UVA Wise's Class of 2025 joins the College from nine different states in addition to Virginia, including Florida, Georgia, Kentucky, Maryland, North Carolina, Pennsylvania, Tennessee and West Virginia. Incoming students are also joining from international high schools in Egypt, Luxembourg, Myanmar and Taiwan. New transfer students, who have traditionally come from Virginia and neighboring states, this year come from 11 different states, including Alabama, Arizona, Kentucky, Maryland, North Carolina, New York, Pennsylvania, South Carolina, Tennessee and California. The Class of 2025 also includes four sets of twins.
"My hope for all of you is that a fresh start will energize and inspire you," said Trisha Folds-Bennett, provost and vice chancellor of academic affairs, as she welcomed all, especially new members of the UVA Wise community.
"If you really want to do something, don't let your fear prevent you from trying," said James E. Ryan, president of the University of Virginia, who shared a story from his childhood about fearing and then facing his fear of riding Disney World's Space Mountain roller coaster. "The point of college is not to be easy. Don't be afraid. When you get your diploma, I'll look forward to hearing about what you've achieved."
After pointing out their perseverance in completing high school during a pandemic, UVA Wise Chancellor Donna P. Henry welcomed the new students saying, "You have arrived at College with determination and optimism. Don't let anything stand in the way of your success."
Joshua McCray, a senior from Wise, Va., then took his oath of office to serve as president of the UVA Wise's Student Government Association. "Make lifelong friends, discover new passions, embrace life, and be the best you that you can be," McCray said to his peers.
Sydney Rouss, a senior from Winchester, Va., was then inducted as the Honor Court Chair. Rouss, in turn, led her peers to stand and recite the Honor Code of the College.
Mark Clark, Kenneth Asbury Professor of History and dean of faculty affairs, introduced several new, full-time faculty, including Jason Borguss, in the Natural Sciences Department; Jessica Daves, in Language and Literature; Mitchell Meltzer, in Social Sciences; Ricky Mullins, in Education; and Misty Stratton, in Visual and Performing Arts.
Trevor Makal, who was recently promoted to the Van W. Daniel III Endowed Professorship of Chemistry and also serves as the chair of Faculty Senate, charged the faculty with the year's mission. Makal said, "Over the past year, we have been provided with numerous new techniques and approaches to expand upon our repertoire of teaching methods. We can continue to apply these as we move into our 'new normal.'"
After closing remarks, Ryan Wardell, instructor in music, who helped begin the ceremony by leading the National Anthem, led the singing of the College's alma mater, "Dogwood and Rhododendron." Recessional music was provided by The Wise Guys, who also provided the processional for the ceremony.