Featured
UVA Wise reaches All-Steinway School status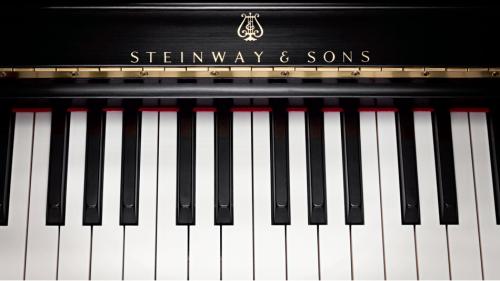 UVA Wise is pleased to announce that the College has now reached All-Steinway status. This means that students and faculty engaging in a multitude of musical learning and performance experiences at the College can easily utilize Steinway and Sons pianos because those instruments now account for 90% of the pianos on campus.
UVA Wise initiated the All-Steinway school campaign in the 2018-19 academic year with the initial purchase of six pianos. This investment positioned the College among 200 colleges and universities designated as All-Steinway Schools. Today, UVA Wise is home to 13 Steinway instruments, including four Steinway pianos housed in Cantrell Hall, the Chapel of All Faiths, and the Gilliam Center for the Arts as well as nine Boston pianos designed by Steinway and Sons.
The College still houses a number of pianos on campus that are not Steinways but that carry significant sentimental value and, as such, will remain in our community.
"Our Steinway pianos have been made possible with support from alumni and friends of the College including The Mary Morton Parsons Foundation," said UVA Wise Chancellor Donna P. Henry. "Many thanks to all the generous sponsors who have been a champion for the arts in our region, and who have afforded our students an opportunity to learn and to practice on arguably the best pianos in the world."
According to Steinway and Sons, "Schools demonstrate a commitment to excellence and an unparalleled educational experience by providing their students with the rich, unrivaled sound, incomparable tone, and pristine touch of Steinway and Sons pianos. These pianos inspire students to realize their artistic talents, and best prepare them to compete at the highest level in the professional world."
Piano students at UVA Wise not only perform on the instruments but also learn to move, care for and prepare the instruments for performances.
"We are joining a very prestigious list of schools across the United States and around the world that are All-Steinway schools," said Peter Ryan, an assistant professor of music who teaches most of the piano courses at UVA Wise. "Not only are the students who are piano majors excited, but anyone who is taking lessons, performing with piano accompaniment, or working in an ensemble with a piano in it, like choir, benefit from these instruments. All of our musicians use these instruments and of course our community can enjoy them in performances, too."
Some of those performances include the Clinch Valley Concert Series, which is dedicated to bringing classical performances of the highest quality to UVA Wise's campus. It showcases Steinway and Sons instruments through performances by both College faculty and guest artists.
To experience the Steinway sound, attend the next concert series concert on Nov. 6 at 7 p.m. in Cantrell Hall, when UVA Wise professors Anthony Gray and Jiyeon Lee perform four-handed repertoire. Additional musical, visual and performing arts, and other campus-wide events can be found at www.uvawise.edu/events.
Those interested can also join the Friends of Music Society, a group of alumni and friends who value music and will work to elevate opportunities for students to study music at UVA Wise and expand opportunities for citizens in the region to be exposed to music. You can do so by contacting Peter Ryan at pdr2t@uvawise.edu or 276-376-4519. Gifts to this society can be made to the UVA Wise Foundation